Demonstrators march across Manhattan to protest Tyre Nichols killing
New Yorkers marched through the streets after Memphis authorities released footage of Nichols being fatally beaten by police.
Hundreds of demonstrators across New York City took part in marches protesting the death of Tyre Nichols, a Black man who died earlier this month after being brutally beaten by Memphis police officers, in the two days after authorities released video footage of the assault. At least three people were arrested by the New York City Police Department while taking part in protests on Friday evening.
Nichols was approached by the five police officers involved in the incident at a traffic stop on Jan. 7, and died of his injuries three days later while hospitalized. The five officers were charged with second-degree murder, aggravated assault, aggravated kidnapping and official misconduct and oppression. The Manhattan protests were organized alongside others nationwide, and came shortly after authorities released footage of the assault.
On Friday, Jan. 27, over 100 people took to the streets in protest, marching from Union Square to Times Square. The group of protesters included people of all ages, who listened to speakers denounce the lack of progress seen since 2020, when the Black Lives Matter protest movement called for measures to end police violence against Black people. 
The next day, Saturday, Jan. 28, saw more than 200 protesters marching from Washington Square Park to Times Square. Demonstrators started marching from Washington Square Park at 7 p.m., arriving at Times Square along with NYPD officers at around 8:30 p.m. The crowd hit its peak at around 400 people in Times Square, and began to disperse at 9 p.m.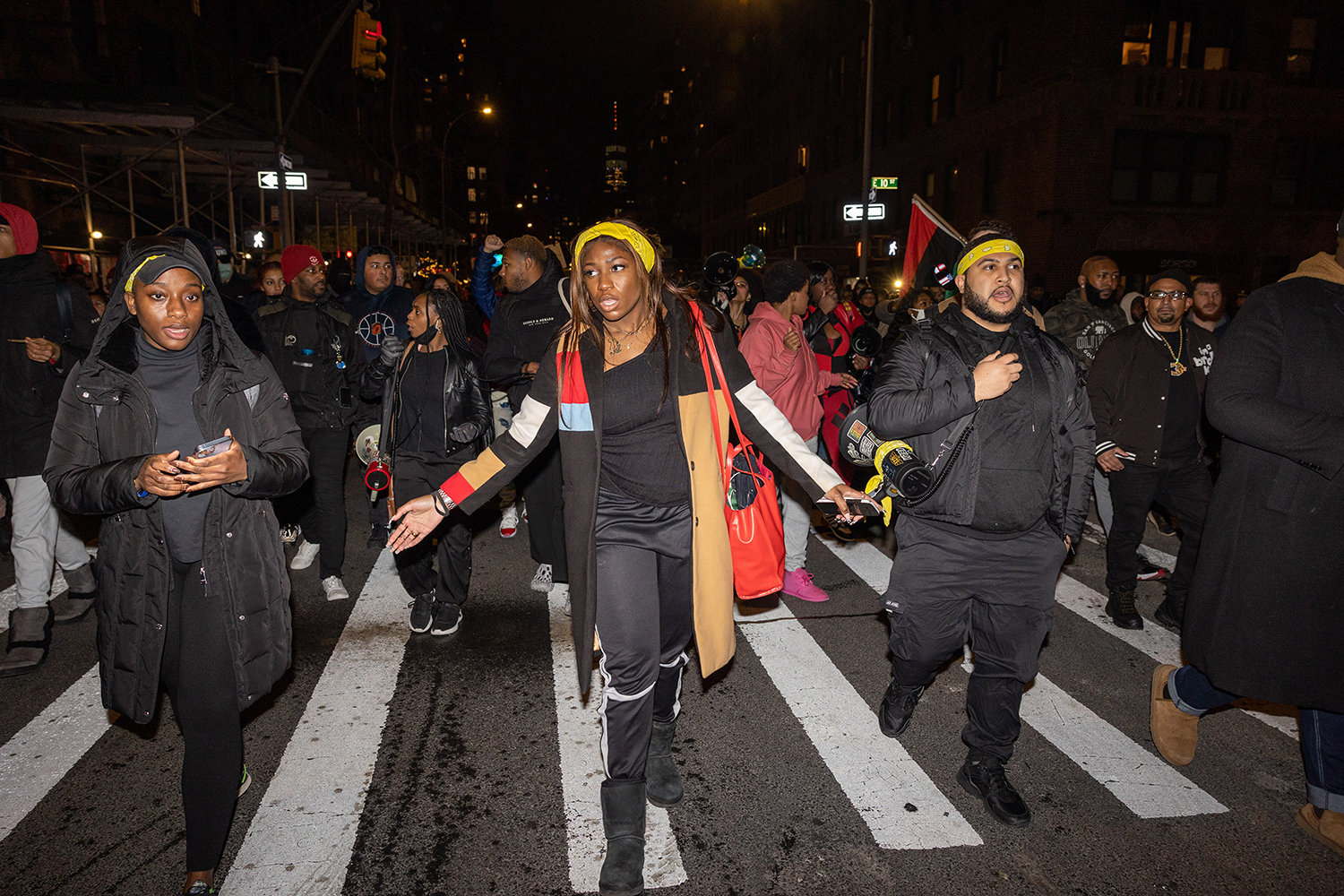 Jerrell Gray, an NYU graduate student who is a member of the youth-led activist organization Strategy for Black Lives, said the organization collaborated with others across the city to plan Saturday's march in under 24 hours. 
"We need to start being responsive, not reactionary," Gray said as he was marching through Times Square. "We need to educate people, we need to be more consistent, we need to work as a team to get the change we want to see."
Anya Dillard, one of the organizers of the protest and founder of nonprofit activist group The Next Gen Come Up, said that the march was planned by multiple nonprofits and community organizations, including Freedom March NYC and Warriors in the Garden. 
Dillard added that part of what makes Nichols' death so controversial is the fact that the five officers involved in the incident are Black.  
"People aren't realizing that the same systems that are propelling white supremacist cops to murder Black people are the same devices that are mobilizing Black cops to do the same," Dillard said. "That's why we are continuing to fight for abolition and reform, because the system is inherently corrupt and broken, regardless of if you try to make it more diverse — that doesn't make it more ethical or fair to the people who are affected by it."
On Friday, protesters first marched toward Moynihan Train Hall to join other demonstrators, and then made their way to Times Square, where another group had gathered. Police arrived at around 9 p.m. 
Some protesters were arrested, one of whom had broken the windshield of a police vehicle after jumping on it. The demonstrations calmed within an hour of the arrests.
At the protest, Chivona Newsome, co-founder of the Greater New York chapter of Black Lives Matter, said more Black people were killed by police in 2022 than in any other year.
"Police violence does not stop because you do not see it in your media," Newsome said. "We are enraged, we understand that the arrest of these officers was to pacify the people. The government, the police force, this country needs to know that there is a response — that you cannot pacify us."
As they marched through the streets, the crowd chanted "fighting for justice, for Black liberation," "no justice, no peace," and "fuck the police," among other slogans.
Demonstrators carried yellow picket signs, reading "The people demand: END POLICE TERROR," "JUSTICE for TYRE NICHOLS," and "Jail Killer Cops!" 
Stephanie Attar, who was in the crowd at Times Square, said that previous attempts to reduce police brutality — like the implementation of body cameras — have not done enough to stop it.
"I am outraged that we live in a system where racism, sexism and discrimination against working class people continues to happen," Atar said. "We have been hearing for decades from politicians that they're going to change, that the police is going to change."
In a statement published on Jan. 29, NYU president Andrew Hamilton said that although the officers involved were held accountable more quickly than in other cases of police violence, the change compared to past instances was insufficient.
"It seems impossible that anyone with a shred of humanity could see the wanton violence inflicted on Tyre Nichols and not be heart-stricken," Hamilton said in the statement. "Our community is joined today in sorrow and outrage and frustration, but also, I would like to believe, in hope for a better and more just future."
Alex Tey contributed reporting.
Contact Adrianna Nehme, Tori Morales and Yezen Saadah at [email protected].