Giuseppe Conte Appointed Italian Prime Minister Amid Accusations He Lied About Attending NYU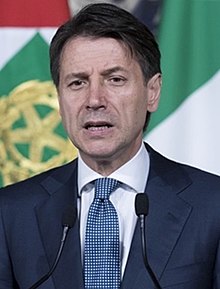 Giuseppe Conte was appointed Italy's Prime Minister despite suspicions that he might have exaggerated details about his academic credentials.
The 53-year-old political neophyte teaches private law at Florence University, where his profile page, translated from Italian, says he "studied in depth" at NYU, among other schools.
However, NYU spokesperson Michelle Tsai told The New York Times that the university could only confirm that Conte had library privileges at its law school, although it is possible he attended short programs for which the university keeps no records.
"[W]e reviewed our records, and they do not reflect Giuseppe Conte having been at the University as a student or having an appointment as a faculty member," Tsai said. "While Mr. Conte had no official status at NYU, he was granted permission to conduct research in the NYU Law library between 2008 and 2014, and he invited an NYU Law professor to serve on the board of an Italian law journal."
Tsai said in an email to WSN that the university could not provide additional information on the matter.
Ruthé Rosa, an access officer who issues visitor passes for the NYU Law library, did not immediately respond to a request for comment.
Conte's involvement with NYU is not the only one in question.
The University of Malta, where he claimed to have taught in the summer of 1997, told CNN that Conte was never part of its "resident academic staff," adding that he may have taught a course at an entity related to the university.
Conte's alleged time conducting research at the Sorbonne in Paris also could not be confirmed. A Sorbonne spokesperson could not confirm to CNN that Conte "studied" at Panthéon-Sorbonne University in 2000, although he did not rule out the possibility that Conte visited a laboratory there "without informing [the Sorbonne's] services."
On Wednesday, Italian president Sergio Mattarella gave Conte a mandate to try to assemble what would be the first populist government in western Europe.
Conte is tasked with forming a coalition of populist parties Five Star Movement (M5S) and Lega, sometimes referred to as League.
M5S, a eurosceptic and anti-establishment party, currently holds more seats in the country's parliament than any other party. Lega is a far-right nationalist party that brands itself as anti-immigration and pro-working class.
Conte was nominated to the premiership by MS5's Luigi Di Maio and Lega's Matteo Salvini although he has never before held political office.
Email Sarah Jackson at [email protected]