March Calls for a Scientific Solution
Hundreds of voices echoed down Broadway last Saturday as students, teachers, scientists, activists and New York residents came together to support "Science Not Silence."
Those leading the voices from Washington Square Park to City Hall were the organizers of this year's March for Science, composed of members from the NYU community. Ingrid Paredes, a doctoral candidate in the Tandon School of Engineering, started organizing the march when she approached fellow Tandon doctoral student Omar Gowayed in order to gain NYU's support. When the pair realized that no one was planning anything for this year's March for Science, they took matters into their own hands.
"Once Ingrid and I noticed that the March for Science NYC group hadn't organized anything yet, and they were not responding to us, we thought … why not?" Omar wrote in an email to WSN. "We presented the idea in a short PowerPoint presentation to the Student Senate — and that is when our growth started snowballing."
After a few weeks, 11 members of the NYU community were working to co-organize the event, including Professor of Biology and Neural Science Carol Reiss and Assistant Professor of Environmental Studies David Kanter.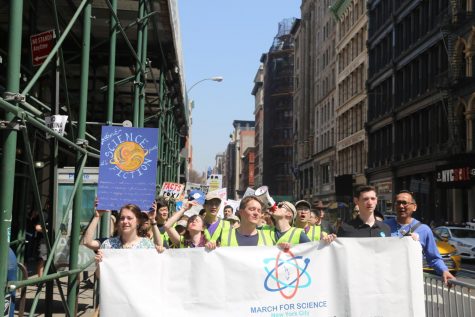 The two-part event started with a rally and teach-in in Washington Square Park. Throughout the morning, the small crowd in front of the arch began to grow under a cloudless sky and momentous spring sunshine. The Square welcomed more than 15 speakers, various actors and musicians and multiple research and activity stations around the fountain. The event kicked off with a speech from NYU President Andrew Hamilton.
President Andy Hamilton joined #NYU students, faculty, and staff in Washington Square Park for today's @nyc_march: pic.twitter.com/sL542XCxn8

— New York University (@nyuniversity) April 14, 2018
While last year's march was focused on policy, many of the speakers on Saturday emphasized the importance of allyship between activists and scientists. Associate Professor of Neural Science and Psychology Wei Ji Ma spoke to how his skills as a scientist can contribute to affecting change.
"For as long as I can remember, I have cared about science and for as long as I can remember, I have cared about activism for social causes," Ma said. "However, I long thought that those two passions were incompatible. This march shows that this is a myth. You don't have to shed your objectivity, you don't have to be partisan in order to put your knowledge and skills as a scientist to use for social causes you believe in. Science and activism can go together, and they should."
In the crowd, the NYU community also dominated, as many students came out to support empirical research and the need for scientifically-backed policy. CAS senior Gabby Carmine said that research, as well as the communication of it, is paramount to affecting change.
"It's really important to not only get your research taken seriously but also for it to be communicated well," Carmine said. "If you have research that has the potential to affect policy, you must have research that's evidence based."
Carmine emphasized that she marched in order to make these claims heard.
"You can't have evidence based policy if no one's listening," Carmine said.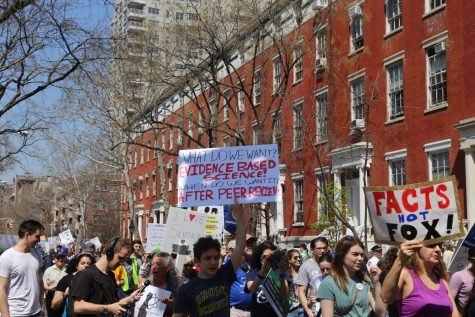 After the speakers finished, the march from Washington Square to City Hall commenced. The crowd formed a line that covered more than five blocks in its entirety. People joined from all sides as the group made its way down Broadway; chants rose and died all through the line, to the tune of "Hey, hey. Ho, ho. We won't let our planet go," and "What do we want? Peer review. When do we want it? Now."
The march ended with more protest outside City Hall before the crowd dispersed to enjoy what seemed like the first sunny afternoon in weeks. The final moments echoed Hamilton's opening statement.
"The sun shines on the righteous, and the cause of science is righteous."
A version of this article appeared in the Monday, April 16 print edition. Email Kristina Hayhurst at [email protected].