"MURO" Installation Divides Washington Square Park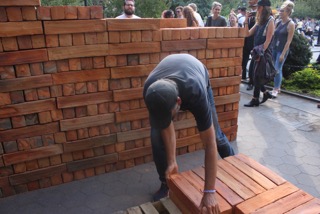 For five hours on the evening of Thursday Sept. 5, Washington Square Park was divided by a six-foot high, 26-foot long wall of 1,600 clay bricks, created by about 20 craftsmen from Oaxaca, Mexico.
Bosco Sodi, an artist from Mexico City who currently works in a Brooklyn studio, installed the art piece titled "MURO" with New York's Paul Kasmin Gallery. Sodi said the goal of "MURO" was to let the public respond to President Trump's proposal of a wall between Mexico and the United States.
"This is a metaphoric and poetic way to show that there is no wall — mental, physical or political — that can't be torn down when there is a civic action and society decides that it doesn't belong there," Sodi said. "If society decides there's not going to be a wall, there won't be a wall."
Fifteen to 30 New York City locals helped Sodi install "MURO" in Garibaldi Plaza — home to the monument dedicated to Italian patriot General Giuseppe Garibaldi — between 7 and 10 a.m. on Thursday, but the performative part of the piece began at 3 p.m. Passersby were encouraged to help dismantle the wall one brick at a time and to bring their piece home with them.
"I've signed them all, and each one is unique — you can see the accidents, the different things and burns," Sodi said. "In six months or a year — depending on the political climate — it would be beautiful to recall the bricks and rebuild a wall in another place and do another civic action."
The line to remove a brick was about 75 people long most of the time.
CAS freshman Brian Duran said that he partcipated in "MURO" for personal reasons.
"My dad was deported when I was in elementary school," Duran said. "So I was like, 'Let's tear down this wall that wants to keep us separate.' Like the artist said, any wall can get dismantled if society gets together."
Jackson Hirsh, a Tisch sophomore, said that while "MURO" is a perfect example of performance art, he disagrees with its placement.
"To be honest, if I was making this art piece, I would've done it differently," he said. "I would've blocked one of the walkways. For me, I would've made it a problem to symbolize how [the wall is] a problem for people."
Nick Olney, the managing director of the Paul Kasmin Gallery, said that the city's cultural affairs department supported the initiative and that Sodi obtained a permit for the installation.
"We have security here as well but the city just wanted to make sure that people could still move through here because it's such an active park and it's used for many purposes," Olney said. "The city was totally behind it which was great."
Sodi said that although the installation relies on its own destruction, it is meant to have a positive and uplifting message.  
"It's not a protest — I want it to be a celebration of the fact that walls can be dismantled," Sodi said. "Through art, civic performance and civic action, we can attack political facts."
Email Caroline Haskins and Miranda Levingston at [email protected]