Black Lives Matter still going strong with October call to action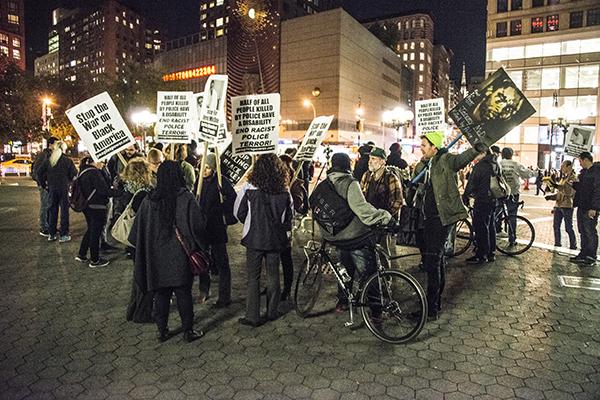 Just over a month out from the anniversary of mass nationwide protests in the wake of the death of Michael Brown, the Black Lives Matter movement has shown no sign of slowing down.
As a part of #RiseUpOctober, the Stop Mass Incarceration network is organizing three events in New York City this weekend focusing mainly on combating police brutality. Among those organizing the three days of action are philosopher and author Cornel West and Carl Dix, a founding member of the Revolutionary Communist Party.
This Thursday, Oct. 22, will be a national day of protest to stop police brutality, with affiliated demonstrations across the Midwest and on the West Coast. Oct. 23 is aimed at encouraging non-violent action to protest and shut down Rikers Island.
The movement will culminate in a rally in Washington Square Park on Saturday, which is expected to draw thousands, including students from universities across New York City.
"All colors, all culture, all different folk fighting for those who have been victimized by this police terror and this police murder," West said in a video. "We want to straighten our backs up, organize, mobilize, put our bodies on the line."
A press release sent out yesterday morning officially announced the end of the week's events. And although the movement has been in the works since May, the release called for continued refusal to turn a blind eye to those whose lives have been affected by police brutality.
"#RiseUpOctober will launch a more defiant, more determined resistance aimed at nothing less of stopping the epidemic of illegitimate police terror and murder targeting black and brown people," the press release reads.
Since gaining traction last November, the Black Lives Matter movement has only continued to grow. Every Monday since January, activist group NYC Shut It Down has chosen a different victim of police brutality to rally around in Union Square.
Student groups have worked to make their voices heard on campus as well. Two weeks ago, the Black Students Union at NYU rolled out their Black Presence campaign, aimed at stimulating conversation and promoting acceptance of black culture.
Rahani Green, CAS junior and vice president of the BSU, said she felt the campaign was a success in allowing students to express themselves, but acknowledged that there is more work to be done.
"I think Black Presence was successful in that it scratched the surface in giving more black voices at NYU a space to announce themselves," Green said. "In terms of achieving mandatory diversity training for all NYU students, that's an initiative we're still working on. "
Green added that society continuously pretends the lives of people of color do not matter, many are shielded from some of society's fundamental problems.
"White privilege is such a strong blocker when it comes to getting non-black and brown students interested in and aware of  these movements," Green said. "The majority of students at NYU belong to a race in which society gives them the privilege to not have to talk about race."

Activists, students and other rally participants will gather in Washington Square Park at 11 a.m. on Saturday, Oct. 24 and will begin marching at 1 p.m.
Email Alex Bazeley at [email protected].