Staff Recommendations: 2015 Grammy Awards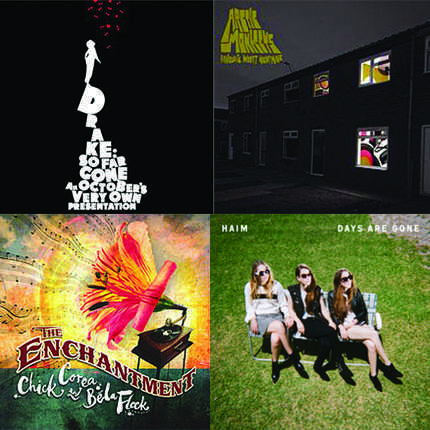 As the 57th Annual Grammy Awards approach, the WSN staff looks back on this year's nominees' previous works.
1. Drake, "So Far Gone"
"So Far Gone," a 2009 release, marked Drake's third mixtape and undeniably launched the rapper's career as an internationally renowned artist. The mixtape's two singles, "Successful" and "Best I Ever Had," assisted in building Drake's fame. Collaborations also contributed to the mixtape's enormous success, including features from Trey Songz, Lloyd, Lykee Li and Lil Wayne. To this day, "So Far Gone" is still recognized as one of the most atmospheric-sounding modern mixtapes, blending together R&B and hip-hop — a style that Drake has seemingly mastered and made his own. Not only did "So Far Gone" launch Drake's career, but also marked the beginnings of the rapper's signature sound. Alexa Spieler, Arts Editor
2. Haim, "Days Are Gone"
The Haim sisters released their first album, "Days are Gone," in 2013. The album has received a lot of attention, including being named one of Pitchfork Media's 100 Best Albums of the Decade So Far. The album has produced six popular singles, including "Forever" and "The Wire." Haim not only records well, but also puts on an amazing live show. They are joining Taylor Swift's "1989" tour in New Jersey, Massachusetts, Illinois and California. Currently, Haim is working on their second album. Alanna Bayarin, News Editor
3. Chick Corea, "The Enchantment"
Chick Corea has enchanted the judges once again. The piano legend and 20-time Grammy winner has been nominated for the 62nd and 63rd time, including a nomination for best jazz instrumental album, "Trilogy."  "The Enchantment," which won the Latin Grammy award for best instrumental album in 2007, features Corea and American banjo virtuoso Béla Fleck. With a well-blended sound of American and Latin jazz, "The Enchantment" can put listeners in a trance to feel like they are floating in the ocean, the clouds or both at the same time. Shawn Paik, Multimedia Editor
4. Arctic Monkeys, "Favourite Worst Nightmare"
The sound the Arctic Monkeys are nominated for this year is more polished than what they originally became known for. "Favourite Worst Nightmare," their second album, is the Arctic Monkeys at their most raw. "Fluorescent Adolescent" and "Balaclava" are particular standouts, with a chugging guitar and an unadulterated effervescence that echoes through in what is undeniably one of their best albums. A must-listen for any Arctic Monkeys purists, the record shows Jamie Cook's mastery of the electric guitar and a younger, more energetic Alex Turner still trying to figure out the image he wants to show the world. To look over this album in favor of more mainstream releases from these demigods of indie rock is sacrilege. For anyone looking to get into the band, this is the best place to start. E.R. Pulgar, Music Editor
5. Eminem, "The Marshall Mathers LP"
You can't deny Slim Shady's ability to spit out a phrase with style. While not as fast as Busta Rhymes or Twisted Insane, Eminem crafts his words with the skill of a master poet. His lyrics hold immense power and truth. Despite his previous problems and controversial behavior, his influence is undeniable. One past standout album of his is "The Marshall Mathers LP." The LP was not only one of the fastest selling solo albums in its first week, after selling 1.76 million copies on initial release, but is also one of the highest selling records of the decade, selling over 10 million copies. It's also an album that sparked an encyclopedia's worth of controversy and critical acclaim, with songs like "Kim," "The Way I Am" and "The Real Slim Shady." Sang Bae, Deputy Photo Editor
A version of this article appeared in the Thursday, Feb. 5 print edition.