Welcome Week 2013 aims to bring together diverse community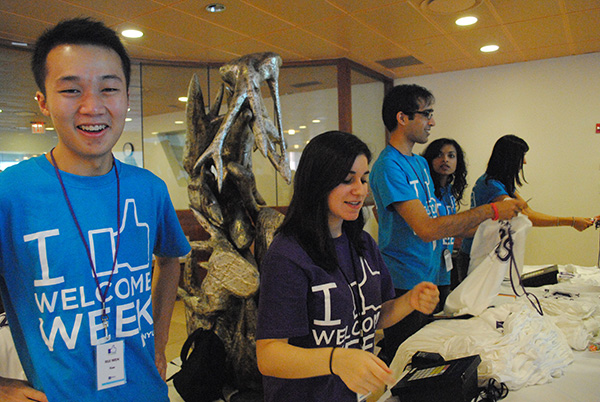 Beginning today, the Welcome Week 2013 staff has activities planned each day of the week.
"Coming to New York City and NYU can be a daunting experience, and we try to make the transition as fun, informative and supportive as possible," said Welcome Week leader Mikayla Terrell, a CAS senior.
Student Resource Center executive director David Vogelsang said Welcome Week is a tradition for all new students starting at NYU New York and is produced by the Division of Student Affairs' SRC. The university will welcome 5,000 freshmen and new transfer students as well as other new arrivals including graduate students, sophomores transitioning from NYU study away sites and NYU Abu Dhabi students in the city for the fall semester.
The week includes a vast array of school orientations, departmental offices and more than 350 workshops, socials, receptions and shows, Vogelsang explained.
This year, a new program called 13/13 was added, which follows the Welcome Week experience through the eyes of a diverse group of 13 incoming students, including commuters, international students and a student at the newly opened NYU Shanghai campus. Additionally, there are more programs involving faculty this year, which allows students to engage with instructors outside of the classroom.
Annual Welcome Week classics, including the Professional Comedy Show, the Hypnosis Show, Student A Cappella Show, Portraits and Casino Night, are also expected to attract incoming students. The Presidential Welcome and Reality Show traditions will continue this year.
Students will also meet with academic advisors and in-school cohort groups, take campus and library tours, and learn about the many clubs and community service opportunities. Specific events are also held for students in on-campus housing and commuter and transfer students.
SRC Program Administrator Zach Harrell said the biggest event of the week will be the Glo Ball on Friday night in the Kimmel Center for University Life, but the Social Media Scavenger Hunt comes in a close second.
"We hope to foster new friendships and connections, both among students as well as between students and NYU offices and resources," Harrell said.
A group of 300 Welcome Week leaders led by 12 captains took a weeklong training session where they participated in team building activities, workshops and information sessions.
Two-time team captain Terrell said the training process is rigorous. With the growing number of international students, the staff is stressing the importance of meeting their needs and being socially and globally aware by hosting workshops for leaders, teaching them how they can best meet the needs of international students.
In addition to the many Welcome Week activities, there are individual school events that are mandatory as part of each school's orientation. These events are listed in the Welcome Week schedule every freshman received before moving in.
Incoming CAS freshman Chevaun Samuels said he is concerned about the transition from high school but is excited to participate in the many activities offered during Welcome Week.
"I love to challenge my mind, and I know NYU will help me expand my mind," Samuels said. "I am also looking [forward to] the sports events and the student activities."
Additional reporting by Nicole Brown. A version of this article appeared in the Sunday, Aug. 25 print edition. Kayana Jean-Philippe is investigative editor. Nicole Brown is a news editor. Email them at [email protected]