How Winnie Xu Learned to Trust Her Instincts When 'No One Tells You'
The CAS senior is president of Two Birds One Stone, a student club that saves an average of 42 pounds of dining hall food per day.
Winnie Xu is walking downtown on Bowery, just south of Houston Street, carrying an aluminum tray with meatballs from Third North oozing out the corners, when a man in loose gray jeans and a washed-out red hoodie pulled over a gray knit hat approaches her and asks, "Miss, can I get some?" It's just after 9:30 p.m, and Winnie tells him that he can be served at the nearby Bowery Mission.
The last time she was approached by a stranger while on her way to drop off food, they had seven trays, and she gave one to the man who asked. This time around, with only three, she instead gives them all to the Mission, a nonprofit which supports New Yorkers experiencing homelessness and food insecurity. Winnie places the tray with the meatballs and two others (which have remained more intact) on the front desk, signs a receipt for 19 pounds of food — on the lower end, as far as these donations go, she said — and ducks out to head home, as she has been doing at least once a week for four years.
There's no right answer of what to do with the food donations, evidenced by the man working the front desk in the Mission, who told Winnie that whether she brings them the food or gives it to people on the street — it doesn't matter.
"It's one of those things, where no one tells you what you're supposed to do in that situation," Winnie said. "And so you kind of have to just go with your urge."
Winnie, a CAS senior, is president of the NYU club Two Birds One Stone, which delivers leftover dining hall food to the Bowery Mission every weeknight rather than letting the food be thrown out. After doing deliveries once or twice a week as a first-year, she became treasurer sophomore year and president as a junior. The work is primarily organizational at this point, requiring a lot of emails  — Winnie consistently responded within minutes to my emails and texts — and communication with dining hall management. She still does deliveries regularly, though, when volunteers inevitably flake last-minute and she needs to step in for them.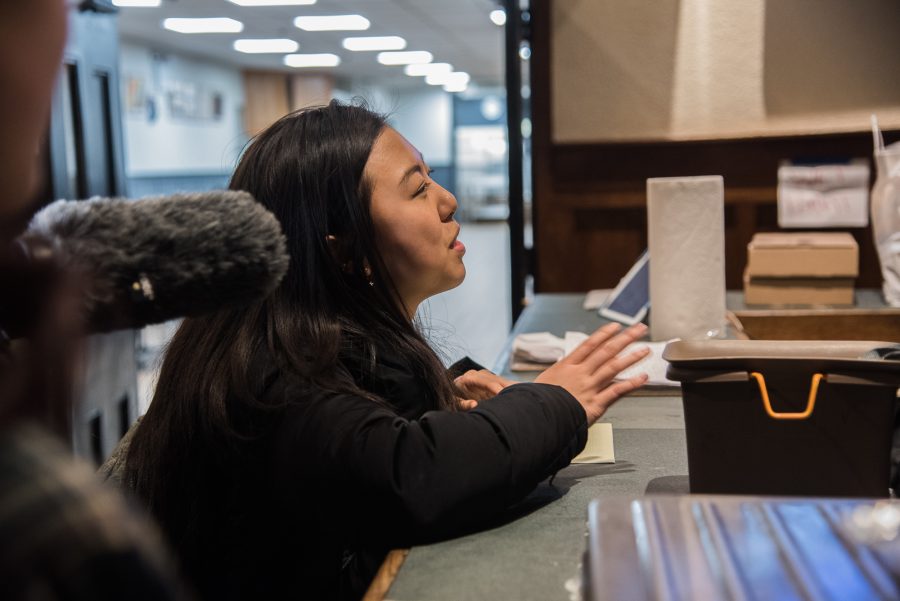 There isn't a ton of direction for Winnie to follow, beyond what she establishes for herself. Earlier this semester, a volunteer was turned away at the Mission after being told that it doesn't accept food after 8 p.m. It turned out that policy is actually one from the nearby New York City Rescue Mission and the person working the desk that day had confused the policies — but Winnie had to make phone calls and go through multiple channels to figure out that yes, the Bowery Mission takes food at that time, as they have for years.
Even though she has to maneuver complications like these in what seems like it would be a straightforward delivery system — all together, picking up the food from Third North, walking to the Mission and dropping off the food takes less than 20 minutes — Winnie doesn't pretend to know more than she does about the homeless community.
"Does the number [of trays] matter over who you're serving if in the end you're helping the homeless anyway?" Winnie said. "I think it's a lot about we don't know exactly how the homeless community is, like we only know the community at the Bowery Mission. We don't know much outside of that. Like this guy who we just ran into, I don't know if he goes to the Bowery Mission."
* * *
Winnie grew up outside Wichita, Kansas, before moving to Beijing before her junior year of high school. She didn't feel like she fit in either place. Wichita is 75% white and just 5% Asian, per the U.S. Census Bureau, and Winnie said there were two other Asian students in her elementary school. Sometimes she would lie and say her dad was white to try and fit in.
Upon moving, she attended the International School of Beijing, and, though she is of Chinese heritage, felt like an outsider in the school and city after coming from the U.S.
"Growing up in Wichita, it was definitely like on the outside, I don't look like the rest of you, but on the inside, it's like I was always trying to prove that I was just like everyone else," Winnie said. "Whereas in China, it was like, I look like everyone else, but my mind wasn't there. I wasn't as competitive; I didn't care about the same things everyone in my school, grade did."
She goes back to visit her family on occasion, but it's neither fast nor cheap to go to and from Beijing every school break. Her roommate, GLS senior Amanda Braitman, says that because of the New York-Beijing time difference, Winnie has accepted that she needs to resolve most personal issues herself, without parental guidance. This is part of what has made her trust in her own instincts.
Braitman has lived with Winnie ever since they were paired together in Third North their first year. Although Braitman spent junior year abroad in Tel Aviv, they're roommates again now. Over their years together, she's witnessed firsthand as Winnie bounced between her disparate interests. After cycling through clubs, she is not just part of Two Birds One Stone, but also NYU's Asian American Women's Alliance. She's switched majors since starting in Liberal Studies with a plan to study economics, which is what her parents wanted; now, she's an English major on the pre-health track with aspirations to go into — what else? — dentistry. She also plays the violin, enjoys photography and recently picked up boxing.
"She just sees things and she's like, 'Oh that looks fun. I'll do that,'" Braitman said.
(Fittingly, when I talked to Winnie, she asked logistical questions about how journalism works, and by the end of our conversation said she might try it.)
Regardless of field of study, Winnie has long felt obligated to give back to the community. This is what brought her to Two Birds One Stone in the first place; it's also what inspired her to volunteer at an orphanage in high school and to pursue dentistry.
"She always says the important part about being a dentist is about being charismatic and making people comfortable," Braitman said. "Because you can do the science and you can do the medicine, but it's a people job. You have to put people at ease. I mean, how many of us are terrified of going to the dentist? I hope that Winnie stays in New York, because I want her to be my dentist."
* * *
When she passes homeless people on the street, Winnie said, she will give them food if she has it — "obviously," she said.
I didn't think that was obvious at all, or this would be a more common sight. But she didn't have an explanation when reflecting on this or other decisions, which seem obvious to her in the moment but more nuanced afterward. She tended to brush this type of analysis off, calling each decision "one of those things" where she didn't know what to do — but did something anyway.
According to an NYU EATS spokesperson, the university dining provider internally tracks food waste to hopefully reduce it in the future, but they did not provide those data. The spokesperson did say, however, that Two Birds One Stone delivers an average of 42 pounds every weekday to the Mission, which would mean the club will donate a total of 3,360 pounds over the course of this semester. The club delivers from Third North, Downstein, Lipton Dining Hall and the Bronfman Center. Winnie, of course, is in charge of those 3,360 pounds.
Her drive to help others anchors her, despite her range of interests. But every time I wanted her to self-reflect, she didn't have much to say. When I asked her if she wanted her work at Two Birds One Stone to get more attention, she gave the obvious answer: "I do, for the purpose of having more volunteers."
It was, well, instinct — and, as usual, that was enough.
Email Sam Klein at [email protected]