Hundreds of labor organizers, students and faculty gathered outside NYU's Brown Building Wednesday morning to see the unveiling of a memorial for the 1911 Triangle Shirtwaist Factory fire. The fire, a deadly tragedy that took the lives of 146 workers as a result of hazardous working conditions, caused a surge in labor organizing and protections in the United States.
The memorial is composed of long plaques etched with the victims' names on the Brown Building, the original site of the fire. The Remember the Triangle Fire Coalition, a nonprofit dedicated to promoting awareness of the disaster, has been working with city officials and other stakeholders for over a decade to design and install the memorial.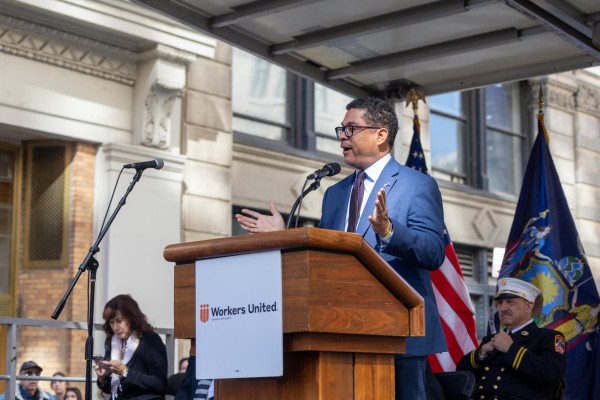 Vice President of Government Affairs and Community Engagement Kyle Kimball discussed the university's involvement in the memorial's construction at the event.
"NYU has worked hand in hand over that time to help secure the necessary approvals within NYU and with the city to make today possible," Kimball said. "It's really a testament to the history and the work that's been done here that we can pull all of you together today to celebrate this memorial."
Ellen Lynch, a professor at the Fashion Institute of Technology, said that students and faculty at FIT worked together to develop squares of fabric that will be encased in metal and installed to run along the side of the building later this year. 
"It's unbelievable, and it's really moving," said Roberta Elins, president of FIT's United College Employees. "It's a long time in the making, and these people will never be forgotten — their names are there for everybody to see."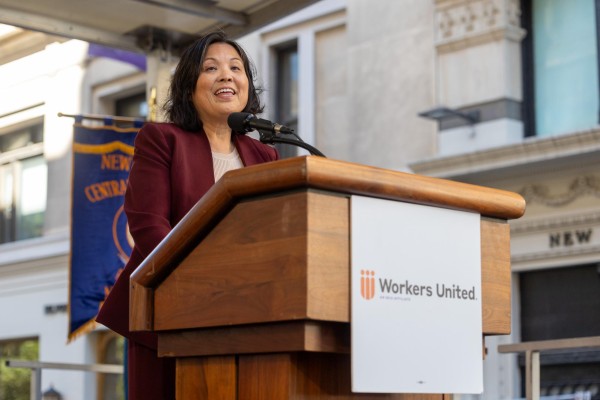 The dedication ceremony featured musical and poetry performances, a ladder-raising ceremony by the New York City Fire Department and speakers including Gov. Kathy Hochul and Acting Secretary of Labor Julie Su. Hochul advocated for easier pathways to employment for migrant laborers in her speech, relating the struggles of the garment workers who died in the fire to those of migrants arriving in New York City.
"All I can say is, they came here to work, let them work," Hochul said. "This state is so great because of the immigrants, the migrants who came here. They're part of our family. We are built on that, but I'll tell you, never again will we go back to those days when lives are jeopardized so big companies can make more money."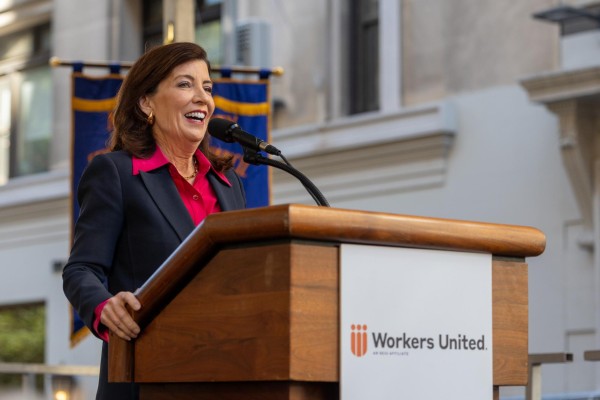 Following the ceremony, a group of students, including members of the NYU Young Democratic Socialists of America, Sunrise Movement NYU and Climate Care Collective NYC, marched from the Brown Building to NYU's bookstore in an effort to urge the university to cut ties with Nike, which produces athletic uniforms and gear for the university. Students called out the company's labor exploitation, specifically its failure to back pay workers in overseas garment factories.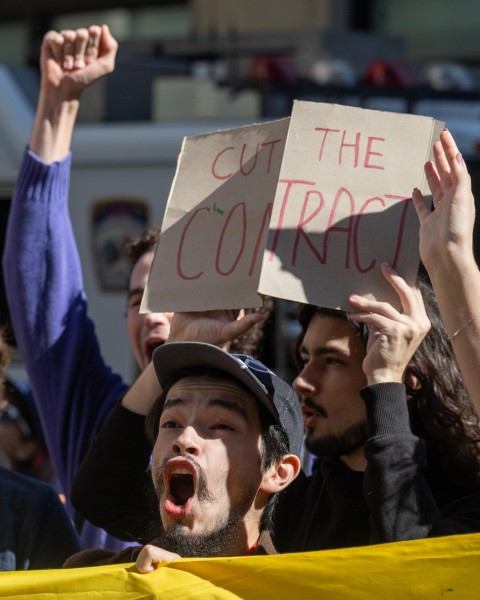 Edgar Romney, secretary-treasurer of Workers United and host of the event, said that students' continued advocacy for workers' rights is a key benefit of memorializing labor history.
"It's important that college students be aware of what's happening, students are the future," Romney said. "We all stand on somebody's shoulders in terms of making this world a better place. So students need to become active to make sure that they fight for what is right to get involved in the political process in this country."
Contact Caleb Pisoni and Krish Dev at [email protected].