Just about every five minutes, a customer at Café Lyria approaches restaurant co-owner Yannis Mastoros. Be it to say hi, give him a hug, catch up on life or discuss coffee beans, there is often lively conversation on this Mediterranean-style, plant-cultivated patio on 166 Crosby St.
Mastoros is a popular NoHo character and his establishment is a NoHo hotspot. More than just a grab-and-go coffee stop, Café Lyria is a vibrant inclusive community, which has been cultivated over the past year and a half since its opening.
Yannis Mastoros, 28, and his brother, Theo Mastoros, 22, co-own the cafe know the regulars who come in every day. They often sit and play Backgammon with them, and maintain a mutually friendly relationship. Most days, lines stretch out the door and wrap around the outside of the cafe.
One regular patron is NYU student Rena Falah, who visits Café Lyria at least three times a week.
"It happens to be my favorite cafe." she said. "I'm not the biggest fan of coffee, but I love their coffee. There's something about the Greek accent on their menu. I love that it's a family owned business too."
The cafe is deeply connected to Yannis and Theo's heritage while also appealing to the New York coffee scene. 
The menu fuses traditional Greek ingredients with standard coffee. Yannis created a bestselling drink for the menu called the "Lyria," and said it's a twist of New York City and Kos — espresso shaken with greek honey poured over ice with oat milk. 
Café Lyria's "Freddo Espresso" drink is a shaken espresso and freshly brewed sage tea — a medicinal tea from Greece — served with lemon honey. There are also "grandma's cookies" on the menu that remind Yannis and Theo of what their grandmother bakes for them back home.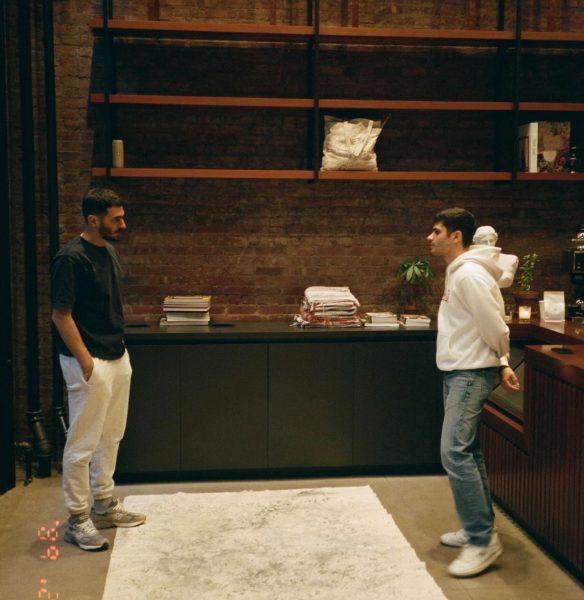 The pair is originally from Kefalos, a small village on the island of Kos, Greece. When he moved to New York City in 2014, Yannis started working at Aimé Leon Dore, a men's fashion and lifestyle brand.
During this time, Yannis collaborated with Austin Gebbia at Ludlow House on an exhibition of Yannis' photography of his home. This exhibit was the seed of what would become his own cafe. 
"It was a multisensory experience; those images were about where I come from and where I take people when I go home," Yannis said.
Four days after leaving Aimé Leon Dore, Yannis received a call about a space at 166 Crosby St. that had previously been occupied by Joe Coffee Company. That's when the Mastoros brothers decided to start their new venture. The two put all their money into the cafe and had their grand opening within three months with no investors, according to Yannis.
According to the brothers, Lyria is a communal space to host friends and family, as well as a dedication to their grandmother's living room. It is filled with memorabilia reminding them of their childhood, from their grandmother's rugs on the floor, to a small TV playing "Hercules" on a repeating loop. 
Photos of the Mastoros brothers and their childhood home are on permanent display in the cafe, providing customers an image of where its owners come from. 
With the help of Yannis' network, Theo's attention to detail as head of operation, social media and neighborhood passersby, the cafe remains fairly busy, with its collection of patrons who have built networks from their chance meetings in the cafe.
"Everyone is welcome inside our house," Yannis said. "The outdoor seating area adds more room for the cafe like our grandma's house — when there wasn't enough room inside the living room, we would go outside to play backgammon and games. The cafe is our way of taking care of people."
Contact Salena Tewari-Rubin at [email protected].