Chris Chan Roberson: The Fastest Professor Alive
Tisch professor Chris Chan Roberson discusses his experience in and outside of the industry from "Surf Nazis Must Die" to hawking vintage clothes.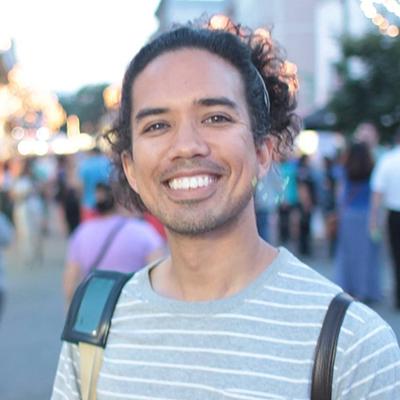 Blink and you'll miss him. From every corner of the film industry to every classroom at the Tisch School of the Arts, two decades of professional experience has left no stone unturned by Professor Chris Chan Roberson, whose students call him CCR. Roberson teaches film production classes to freshmen, juniors and even high schoolers come summer. His work outside of Tisch has featured YouTube stars The Key of Awesome, horrifying hero "The Toxic Avenger," and comedian Billy Eichner. Yet filmmaking was never something Roberson aspired to. 
"I was thrown into it because someone thought I was good at it, and I didn't want to let them down," Roberson said.
Roberson was raised in Chelsea, and says New York City had a great influence on the man he is today. 
"There's such a diversity; it allowed for a freedom of thought — I'd go to my friend's Yeshiva or my friend's Buddhist temple," Roberson said.
His father a jazz singer and his mother a painter, Roberson was raised in the Manhattan art scene. In grade school, he remembers using performance as a way to combat his crippling shyness. 
"My junior high was the O. Henry School of Writing, so I did a lot of playwriting," Roberson said. "I fell into these artistic trajectories as a way to get more visual." 
Roberson graduated from Tisch in 1998, and he saw no reason to leave the Big Apple. An avid comic book reader, Roberson maintains that his ultimate dream is to be a comic book writer — as it stands, he's done just about everything else.
Roberson's first experience in the industry was as an intern for Gold Coast, a monster truck racing post-production house and a subsidiary of 4Kids. 
"I went to a math and science high school, so I developed a mathematical formula for converting frames to seconds," Roberson said. "That was my transferable skill." 
In 1996, Roberson was a production assistant on a set, and in 1998, fresh out of college, he was made office manager at the studio Troma Entertainment. 
"They make D-List horror films; 'Surf Nazis Must Die,' 'Class of Nuke 'Em High,' 'The Toxic Avenger' — they're cult classics," Roberson said.
In 2000, he set his mind to learning Final Cut Pro, which was a brand-new editing software at the time. Six years later he was tapped by Bob McClure, with whom he'd performed sketch comedy in the 90s, to edit, unpaid,"The Burg," which he calls the first web series. Eventually they received a sponsorship from Motorola.
"I was getting a paycheck for editing, which I thought was totally boss," Roberson said.
McClure later went on to be a pickler, and in 2012, "The Burg" producer Kathleen Grace thanked Roberson for his help with a job offer. He took over the residency and education programs at YouTube.
Roberson helped build their Chelsea Market studio, still in use today. He calls it the best job he's ever had, and remarks that being able to throw money at anything was a bizarre feeling. 
"No one ever said 'that's too expensive' — they're Google, they have a billion dollars," he said.
Also, he made a parody of Jay-Z's "Empire State of Mind" with Billy Eichner.
"I know Billy, we went to high school together," Roberson explained.
If you've seen 2010's "Forest Hills State of Mind," that was Roberson. 
"It just felt like fun at the time," Roberson said. "The best sets are ones where you feel like you're hanging out with friends." 
Though he's never ingested super serum, Roberson attributes his success to being a good soldier. On-the-fly problem solving and a willingness to do what's needed are key to the film industry, he said. 
"Often you just have to say, 'Sure, I'll edit something for 20 hours straight,'" he said.
To this day, he edits for "Comic Book Resources" and "Screen Rant" in his free time. 
"People will send me videos saying 'Hey, Chris I think you'd like this.' I have to say, 'yeah, I made that,'" Roberson said.
Though he can count his non-film jobs on one hand, his early work experience in retail and bartending has proven invaluable to him as a storyteller. After helping Muneer, a family friend, set up shop one year, Roberson spent subsequent summers selling vintage clothes at street fairs.
"Every script I write has a Muneer character — he gave me my first job," Roberson remembered.
Little accidents seem to go a long way. In his senior year, his professor told him he'd be a great teacher. 
"I said 'That's very kind of you, I never had any aspiration, maybe if I ever pursue a master's I'll think about it,'" Roberson said. "I guess they thought that was some kind of yes because I got a letter in the mail saying I'd be teaching in the fall of 1999."
Of the industry today, Roberson says he's supremely excited. 
"Everything's in flux," he said. "YouTube is 10 years old, it's so young it's comparable to 1896 when people ran out of the theater because they thought the train was going to kill them." 
Between classes, he has written a feature, "Vespertine," about a night manager whose only job is to keep her employees awake. He's also restarting his YouTube channel "All Hail Retcon" in which he explains fake '80s technology, and he has a one-man-show, "Magnetic Dragons," premiering at Frigid Festival in February about the worst film set he's ever been on.
More than anything else, Roberson says he wants his students to build connections for life. 
"I think a lot of what I write stems back to those conversations that we had at Rubin about life and movies," Roberson said.
A version of this article appears in the Monday, Sep. 30th, 2019, print edition. Email Fareid El Gafy at [email protected]