Less than one month after the NYPD was criticized for cleaning an area used by the homeless outside of an NYU building, a man experiencing homelessness was forcibly removed from a tent he pitched outside Alumni Residence Hall, according to police.
The man had been asked to pack up his things and leave the premises multiple times on Monday, a police officer on the scene said. After he refused to leave, police forcibly placed him on a stretcher around 2:30 p.m. and the man was taken to a psychiatric facility in an ambulance. Police said he was not arrested and would most likely be held in custody for less than 72 hours.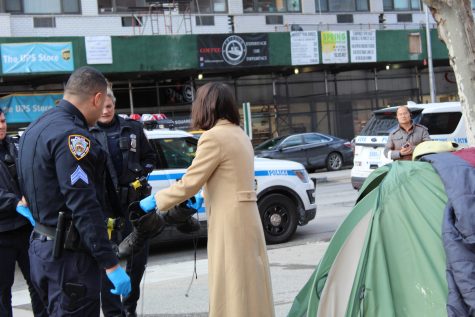 The man had laid out a paper scroll detailing his experiences with homelessness — along with the large green tent — sometime on Sunday. Public Safety officers in Alumni called 311 on Monday. The tent is considered an enclosure, which is a liability for the university, as being unable to see inside means that officers are unaware if anything dangerous is happening within. Had the tent not been there, the call would not have been made, according to a Public Safety officer.
Last month, the NYPD received backlash from students and others via Twitter after they tweeted a series of photos showing an area outside of Silver Center for Arts and Science often occupied by the homeless being cleaned. The first photo in the series showed individuals sleeping, and the next three showed blankets and cardboard presumably used as shelter being removed.
After the man was taken from outside Alumni, building resident and GLS sophomore Cooper Carrington argued with police over what to do with the belongings left behind. The officers informed Carrington that anything left behind would be disposed of by sanitation, but Carrington said that the belongings were valuable and should not be thrown away.
The belongings Carrington wanted to preserve included a sleeping bag, the tent itself and the man's boots.
"When I asked the police what they can do with his stuff, they said it was my responsibility, that I have to take it all to my room," Carrington said.
The two parties agreed that Carrington would take and store in his dorm whatever he could — in hopes of returning the belongings to the man later — and the rest would be disposed of. Carrington has no relation to the man but said that he had spoken with him and exchanged contact information as the event unfolded.
Email Victor Porcelli at [email protected].