From Music Teacher to Gubernatorial Candidate: Hawaii's Andria Tupola Speaks at NYU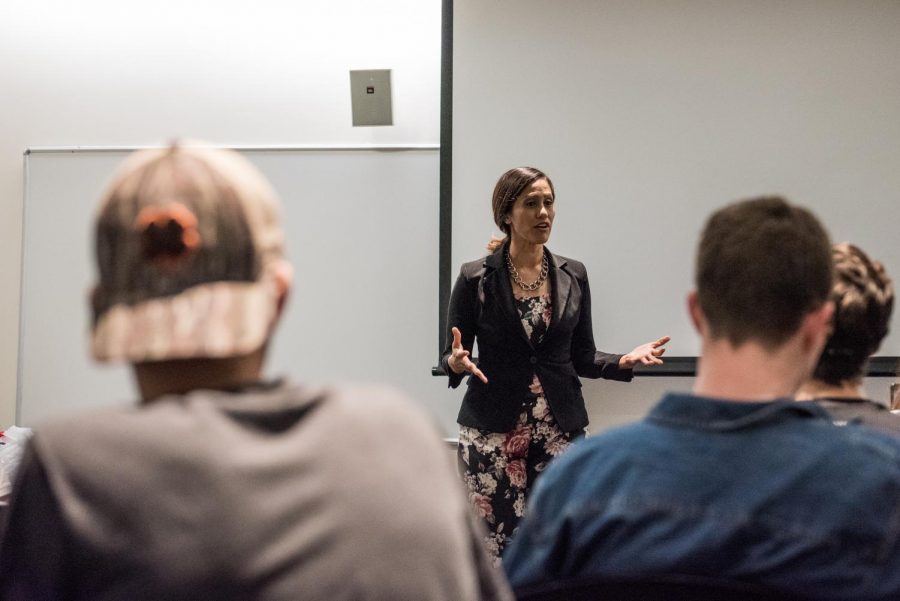 Just a few years ago, Andria Tupola could be found teaching music at Leeward Community College in Honolulu, Hawaii. Now, she is busy on the campaign trail trying to become Hawaii's third Republican governor since it became a state in 1959.
Tupola brought her campaign platform to Manhattan on Thursday, speaking at an event hosted by the NYU College Republicans.
Tupola first found political success in 2014 when she won her first political office, unseating Democratic incumbent Karen Awana for the House of Representatives seat for the state's 43rd district.
The candidate attributed this success to her grassroots style of campaigning.
"When I first decided to run, I would go door-to-door, asking people what they wanted to be done in the community," Tupola said. "They were surprised that someone would even ask them that question. Everyone thought I was crazy for doing that."
On Nov. 6, she will face Democratic incumbent David Ige in the state's gubernatorial election. A poll conducted in July of 800 registered voters in Hawaii showed Tupola 23 points behind Ige.
On the way here, Tupola beat former senator John Carroll and former Marine Ray L'Heureux in the primary election, carrying 55.5 percent of the vote. Included in her list of priorities are efforts to increase investments in agriculture, provide more affordable housing and uphold the gun rights set forth in the Second Amendment.
Tupola makes it a point to stress her individuality over party ideology and wants to shed the stereotypical Republican image placed upon her.
"It's been interesting to have this label on me that has connotations I wasn't aware of because I'm a very different person," Tupola said. "A lot of Republicans think I'm way too liberal because I'm a very loving person, and I talk about stuff that's important to me, like the arts and getting more music programs. I think that my mannerisms throw people off. A lot of people on social media say to me, 'I wish your personality matched your party.'"
Many listeners at the event saw Tupola as a refreshing candidate to her political party.
"She's just very real," Tisch senior Asha Rampertaap said. "Even though our party has been winning, I feel that there needs to be a human being inside every politician, and I feel like that has been missing. Everything is so partisan right now, and I think that's really hurting the country as a whole."
Tandon senior and NYUCR Secretary Nick Suri thinks Tupola could help unlock the future of the party.
"The way she represented the Republican Party is the way I think Republicans should represent themselves, in terms of not being boxed into things," Suri said. "That is the Republican party that needs to be shown more. We're not just a party of old white men, there's people of color, there's young people, and others that have their own opinions."
But some students weren't impressed. NYU Law student Peter Luning Prak felt that Tupola merely voiced empty promises.
"She's obviously a charismatic person, but I was unimpressed with her policy positions and the lack of explanation for them," Prak said. "I'm in general mistrustful [sic] of politicians who disguise their policy positions with feel-good language."
Ahead of the upcoming gubernatorial election for Hawaii, Tupola hopes that she can assuage doubts like this. One way she hopes to accomplish this is to showcase her willingness to reach across the aisle.
"Everyone who I work within the government of Hawaii, I have their cell phone numbers because when I need [things], I call them," Tupola said. "I don't think 'Should I call him or not because he's a Democrat?' I would like to have that type of relationship with the federal government. I would work well with whoever because I support the president, as well as all the leaders of our state, all the way down to city council. At the end of the day, I would have supported anybody —  Obama, Trump, whoever — because you, as a leader, need to set a good example for your community."
Email Meghna Maharishi at [email protected].