NYU Sued Over Retirement Plans, Trial Set for April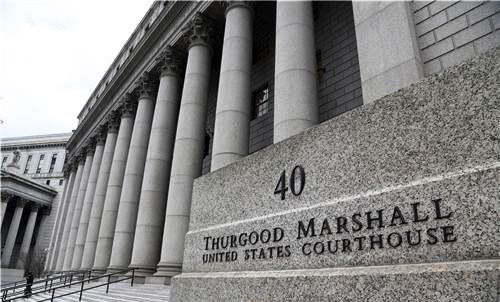 NYU has been hit with a class-action lawsuit over alleged mismanagement of faculty retirement plans. The case will be tried in a Manhattan federal courthouse this coming April and has the opportunity to set precedent for similar cases pending against other universities.
The lawsuit was initially brought forth in August 2016. The plaintiffs — six NYU professors — accuse NYU of allowing employees to be charged excessive fees on retirement savings plans and for providing imprudent investment options on these funds. These actions would violate a federal tax law known as the Employee Retirement Income Security Act.
The class-action lawsuit was filed against two separate 403(b) retirement plans — that of NYU's core campus, known as the Washington Square package, and that of the NYU School of Medicine.
The plaintiffs' lead attorney Jerome Schlichter is highly confident in the plaintiffs' chances.
"We're very much of the opinion that this will be a success for these employees and retirees," Schlichter said to WSN. "We've heard that [they would not prevail] in other similar cases. We've heard that there would never be a successful case for excessive fees, and that has not turned out to be the case. We are expecting to be heard."
NYU spokesperson John Beckman thinks differently.
"Their case is without merit, and their suit has already largely been dismissed," Beckman said in a statement to WSN. "We will continue to press for the dismissal of the suit in its entirety."
While a judge has since denied a second lawsuit and other claims made by plaintiffs, NYU was denied a motion for summary judgment — which would have ended the case before a trial — on Feb. 23.
The trial is poised to be a groundbreaking case in retirement fee litigation.
"This will be the first [trial] involving employees and retirees at a university alleging excessive fees and imprudent investments in the United States," Schlichter said.
Schlichter, the managing partner at the law firm Schlichter, Bogard and Denton, specializes in retirement fee cases, having previously represented 20 groups of employees and retirees. Over the past two decades, the law firm became the first to file cases alleging excessive fees on retirement packages.
In 2015, Schlichter successfully argued before the Supreme Court in Edison v. Tibble on behalf of Edison International retirement plan beneficiaries, resulting in a unanimous 9-0 decision in favor of the plaintiffs.
More than a dozen prestigious universities have been sued in the past two years over mismanagement over various aspects of their employees' retirement plans. Class-action lawsuits over retirement funds are pending against Yale University, Columbia University, Massachusetts Institute of Technology, Princeton University and other institutions. The most recent lawsuit was filed against Georgetown University on Feb. 23.
What is a 403(b) retirement plan?
According to the Internal Revenue Service, a 403(b) retirement plan is a savings account offered to employees of nonprofit organizations and public education institutions. When employees opt for this plan, a small amount of money is taken out of each paycheck and put into savings or invested. The biggest benefit of this plan is that it allows the money taken out to accumulate without income tax.
This tax-exempt money will continue to accumulate until the time of withdrawal at retirement. Once withdrawn, as long as the participant is over the age of 59-and-a-half, the income tax paid will be considerably less since most employees receive a much lower income in retirement.
If withdrawn before that age, the money may be subject to certain penalties, such as a 10 percent federal tax. Only employers are allowed to contribute to an employee's 403(b) account and are also in charge of choosing the investment options.
Most voluntary pension and health plans are required to meet minimum standards of protection for individuals under ERISA. ERISA requires employers to provide plan information to their employees and gives participants the right to sue for benefits in the case of a breach in these requirements.
What is NYU accused of?
Plaintiffs accuse NYU of violating ERISA in two primary ways: by allowing employees to be charged excessive fees on retirement savings and for providing imprudent investment options on these funds.
Under ERISA, it is the responsibility of the fiduciaries — those managing the retirement funds — to act solely in the interests of the plan, its participants and its beneficiaries. Plaintiffs argue that fiduciaries supplying each of the two retirement plans have breached legal duties of loyalty and prudence in their failure to act solely in the economic interests of the plans' participants due to unreasonably high administrative fees.
Plaintiffs argue that unreasonably high fees work against employees' interests and thus violate the law.
NYU is also being accused of having multiple recordkeepers managing retirement assets, which, according to the plaintiffs, unnecessarily costs 403(b) beneficiaries. While the Medical School fiduciaries consolidated to one recordkeeper in 2012, the Washington Square fiduciaries have not yet consolidated.
Schlichter and his team ask that NYU compensate its employees for past losses as a result of alleged excessive fees and imprudent investments. Plaintiffs also ask that NYU reform its retirement plans to prevent unnecessary losses going forward.
The plaintiffs are six NYU professors from the School of Medicine, the Silver School of Social Work, Steinhardt School of Culture, Education and Human Development and the Tisch School of the Arts. Plaintiffs seek compensation for damages incurred against all faculty members and retirees — thousands of current and former employees — who have been enrolled in 403(b) retirement plans during their time at NYU.
By filing this lawsuit, plaintiffs feel like they have already achieved some of their goals.
"In some respects, I think we have already won," plaintiff and Medical School Associate Professor Marie Monaco told WSN. "The administration has now said that it will make a lot of the changes that we had asked for in our complaint, and … [multiple faculty councils] passed a resolution recently saying that they wanted to be consulted with respect to the retirement funds by NYU's Retirement Plan Committee."
However, Monaco emphasized that all of the plaintiffs' demands have yet to be met, and the group will continue to fight for financial compensation over previous damages.
"What else can be won is some kind of monetary settlement, which I think would have the effect of NYU taking us seriously in the future," Monaco said. "[Penalizing NYU] would perhaps encourage it to consult with the faculty in the way that they were meant to — through shared governance — which is something that has been very lacking over the past several years."
Additional reporting by Richard Tran.

A version of this article appeared in the Monday, March 5 print edition. 
Email Alex Domb and Kristina Hayhurst at [email protected].