Another NYU Professor Comes Forward with Claims of Discrimination at NYUAD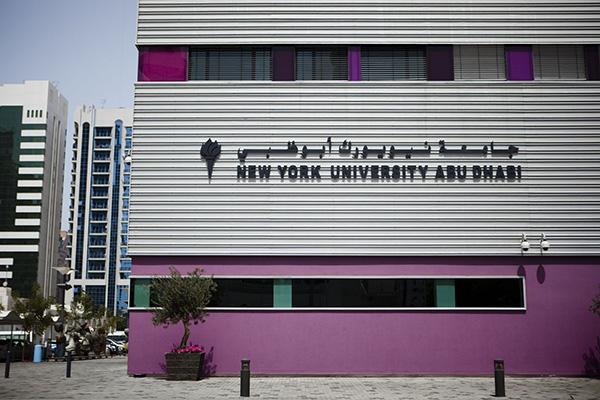 In a letter addressed to President Andrew Hamilton and members of the NYU Abu Dhabi administration, 10 NYU professors called for greater academic protection of students and faculty traveling to the NYU Abu Dhabi campus.
The letter names Middle Eastern Studies Associate Professor Arang Keshavarzian as a victim of religious discrimination by the United Arab Emirates government. Keshavarzian has since confirmed the letter's claim and has spoken out publicly about his denial of entry into the UAE.
The claim comes one week after NYU Associate Journalism professor Mohammad Bazzi penned his own New York Times op-ed describing his experience with religious discrimination at the hands of the Emirati government.
In early 2017, Keshavarzian made plans to teach a course in Abu Dhabi for the Spring 2018 semester. Keshavarzian told NYU that he had applied for security clearance in April and was told by NYU that the process should take six weeks. In August, Keshavarzian was told that he had been denied his security clearance and that NYU had appealed the decision on his behalf.
The rejection and subsequent appeal occurred without Keshavarzian's knowledge. Keshavarzian told WSN that no one from the NYU administration warned him or suggested that his security clearance could be denied.
"In fact, in the past year I was regularly told by the NYUAD administration and faculty that there are few limits on mobility at NYUAD," Keshavarzian said.
While the UAE government does not release the reasons for security clearance denials, Keshavarzian said he believed it was either because of his Iranian heritage, religious affiliation or research and teaching content.
NYUAD Executive Director of Public Affairs Kate Chandler responded to claims of religious and academic restrictions at NYUAD by highlighting the community's diverse demographics.
"Like the UAE, the NYU Abu Dhabi community is extraordinarily diverse: it includes faculty, students and staff from well over 100 countries, representing a broad collection of faiths — including those identifying as Sh'ia, many of whom joined as recently as this semester," Chandler said.
In their letter, 10 members of the NYU chapter of the American Association of University Professors addressed the NYU administration in New York and Abu Dhabi and condemned what they called "a gross violation of the AAUP's basic principles of academic freedom."
Khaldoon Al-Mubarak, one of the letter's recipients, currently sits on NYU's Board of Trustees and is a member of the Executive Council for the Emirate of Abu Dhabi. Al-Mubarak was also instrumental in beginning the initial partnership between NYU and the Abu Dhabi government, which included a reported $50 million donation from the Abu Dhabi government.
When asked to comment on the letter, Chandler said NYUAD Public Affairs had received the letter and intend to respond to it.
Keshavarzian's and Bazzi's denial of entry into the UAE sparked other groups to voice their displeasure with the UAE government. On Oct. 6, the Middle East Studies Association wrote a letter to Prime Minister Sheikh Mohammed bin Rashid Al Maktoum and Minister of Interior Sheikh Saif bin Zayed Al Nahyan.
Keshavarzian said he was concerned with NYU's lack of a public response to both his and Bazzi's case. Most immediately, the professor said he would like to see a public statement that confirms that the university stands behind faculty and students who have been denied entry.
More generally, Keshavarzian said there should be a greater consideration of what NYUAD's role is as a liberal institution in an authoritarian state.
"We need to have a frank discussion about what this partnership [between NYU and the Abu Dhabi government] is and who does and does not benefit from the intellectual and career opportunities," Keshavarzian said. "Far greater transparency is needed when it comes to these global network university projects as well as other challenges facing the university."
Keshavarzian thinks there is something to be desired from NYU's response.
"I have not seen much critical reflection from the university when it comes to NYUAD," Keshavarzian said. "We typically hear generalities, defensives and hiding behind the UAE government's sovereignty."
President Hamilton's office, NYUAD Vice Chancellor Alfred Bloom's office and NYU Public Affairs did not respond to requests for comments.
Chandler reiterated NYU's stance on sovereign nations when discussing Keshavarzian's case. She used some of NYU Spokesperson John Beckman's words verbatim.
"NYU believes that the free movement of ideas and people — specifically our faculty and students — is at the heart of our vision for our global network," Chandler said. "While we continue to press for the free flow of scholars across our global network, we also recognize that, as in the U.S., it is the government that controls visa and immigration policy."
Though Keshavarzian learned of his denied security clearance in August, he said he chose to wait over two months to go public with his experience with the expectation that NYU would make its own statement. After Bazzi shared his story and subsequent lack of a public statement from the university, Keshavarzian said he felt the need to speak about his experiences.
Keshavarzian said he believes there may be other students and faculty who have experienced situations similar to his but may feel uncomfortable speaking out.
"This is a very personal decision, and I am not about to tell people if they should or should not discuss their cases in public," Keshavarzian said. "There are clear risks to people's research and career plans. The NYU administration has a responsibility to support people when they are in these cases rather than shift responsibility on to them or create an intimidating climate."
[googlepdf url="https://www.nyunews.com/wp-content/uploads/2017/10/Bazzi-Keshavarzian-1.pdf" width="650″ height="810″]
A version of the story appeared in the Tuesday, Oct. 10 print edition. Email Mack DeGeurin at [email protected].