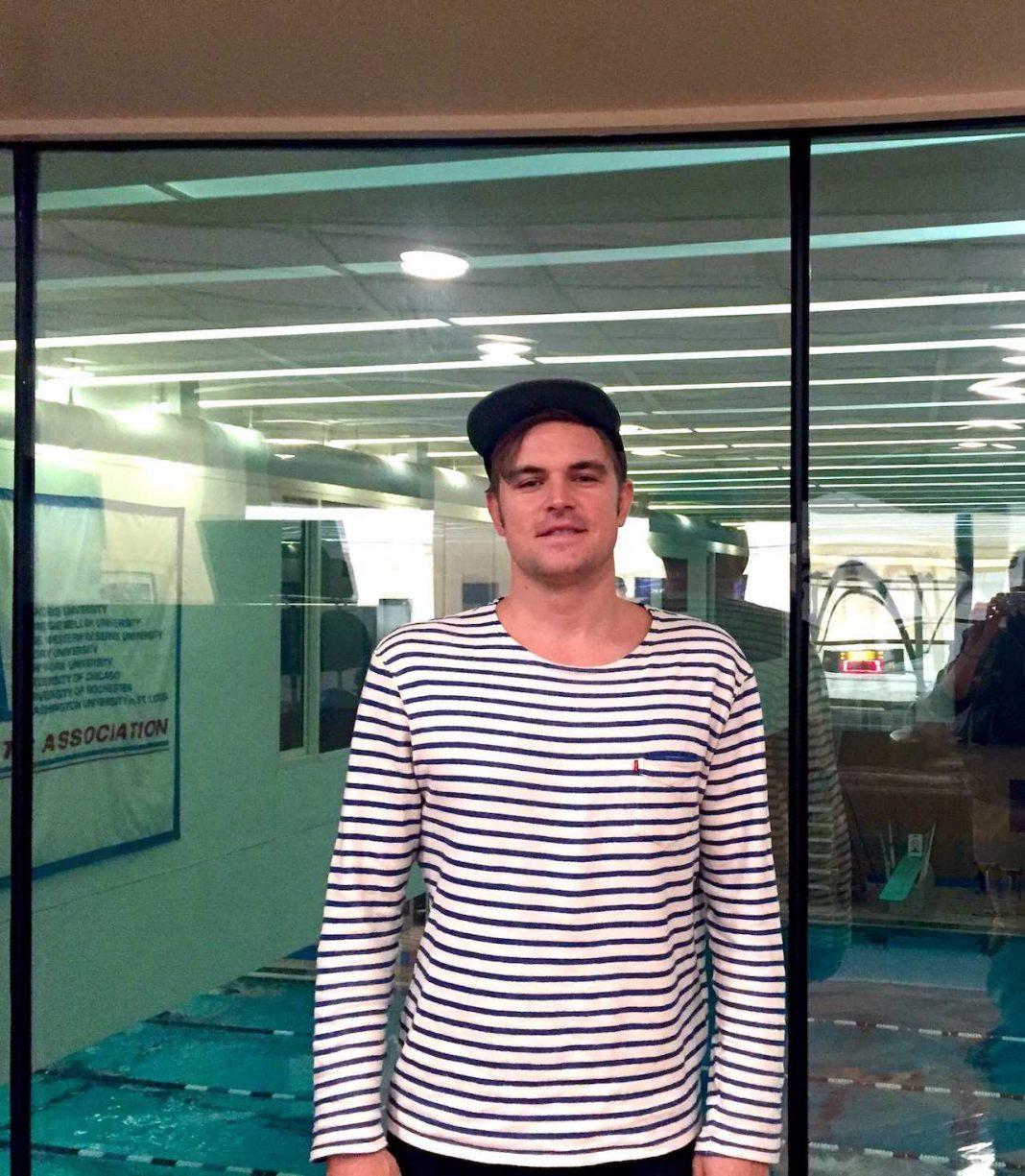 Harrison Browning — affectionately known as Hank to those who know him best — may be the assistant swim coach for the men's and women's team, but he prides himself in also making a splash somewhere unexpected — comedy clubs.
Browning brings with him a successful past at the University of North Carolina at Chapel Hill, where he attended school and swam competitively. During his career from 2005 to 2010, he was one of the ACC's best swimmers, winning the 200-yard freestyle two years in a row. He was also the UNC swimmer of the year for two years in a row before tearing his posterior labrum during a trip in his sophomore year. After a difficult surgery and redshirting the next year, the rest of his college career wasn't nearly as competitive as he had originally hoped. But that didn't kill his spirit, nor his sense of humor.
After graduating, Browning headed to Boston to work in business, which he had studied during college. A lot of his time, though, was spent traveling to New York City to immerse himself in the comedy world — an interest he had nurtured from an early age.
"I was always really into standup and movies, comedy films, whatever," Browning said. "I got into improv stuff while I was in college."
It was, ultimately, swimming that finally got the ball rolling on his career in comedy.
"Swimming teaches you how to be in that locker room mode where you make fun of each other," Browning said. "The person who makes fun of each other the best gets a little clap or a laugh."
This pursuit of comedy actually started as an outlet for Browning, who would take improv classes in Boston just for kicks. It's what brought him to New York City, and one of the things that keeps him here — "a little fun thing," the kind of which everyone needs.
So, two and a half years ago, Browning made his way down to the city in this pursuit of comedy, and has now joined NYU's athletic staff. Although he's in his first season at NYU, this isn't his first stint coaching; he was a volunteer assistant at Tufts for two seasons under coach Adam Hoyt. He reflects fondly on his time there. Since coming here, he's been touched by athletes who swim for the love of the sport.
"It was really neat to see a DIII school where people don't necessarily have scholarships," Browning said. "They're choosing to swim because they love the sport so much, and that is an incredibly infectious feeling to be around."
That "infectious feeling" he gets from these students is a plus for him that carries from his time at Tufts to NYU.
Since coming here, he feels that everyone has treated him with the utmost respect — a pleasant respite from some of the stigma of being looked down upon as a young coach. His swimmers just want to get better, they don't care as much about the demographic of the person doing the coaching. Moving forward this season, Browning has simple and clear intentions.
"My biggest goal is to get this team ready to dominate nationals," Browning said. Coming in and learning the new system, Browning is very happy with what he is coming into, and the system that head coach Trevor Miele has implemented.
With ample experience to offer to swimmers, Browning is focused on making sure that no stone is left unturned in preparation for the crux of the season.
"In my time spent here, I want to spend my time making sure everyone is mentally and physically ready for nationals," Browning said.
Outside of coaching and more on the personal side of things, Browning aims to continue growing, studying ways he can get better as a coach and comedian.
"My biggest thing is always to keep learning," he said. "I think New York is a place where you can make it whatever you want it to be."
Email Miguel de Laveaga at [email protected]