Athletes of the Year Ready for Their New Seasons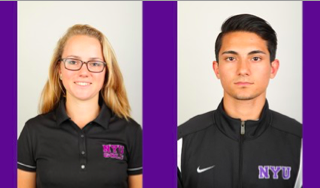 Sophomore golfer Jenni Bluetling and senior wrestler Nathan Pike took home the honor of being the 2015-2016 NYU Athletes of the Year. Straight from Feldafing, Germany, Jenni Bluetling has spent the summer finessing her craft.
"I have been getting in a lot of range work to improve my short game which was one of my weaker areas last season," Bluetling said. "I have also been trying to get on the course as much as possible and continue going to the gym a couple times a week as time gets closer to flying back to the city since we dive right into our season."
Nathan Pike, on the other hand, has been doing the opposite. During the off-season he actually steers away from wrestling, but instead focuses on putting on muscle.
"I have found that when I take a break from wrestling it makes me miss the sport and, in turn, causes me to work harder when season rolls around," Pike said. "I do think my main priority is getting in the weight room."
When things get intense, Bluetling carves time out in her schedule to Skype call friends and family from back home. Meditation and yoga keeps Pike grounded when things get hectic. His warmup routine includes listening to classical or jazz music in order to control his heart rate and remain relaxed.
Bluetling credits her coaches and teammates for helping her stay on track both on the course and in the classroom.
"The absolute support and constant encouragement from Coach Kolean and Meaghan are some of the greatest factors that contributed to my success last year," Bluetling said. "Some of my closest friends on the team made all our tournaments great fun and helped me power through the late night study sessions."
A focused mindset along with endless support from the inspiring people around Pike contributed to his success this year.
"I think my mindset and the support from my friends, family, teammates and coaches helped a lot," Pike expressed. "A lot of people believed in me and I wanted to come through for them."
Despite her team's success, Bluetling warns incoming teammates about time management because tournaments are on the weekend.
"With tournaments taking up most of the weekends it can be very stressful to get all the work done on time," Bluetling stated. "In preparation for midterms and finals it helps to look at the exam schedule far in advance."
Pike encourages new teammates to attempt to beat anyone who is within two weight classes of their respective weight class and to not be afraid to lose against each other.
"Do not come in and burn yourself out," Pike expressed. "The season is longer than the high school season, so it may take a little bit to adapt and tailor when you peak in the season."
The two star players are set to start their fall seasons, with golfing ramping up on Sept. 3 and wrestling a little further off, debuting on Nov. 5.
A version of this article appeared in the Sunday, August 28 print edition. Email Ashley Arnold at [email protected]