Chefs Come Together To 'Change Menus, Change Lives'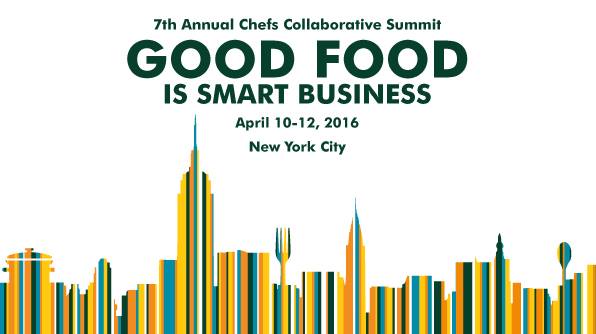 The Chefs' Collaborative Summit is an annual event that brings together chefs and food leaders for a weekend of speakers, workshops and networking. This year, the conference was held from April 10-12 at NYU's Kimmel Center For Community Life where panelists discussed the importance of chefs sourcing locally in order to help farmers and local traders. Over 350 people attended the event.
The theme of the summit was "Good Food is Smart Business." The summit explored the intersections of good food and sustainability through a variety of hands-on workshops and interactive meals. Every event was directed towards a common goal: to improve the food system.  
Patricia Nicolas, a Stern freshman and volunteer for the event, said that she gained a new appreciation for what it means to locally-source ingredients.
"My volunteer work was extremely rewarding," Nicolas said. "I was amazed by the knowledge of chefs, extending beyond the culinary. I learned from all of the speakers and kept coming back for the delectable foods like sunchoke toast and mofongo. But most importantly, I gained a new perspective on food and business."
There were many well-known chefs in attendance. Jose Andres, a Spanish-American chef often credited with bringing the "small plates" dining concept to America, delivered an empowering talk about his social missions and accomplishments through his nonprofit organization, World Central Kitchen. Celebrity chef Tom Colicchio, founder of the Gramercy Tavern, discussed food and hunger issues alongside Senator Kirsten Gillibrand. Also in attendance were representatives from Leche y Miel, an eccentric Mexican restaurant.
These chefs and food experts incorporated a focus on sustainability into the ways they source, cook and serve their food. They demonstrated how restaurant owners have the power to dictate the lives of suppliers and customers through their menu choices.
Nicolas, who is interested in how business can contribute to sustainability and the common good, appreciated how educational and informative the summit was.
"This event has proven to me that sustainability can actually be profitable, she said. "I wear the summit wristband that reads 'Change Menus, Change Lives' because I now understand the power of restaurant owners to dictate the lives of suppliers and customers through their menu choices. What I learned at the summit does not apply strictly to the food industry, but to business as a whole. The Chefs Collaborative Summit delved into this topic and showed me how I can marry my passions for food, business and social entrepreneurship."
Email Ankita Bhanot at [email protected].