Tisch alum believes in 'Unicorns,' fighting gender bias in film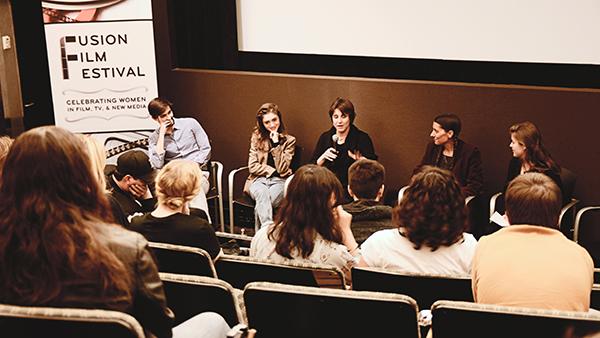 Women in filmmaking tend to be few and far between. However, Tisch alumna Leah Meyerhoff and Film Fatales, an organization of women filmmakers, are working against the underrepresentation and lack of opportunity for female filmmakers. Fusion Film Festival, NYU's annual film festival dedicated to women in film and television, launched on Friday with a screening of Meyerhoff's first feature film, "I Believe in Unicorns," followed by a Q&A.
The discussion between lead actress Natalia Dyer and music supervisor Colby Trane was moderated by one of Meyerhoff's former professors at NYU, Jennifer Ruff.
Meyerhoff introduced the first short film she made, "Twitch." She described how she intended to make this film in order to test out two things: casting her actual mother in the role of the mother, and casting an actual teenage girl to play the role of a teenage girl. When both of these were a success, she filmed her senior thesis project, "I Believe in Unicorns," which turned into a full-length feature that took over five years to complete. 
The film follows Davina, a 16-year-old girl with a vivid imagination who gets whisked away by her older boyfriend, Sterling, a typical, moody bad boy, who decides to go on a road trip to anywhere but where he and Davina come from. Along the way, however, her knight in shining armor becomes a violent and abusive nightmare.
Meyerhoff was inspired to make this film by her experience caring for her mother, who was diagnosed with multiple sclerosis when Meyerhoff was young. This film was so autobiographical that some scenes were shot inside Meyerhoff's childhood home.
During the Q&A, Meyerhoff discussed Film Fatales, which she helped found. She remembered that as an undergraduate, she didn't think of herself specifically as a female director. However, as she entered the film festival circuit, she began to realize that she was part of a minority in the business. 
Meyerhoff said the creation of Film Fatales was almost coincidental.
"I invited six women, feature film directors, over to my house in Brooklyn, made them all dinner, and asked them about filmmaking," Meyerhoff said. "One of them said 'Let's do this next month, I'll host it.'"
Meyerhoff said participants range from feature film and short film makers to documentary directors.
"It's a collaborative community, rather than a competitive one," Meyerhoff said. Today, there are hundreds of directors in dozens of cities, including within Australia and England, involved with the organization.
The number of women in the film industry is infuriatingly low. However, with women like Leah Meyerhoff on the horizon, it can be said that there is hope for the destruction of systematic bias within the business. 
"I Believe in Unicorns" is available for streaming on Netflix.
A version of this article appeared in the Nov. 2 print edition. Email Jordan Reynolds at [email protected].