Never bike alone in Biking with Friends club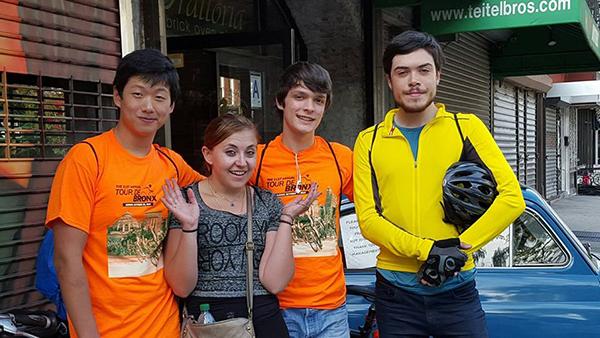 The prospect of biking in the city can seem both thrilling and terrifying. As a solution to this dilemma, Gallatin senior Jonathan Yuan founded the club Biking with Friends this year to form a band of bikers to ride together. Over the summer, biking trips with friends inspired Yuan to connect with other cyclists in the city.
"We had a lot of fun cycling around New York City and beyond — to Montauk, Philadelphia, Bear Mountain and even Boston," Yuan said. "We thought it would be great to meet other cyclists at NYU."
At a school of such a large size, the club aims to create a sense of community by bringing together cyclists at NYU through safe, long-distance bike rides for students of all levels who share a passion for the activity.
"Though a lot of students commute by bike and ride for fun, there's not really a community around bicycling, and we wanted to change that," Yuan said.
While the club is formed around a tight-knit group of participants, anyone is encouraged to join for a ride and a bite to eat, particularly on the weekly Wednesday "Humpday" ride, which is one of the club's most popular events.
"Our rides almost always involve eating somewhere, which I think is an important part of what we do as a club," Yuan said.
In past events, club members have tackled challenging courses across the city, even participating in the brutal 40-mile Tour de Bronx this past week.
"We've been up and downtown, and crossed the Williamsburg bridge, which was a serious challenge to a lot of us, but it also didn't even compare to some of the hills we tackled at the Tour de Bronx," Yuan said.
The club is still working to build a stronger presence within the NYU community, mainly by simply spreading the word about its existence. Yuan does, however, recognize that the club meeting times may conflict with some students' busy schedules.
"I can't say if the club has found success, as we are still so young," Yuan said. "I think a few challenges we're facing are students' knowledge that we exist, and also finding a time where enough people are willing to set aside an hour or two to go biking with friends."
Despite the few hurdles the group has faced, the Biking with Friends club continues to grow. The club aims to establish itself as the biking hub of the NYU community for those passionate about cycling while simultaneously promoting a healthy, alternative mode of transportation.
A version of this article appeared in the Monday, Nov. 2 print edition. Email Abigail Weinberg at [email protected]