Lebanese politics on display at MoMA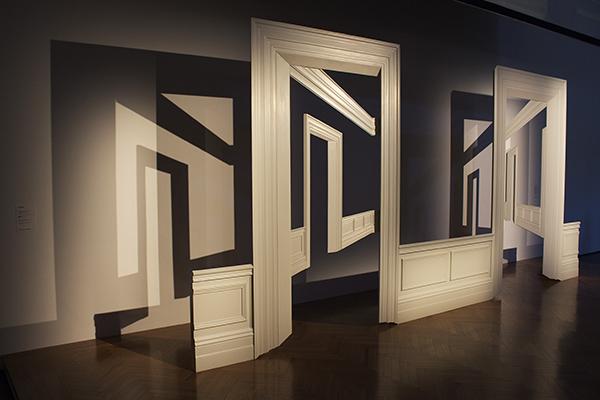 The second floor of the Museum of Modern Art prominently features Lebanese artist Walid Raad's most recent project on the history of art in the Arab world titled "Scratching on things I could disavow," which centers on a diorama of "The Atlas Group." "The Atlas Group" is another famous work focused on the historical documentation of the recent Lebanese civil wars. The piece makes a statement against the Beirut art gallery that first featured his work in a dramatically small-scale version. Displeased, Raad decided to display his works in even-smaller miniature. 
Raad's brazen attitude toward political, social and personal disturbances are apparent throughout his works. "Better be watching the clouds," a piece featured in "The Atlas Group," shows provocative, scientific plates of various flora and fauna with the heads of political and social leaders pasted onto the blooms of each plant. The 1989-2004 project features photographs and videos depicting fictional replications of Lebanese soldiers in moving pieces, including the mesmerizing, "We decided to let them say 'we are convinced' twice (It was More Convincing this Way)." The artist began the project in 2007, inspired by developments in infrastructure in the visual arts world in conjunction with geo-political, economic, social and political conflicts in the contemporary Middle East.  Raad poignantly comments on large political and artistic themes with "Pension arts in Dubai," derived from his experience with the Artist Pension Trust. In addition, "Les Louvres," features his curation of ancient Arab artifacts which delivers necessary dimension and historical shadow to the pieces.
The works in this collection are controversial in their highly political nature for the Museum of Modern Art.  However, the exhibit is done tastefully as not to offend, in typical MoMA fashion.
MoMA's Walid Raad exhibit is the first complete survey of the artist's works in the United States. Raad's work has been previously featured in the Guggenheim, the Whitney and the Musée de Louvre in Paris. Raad currently lives in New York City and teaches at the Cooper Union School of Art in the East Village.
The exhibit encompasses both of the aforementioned projects as well as limited "Walkthrough" events in which the artist himself will walk audiences through "Scratching on things I could disavow" — tickets are included in the museum price and are recommended to be bought in advance. There are a limited number of these tickets reserved to be purchased starting at 9:30 a.m. each day.
The exhibit opened on Monday, Oct. 12 and runs through Jan. 31. Museum admission is free with your NYU ID. MoMA is located on 11 W. 53rd St.
A version of this article appeared in the Oct. 19 print edition. Email Natalie Whalen at [email protected]