Politics, space sex at Hammerkatz fall recital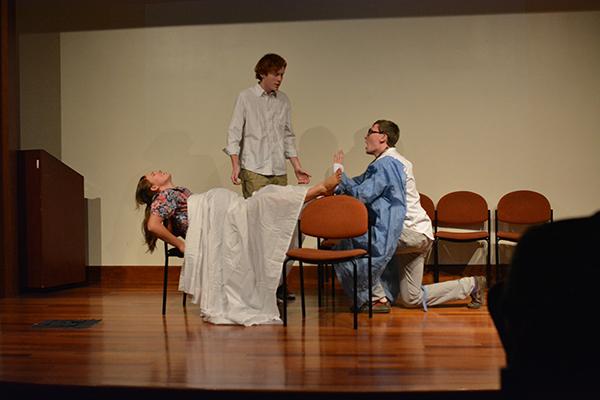 In a continuation of NYU's fall comedy show season, Hammerkatz presented their Fall Recital this past Saturday at the Kimmel Center for Student Life in two evening shows. Online, they promised "an homage to the symphony, commemorating aspects of sound, rhythm and melody." While the show did not necessarily involve actual symphonies, it did bring uproarious laughter.
The show opened with a sketch parodying the 2016 Republican debates. A well-played Megyn Kelly interviewed fictional nominees who all spoke on their willingness to speak their minds. After each politician made their identical vows, the redundancy became comically hyperbolic — by having each nominee reiterate each other's political stance, this sketch satirized the lack of original thought in political debate.
The second political sketch from the night was a take on the famous Brown V. Board of Education case.  During a Parent-Teacher Association meeting taking place after the case's verdict, frantic white parents are not concerned about black children allowed into school. Instead, they focus on how these children are going to get transported because the parents do not understand the concept of buses.  This sketch was a bit of a miss  for Hammerkatz.
One of the night's stand out sketches featured a declaration of love gone wrong. An astronaut (Russell Katz, tambourine) proclaims his love to another astronaut (Rachel Horwitz) as they make their way to Mars on a mission for NASA.  When his love is not reciprocated, the space shuttle very quickly becomes awkward, as the astronaut had already declared to the galaxy that he would have space sex. The simplicity of the sketch had the audience chortling, and was definitely one of the best of the night.
Another of the night's prominent sketches was a hilarious sketch in which two hosts of a ghost-hunter television program (John Higgins and Anna Lockwood) survey a house to speak with the paranormal. The duo quickly discovers that the home did not house the historical values they were led to believe — the house actually served as a gathering spot for orgies.
Hammerkatz's video sketch remained one of the strongest parts of the show. Their parody of a Nike commercial was filmed so professionally that it is worthy of being on S.N.L.. Previous Hammerkatz commercial parodies like "Tampon Commercial – Presented by Men!" have a similar approach in adopting an extremist's perspective to get a point across.
All of the sketches featured in the performance were humorous and professional, and the audience loved every minute. All NYU students should do themselves a favor and see a Hammerkatz show during their time here.
Hammerkatz's next show at Kimmel is on Oct. 31.
A version of this article appeared in the Sept. 28 print edition. Email Erica Sabel at [email protected].