NYU students around world join in event
Violet 100, NYU's student government-organized spirit week, has a new, global dimension this year: the Global Service Initiative.
Unlike other local Violet 100 events — such as a TEDx event and the Ultra Violet Live talent competition — vice chair of the Students Senators Council Michael Hengerer said GSI was designed to involve the portal campuses and study abroad sites of NYU's global community.
"We really wanted it to be not just an NYU New York event, but to really be something that New York University did globally," Hengerer said.
Members of the Student Senators Council and other, non-member students organized GSI. The events were conducted in partnership with organizations, such as Amazon Student and Cyc Fitness, that helped interested students participate in service initiatives.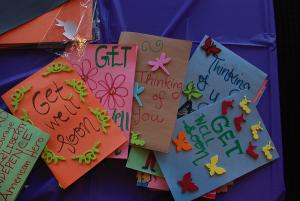 SSC Senator-at-Large Kevin Jones said the groups involved were organizations that NYU students had been known to collaborate with. Jones said they attended a GSI event at a school that was held in partnership with JumpStart, an organization promoting childhood education.
"There were about 15 NYU people there," Jones said. "We read with the kids."
Students at the Washington Square campus could choose from a range of service activities, such as donating blood, packaging and delivering food for Food Bank for NYC and making cards for soldiers and hospital patients.
Hengerer estimated that, throughout the NYU global community, there had been between 150 to 200 participating students, with 75 participating in New York City.
Jonathan Bach, the global vice chair for the SSC and one of the main organizers of GSI, said GSI has concluded in New York City but will continue throughout NYU's global campuses.
"The Global Service Initiative spans this entire week from the perspective of the [Global Network University]," Bach said.
Hengerer said the event was a success.
"We've never done something of this scale, an event that was so global," Hengerer said.
A version of this article appeared in the Tuesday, Feb. 24 print edition. Email Felipe De La Hoz at [email protected]