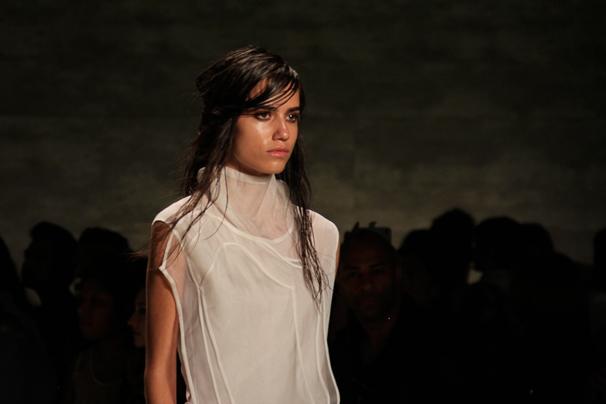 In Parkchoonmoo's Spring/Summer 2015 collection, Demi Park left her comfort zone of monochrome clothes to add a special touch of radiant red wedges in her standout look. With golden infused background walls, models drifted down the runway followed by impacting techno music. With hair up in buns or styled wildly loose, the concept of simplicity was introduced.
Park's excited aesthetic reflected in near-nude pieces. A transparent black blouse was the main attraction of the show, while a long sleeved beige lined ivory coat became the number one item on everyone's must have list. Even with no makeup or accessories, the looks exuded confidence.
Park's monochrome designs displayed a character of strength on the runway. Her industrial background was incorporated in her collection through clean cut lines, seamlessly intertwining sheer fabrics and dark undertones. The contrast of black and white fabric brought a sense of masculine energy to these wearable feminine designs.
Email Cashman Aiu and Cristina Fraga at [email protected]