Syrian crisis comes to life on campus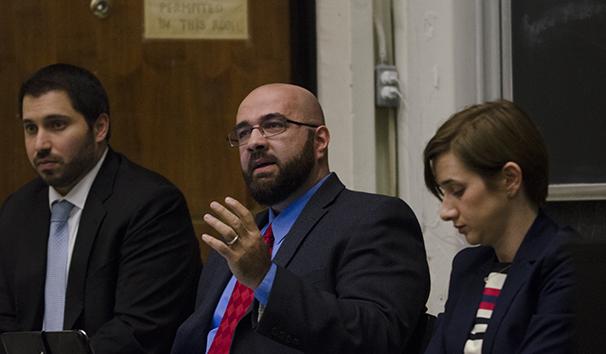 Syrian activists and journalists discussed health, education, women's issues and the plight of refugees within and outside of Syria at #Speak4Syria, a panel hosted by the International Relations Association.
Mohammed Aly Sergie, a former senior editor of the online news outlet Syria Deeply, moderated the panel, which took place on April 16.
Syrian activist Qusai Zakarya shared his experience as a survivor of the chemical weapons attack that began on Aug. 21, 2013, in Moadamiya, a suburb on the outskirts of Damascus, the capital city.
Zakarya said he witnessed hundreds of people running in fear and lying on the streets unable to breathe from the Sarin gas President Bashar al-Assad's regime allegedly used.
"Before I realized what was going on, I lost my ability to breathe, my chest was set on fire, my eyes were burning like hell and I wasn't able to scream to alert my friends," Zakarya said. "I started beating my chest over and over again until I managed to get my first breath."
Zakarya recalled an incident in which he drove injured children to a hospital with only eight doctors, three of whom had not yet graduated from medical school.
"One of our neighbors started knocking on the door," Zakarya said. "She had two of her kids, one the age of 4 and the other one the age of 6. Both of them were suffocating and they were vomiting some white liquid from the chemical exposure."
The Assad government then carried out a siege that affected many suburban areas including Moadamiya. Five days later, UN representatives went to Moadamiya.
U.S. activist Kenan Rahmani, director of operations and development for the Syrian American Council, said the UN Security Council tried to provide food to civilians, which the Syrian government denied.
GSAS senior Gabriela Pena, president of the International Relations Association, explained the event's purpose.
"[This event was held] to bring awareness outside of what students are reading in the media," Pena said.
After the speakers presented their speeches, the audience asked questions.
In response to a question about how female voices are lacking, Prospect Park Mayor Mohamed Khairullah said women are active members in society but their voices are being muted by Syria's patriarchal society.
"Syria is a male-dominated society, but from being on the ground, I can tell you women do play a major role," Khairullah said. "They are very involved, uncharacteristically involved on the ground. Their story in the media is not out there. They work, they don't talk."
Zakaya said he hopes for more support from the United States and for more awareness of the crisis to be spread.
"It's about time for the United States to start acting to support the Syrian people and put an end to the fascist regime."
A version of this article appeared in the Thursday, April 17 print edition. Christine Park is a contributing writer. Email her at [email protected] 
*Correction: A previous version of this article incorrectly credited the International Relations Society as the group who organized the event. The International Relations Association hosted the event. Additionally, Gabriela Pena is the current president of the International Relations Association, not a former member of the International Relations Society.
WSN regrets the error.