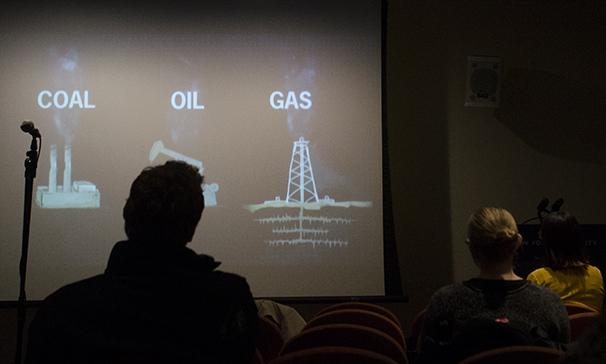 In the latest effort to inform the NYU community about the effects of climate change, student activists hosted a screening of "Do the Math," a film about social movements to protect the environment.
NYU Divest, Earth Matters and the Graduate School of Arts and Science Student Government organized the event, which took place at the Kimmel Center for University Life on April 16.
The movie highlights environmentalist Bill McKibben's crusade against the use of fossil fuels, which he cites as a leading cause of climate change. He focuses on three numbers based on comprehensive, scientific studies while he dissects the math involved in climate change.
The first is two, or the number of degrees Celsius that Earth can warm without significantly disturbing life as we know it.
The second is 565, or the number of gigatons — billions of tons — of carbon dioxide people can emit into the atmosphere before global warming will surpass that two degrees.
The third is 2,765, the number of gigatons of carbon currently in the reserves of the fossil fuel industry. This number means that these companies already have more than four times the carbon resources necessary to alter the planet irreversibly.
McKibben started a project called 350.org which has organized massive protest efforts around the world to fight against the fossil fuel industry and for cleaner, renewable sources of energy. His project is named after the amount of atmospheric carbon dioxide in parts per million scientists have concluded the planet can withstand. Today, however, levels are at 395 ppm.
In a similar vein as 350.org, NYU Divest hopes to eliminate the school's investments in fossil fuels. Gallatin junior Sophie Lasoff said divestment has worked in past social movements.
"As we saw with the South African apartheid movement in the '60s, it took many years to make divestment a reality at these schools, but once the big names started falling off, it was like a domino effect," Lasoff said.
On Monday, at NYU President John Sexton's town hall meeting, NYU Divest revealed its divestment petition filled with more than 1,400 signatures, which helped convince Sexton to meet with the group.
NYU Divest member and CAS junior Josh White said NYU has an obligation to stop financially supporting the fossil fuel industry and protect the environment.
"NYU is a leader in sustainability, as indicated by its recent 30 percent reduction in greenhouse gas emissions," White said. "However, its investments in the fossil fuel companies that cause climate change are hypocritical and contradictory to these efforts."
NYU Divest is working to gather support from various facets of the NYU community, including student organizations and faculty.
Sumit Gupta from the GSAS student government said he feels that NYU Divest's spreading of information about environmental issues is important.
"The kind of work they are doing is something people should be aware about," Gupta said. "It's about making people more aware and more knowledgeable so that if they have an opinion, they state it rather than just not doing anything about it at all."
A version of this article appeared in the Thursday, April 17 print edition. Claire Scimeca is a staff writer. Email her at [email protected].