Skin care products prevent damage from winter weather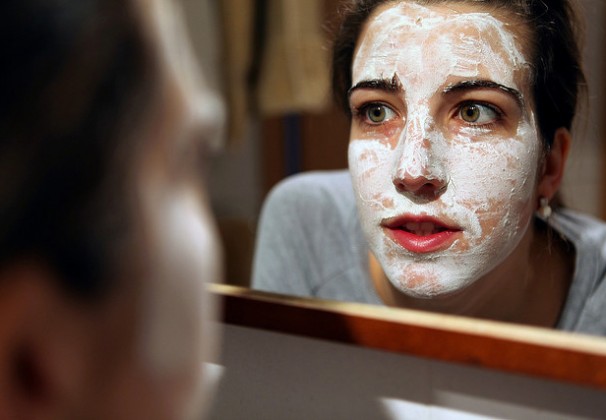 As fall temperature edge their way down  the thermometer and autumn transitions into winter, your wardrobe is not the only thing that requires some changes.  Cold, windy and dry air, along with the occasional snow fall, can be brutal to your skin, so it's essential to prevent your skin from becoming chapped and red.
The main concern when it comes to cold weather-related skin care is increased dryness. In order to keep your skin looking radiant instead of ruddy, adjustments must be made in what type of lotion and moisturizer you use. For hot, summer days, a light water-based daily moisturizer would be generally sufficient for keeping in moisture and protecting your skin from the sun's rays. However, for late autumn weather, a water-based product generally is not moisturizing enough to prevent dry skin.
Instead, switch your daily moisturizer to an oil-based one. These oil-based products, despite the name, can still be non-comedogenic (meaning they do not clog pores), and will not cause you to break out. Try the Replenishing Rich Moisturizer by Simple ($11), which works great for sensitive skin and can be found at any drugstore.
Although most oil-based products are successful in replenishing moisturizer, extra-virgin olive oil seems to work wonders for the skin when it comes to moisturizing, as well as maintaining the skin's elasticity, due to the antioxidants it contains. Olive oil can be found in a wide variety of products, from rich creams to serums, which all work towards the same goal of protecting and moisturizing the skin. C. Booth's Italian Olive Oil Body Butter provides the richness of a cream with the added benefit of olive oil ($7). This type of cream is best used at night, giving your skin some time to absorb the moisture.
Despite the darker, cloudy skies that come this season, sunscreen is still an essential item that should be applied on a daily use. Even if it's not sunny, UV protection should be considered a year-round precaution. If your winter moisturizers do not already contain an SPF of at least 15, incorporate a light, non-comedogenic sunscreen, such as Neutrogena's Ultra Sh-eer Dry-Touch Sunscreen, which ranges in SPF from 15 to 100 ($12).
After the application of daily skin care products, many opt to use foundation, which is perfect for hiding redness or discoloration brought on from the bitter weather. It is important, however, to ensure the correct formulation of foundation is being used. Powder-based products can reverse all the moisture from your other skin care products, producing a "caked-on" look. Instead, opt for a light liquid or cream foundation, being sure to warm up the product with your fingertips before application in order to prevent it from drying on the skin.
A version of this article appeared in the Wednesday, Oct. 23 print edition. Dana Reszutek is a staff writer. Email her at [email protected]