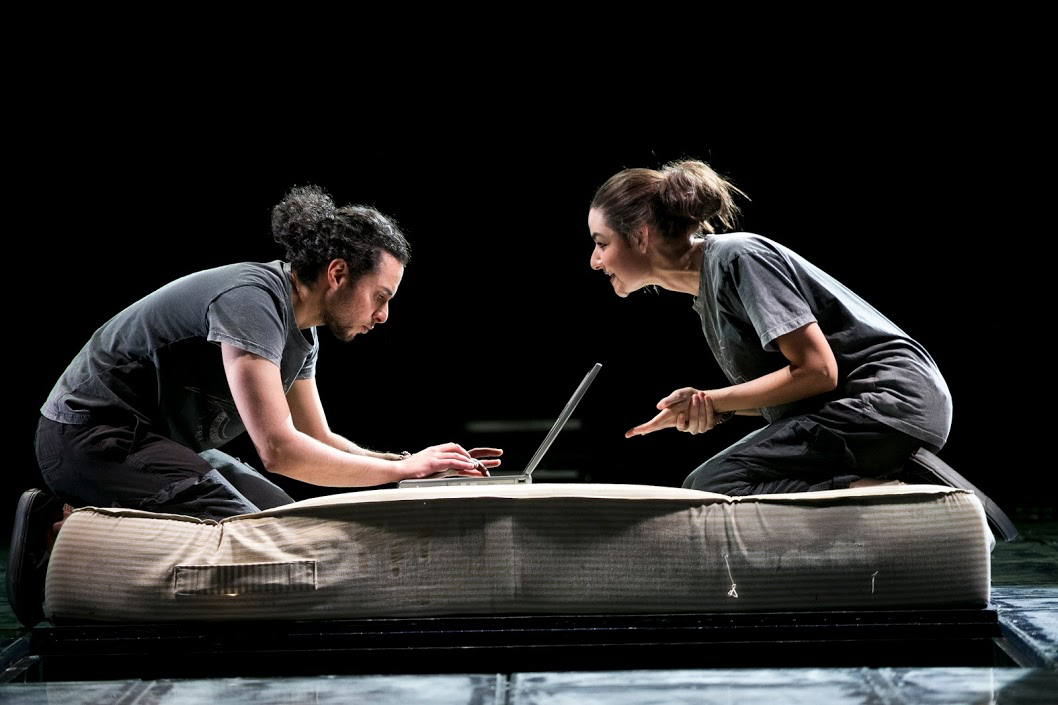 Where the world stifles, theater liberates. "Adam," which ran at the Skirball Center of the Performing Arts last weekend, tells the heroic journey of star Adam Kashmiry's experiences as a transgender man living in Egypt and Glasgow. Beneath the surface, "Adam" is a powerful tale of struggle in a world that is not on the character's side. Themes of dissociation and connection, repression and transformation highlight the transgender experience with a varied integration of naturalistic dialogue, moody music and techno-driven spectacle.
Who is Adam Kashmiry? He is one of two actors in the production, where he plays himself: a trans man born in Alexandria, Egypt who immigrated to Glasgow, Scotland in 2010. His life eventually inspired him to share his story with the National Theatre of Scotland, which ran the original U.K. production and the New York run.
Before Kashmiry comes on stage, the audience sees an elevated angular platform surrounded by mauled mannequins, their parts dismembered, broken and arranged like a border of bodies. Within this border, Kashmiry and his brilliant co-star Rehanna MacDonald share his story, opening various tiles as they relay different events and encounters like a board of memories. A disunion between body and mind is established, where the latter is confined by a border set by the former.
"Screen," Kashmiry said in his opening monologue about words with opposite meanings. "To show but also to conceal."
These ambiguous words — the play tells us they're called contronyms — punctuate Kashmiry's storytelling. It becomes clear that they represent the way in which we associate meaning with the body, and how body and mind may in fact convey opposite meanings. This idea is central to an audience reaching an understanding about what it means to be transgender. It is not merely being born into the wrong body, but rather being born into a body that conveys a meaning untrue to the individual.
The play is strongest in its portrayal of Kashmiry's coming to terms with his gender identity. So rarely is this an experience that makes it to an international stage for audiences to bear witness to. We see Kashmiry's dissociation from the female identity he was given, even from six years old, when he notes to his mother, "I wanted to go to the toilet the way Farouk does. Standing up." We see his harrowing encounters with abuse and his rejection from home. He is forced to live alone in a run-down apartment and sleep on the floor.
This is only one of many forms of exile Kashmiry faces. In Egypt, his motherland, there are debauchery laws in place that allow for LGBTQ people to be convicted and incriminated, in addition to the general abuse and harassment faced by members of the community. It is no surprise, then, that Kashmiry fled to the U.K. at 19 as an asylum seeker, to a place where he would be protected by law. Even this was not without struggles, as Kashmiry starved himself to save money for testosterone in order to prove his identity as a transgender male and gain asylum.
In spite of the many traumas depicted, the play is not without moments of humor and hope. Though the more turbulent and often terrifying experiences Kashmiry underwent certainly leave their impact, the audience is not entirely agonized. Some jokes landed well, such as a humorous conversation between Kashmiry and his mother about chest hair.
There is also a virtual chorus of voices that aims to unify a global community of people who identify as trans through music. They emerge from Kashmiry's revelatory findings on the internet, where he first learned the term "transgender."
Although the music seemed written halfheartedly and came across as not much more than a banal gimmick, the final merging of these voices was memorable and indicated a hopeful vision of unity.
Covering the nuances of growing up transgender in Egypt, relearning how to define language and the body and immigrating to a foreign country in a single 80-minute production sounds daunting. Nevertheless, "Adam" encompasses and integrates many pivotal moments in this sequence. Perhaps it does not cover all the gradations of such experiences, but it brings them to the stage in a unique way without becoming muddled, and this in itself is a laudable feat.
"Adam" ran at the Skirball Center for the Performing Arts from Feb. 14 to 16.
A version of this article appears in the Tuesday, Feb. 19, 2019, print edition. Email René Bennett at [email protected]unews.com.