De Blasio Endorses SLAM, Discusses Racist Statues, Does Not Take Questions
New York City Mayor Bill de Blasio visited NYU for a tour of his former Weinstein Residence Hall dorm room on Tuesday afternoon, where he publicly endorsed the goal of NYU's Student Labor Action Movement to have student representation on the Board of Trustees, and told current Weinstein Resident Assistant Alyssa Wolverton that he is willing to consider removing statues of racist figures on NYC public property.
De Blasio, who is currently campaigning for reelection, came to NYU with the goal of meeting the current residents of Weinstein room 235. De Blasio lived in the room during his junior year as an undergraduate in 1982 with Peter Dicpinigaitis, who accompanied de Blasio on the visit.
The mayor spoke to SLAM, residents of room 235 and various Weinstein staff members. However, minutes before his arrival, de Blasio's staff prefaced press access to the dorm room tour with a warning that de Blasio would not take questions.
NYU Local Managing Editor Sam Raskin asked de Blasio about his plans to create affordable housing in neighborhoods surrounding NYU as he exited Weinstein. De Blasio replied, "We're not doing that right now, brother."
During his visit to room 235, Mayor de Blasio met its current occupants, which include CAS freshman Irene Didenko, Tisch freshman Vivian Hu and CAS senior Wolverton.
WSN was ushered out of the dorm room after approximately 10 minutes, and a staff member for de Blasio shut the door.
Wolverton said that after the door shut, she asked de Blasio about the removal of offensive monuments in the city.
"He did seem receptive to the idea of taking down racist and offensive monuments, such as monuments to Christopher Columbus in the city, where he has jurisdiction," Wolverton said. "We spoke a little bit about that, and he said that he's definitely willing to consider it."
During his tour of his former residence, de Blasio noted the changes of the room — such as its new layout, immobile windows and general cleanliness.
"You clean it," de Blasio said. "We never did that. I did not realize we could clean it. I thought we were supposed to just add piles."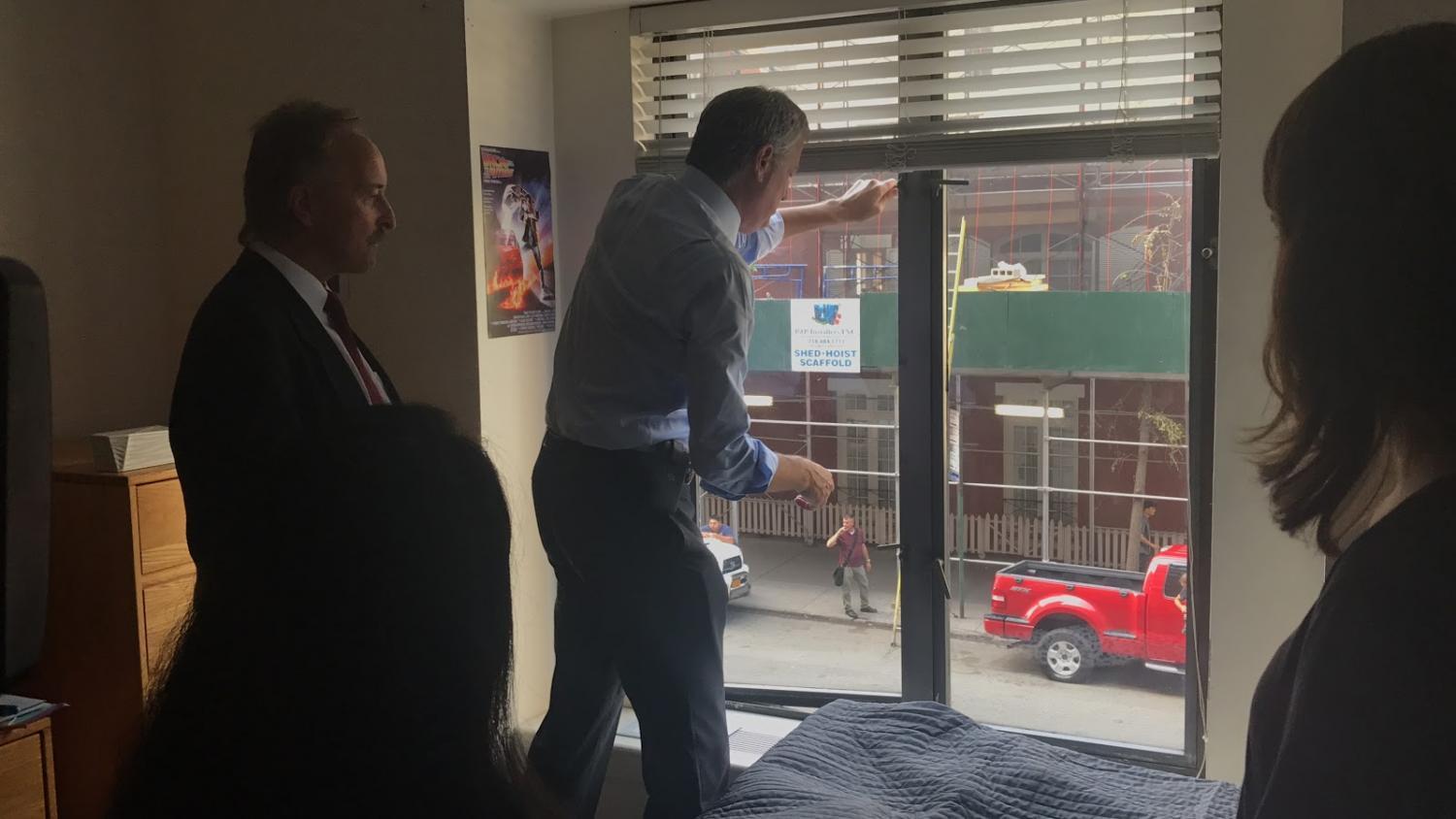 After de Blasio sat on Hu's bed, he attempted to banter with Dicpinigaitis and recall some fond memory they shared.
"So this is where I'd be studying, and you'd be sitting there — I remember…" de Blasio said before his sentence trailed off.
"What was the famous line?" Dicpinigaitis offered.
"Well, I'm not going to say it in front of the media," de Blasio said slowly. "Because it is profane."
"Well first of all, we can't recount 95 percent of what happened — decorum prevents us," Dicpinigaitis said. "I'm thinking of something! Your brief power naps."
De Blasio went on to tell a lengthy anecdote about taking seven minute naps during 1 a.m. to 3 a.m study sessions.
But he also assured Didenko, Hu and Wolverton that life goes on after graduation.
"There is life after the Weinstein dormitory," de Blasio said. "There's hope."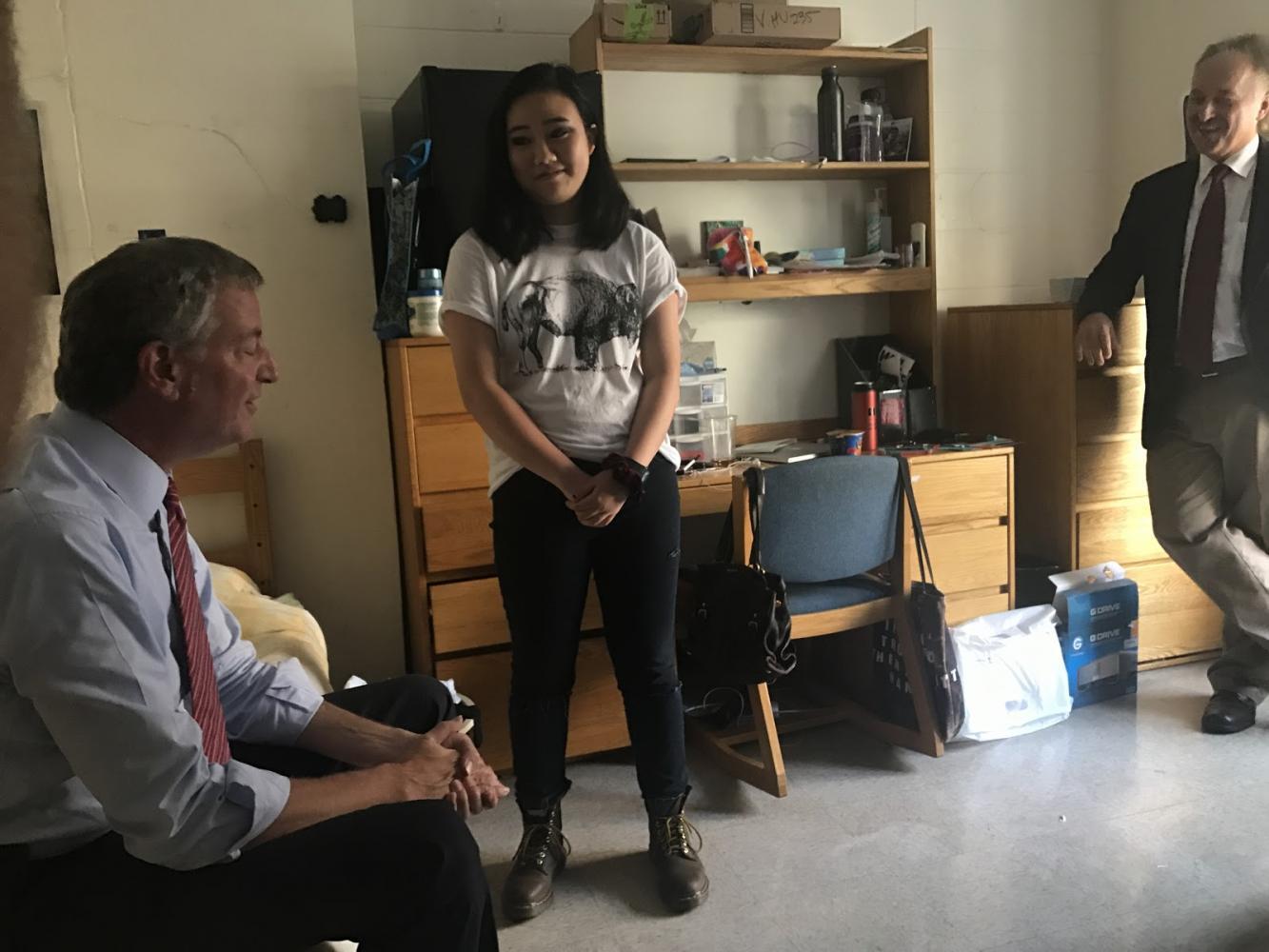 The residents of room 235 said that they had a positive impression of Mayor de Blasio after speaking with him personally.
Vivian Hu joked that de Blasio was encountering a much cleaner version of their room than what is normal.
"I made my bed for the first time this year," Hu said. "I shouldn't wash my bed sheets again because the mayor has sat on it."
As he entered Weinstein, de Blasio spoke to SLAM members CAS junior Rose Asaf, CAS junior Leen Dweik, Gallatin junior Jonathan Marty, CAS junior Benjamin Zinevich and CAS freshman Marley Kinser.
Asaf asked de Blasio, "Will you support us in our goal to get students on the Board [of Trustees], and do you still support what you tried to do when you were a student at NYU?"
De Blasio said, "Yes, I do."
According to The New York Daily News, de Blasio advocated against tuition increases and for a student to be placed on the Board of Trustees as an NYU undergraduate.
At 1 p.m., other SLAM members delivered a letter to President Andrew Hamilton's office in the Elmer Holmes Bobst Library stating their intentions to fight until their demands are met. Asaf said that she is optimistic about de Blasio's potential to help SLAM's campaign.
"We believe that he can be strategic in helping us achieve our goals," Asaf said.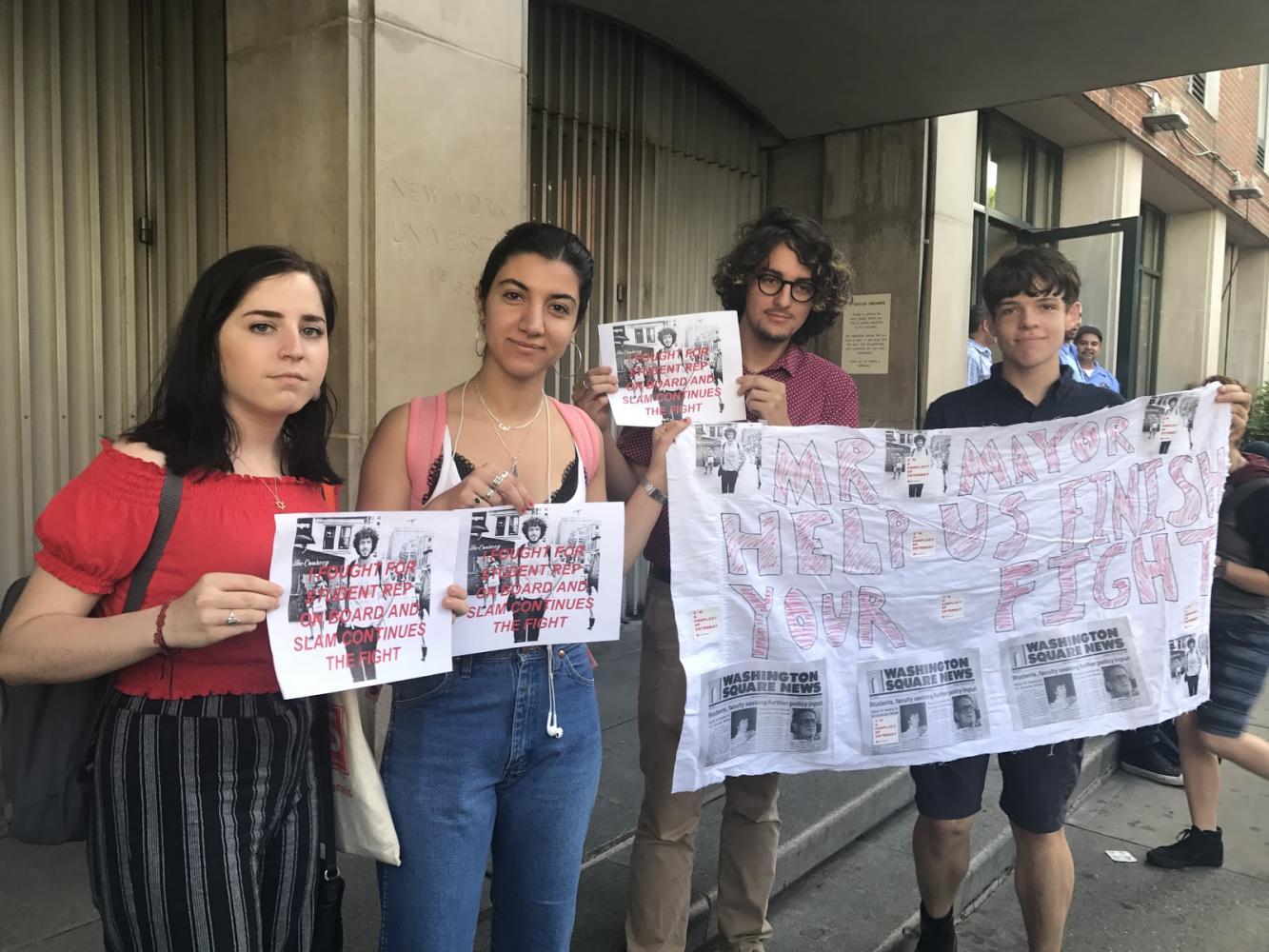 While the residents of room 235 knew about de Blasio's visit a few days in advance, other Weinstein residents and Upstein diners were blindsided.
Liberal Studies freshman Elaine Perochena, who lives in the room across from 235, found out about de Blasio's visit upon arriving to her room, approximately 10 minutes before his arrival.
"Always something new at NYU," Perochena said. "You never know what to expect."
Other Weinstein residents, such as Tisch freshman Gabi Grella, accidentally joined a flood of students following de Blasio as he walked through the Weinstein lobby after the tour.
"I'm just trying to go to my room," Grella said. "I did not know this was happening."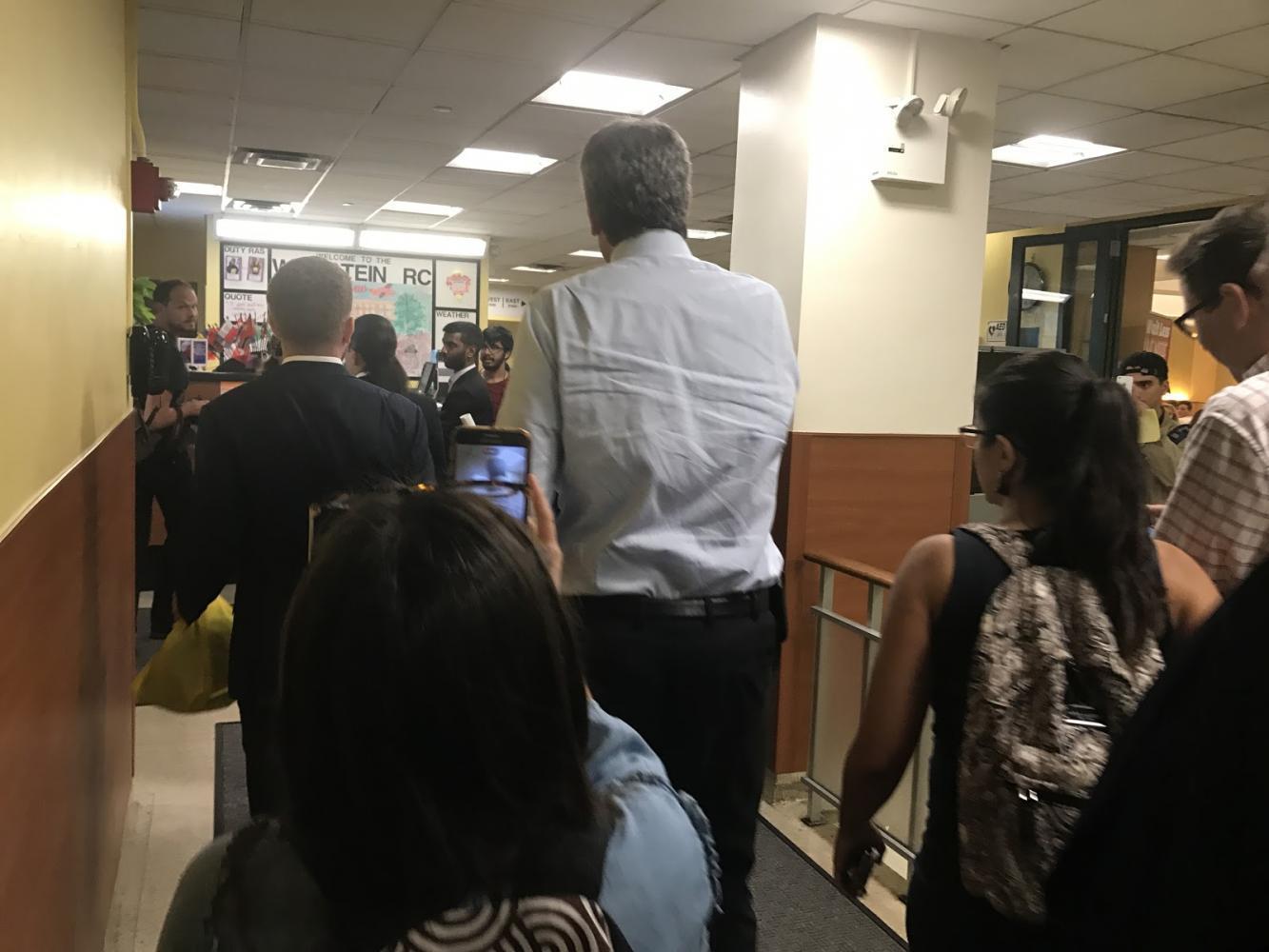 Unsuspecting Upstein diners, such as Tisch junior Cole Greenbaun, took photographs and videos of de Blasio on as he posed for pictures with the dining staff of Upstein.
"I don't know why he's here," Greenbaun said. "But it's interesting."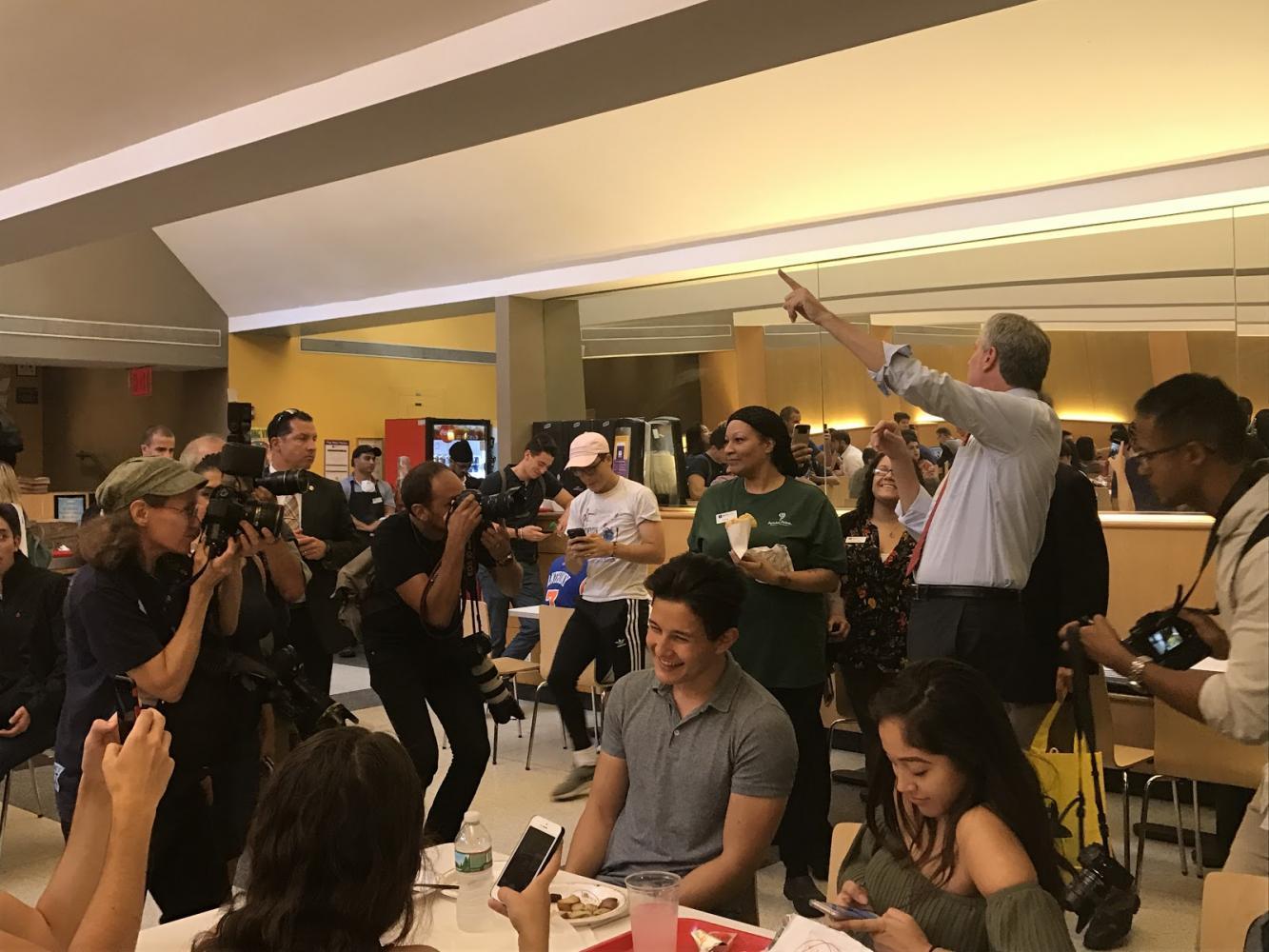 Caroline Haskins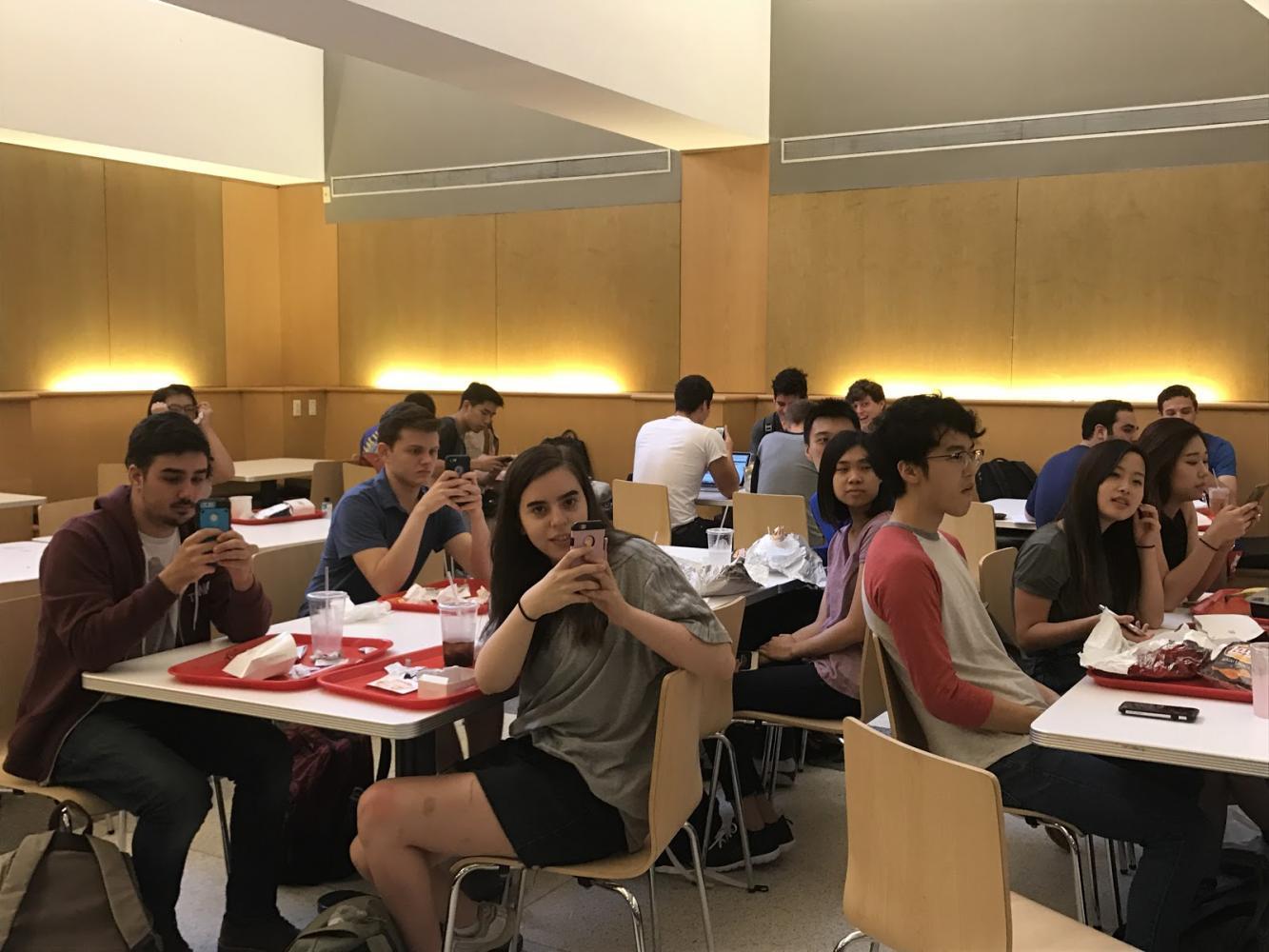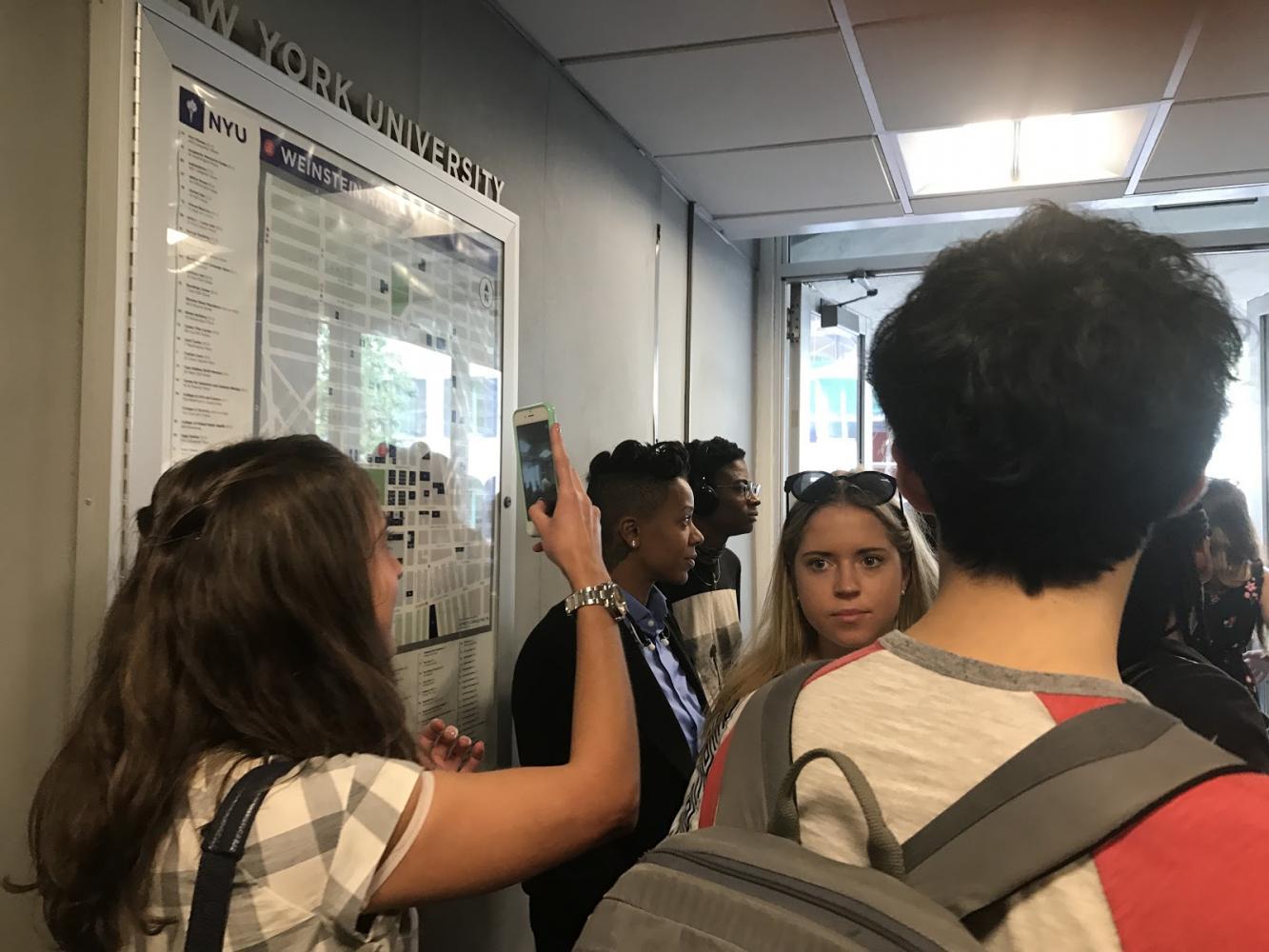 As de Blasio crossed the street and prepared to leave, Stern sophomore Patrick Wu screamed for de Blasio's attention, loudly enough to turn heads up and down the block.
"I volunteered for you!" Wu shouted. "I campaigned for you!"
Wu said that as a sophomore in high school in 2013, he encouraged people to vote for de Blasio on the eve of his first mayoral election.
"I love Bill de Blasio," Wu said. "I was in Queens, so I was canvassing with people. I was just going around telling everyone, 'Vote de Blasio!' That was my thing."
Wu said he is still a fan of de Blasio and intends to vote for him on Nov. 7 but he did not know de Blasio would be at Weinstein.
"I was just trying to get some fried chicken at Upstein," Wu said. "I saw some cameras flashing around, and I heard some people say, 'The mayor is here!' I just looked around and I saw him. So that was pretty cool."
However, Wu said that he does not believe de Blasio heard him shouting his name.
"My voice projection is not that great, I guess," Wu said. "Maybe another time."
Correction: Sept. 27, 2017
A previous version of this article stated that Bill de Blasio spoke to members of SLAM as he exited the building, when in fact de Blasio spoke to them as he entered the building.
Email Caroline Haskins at [email protected]