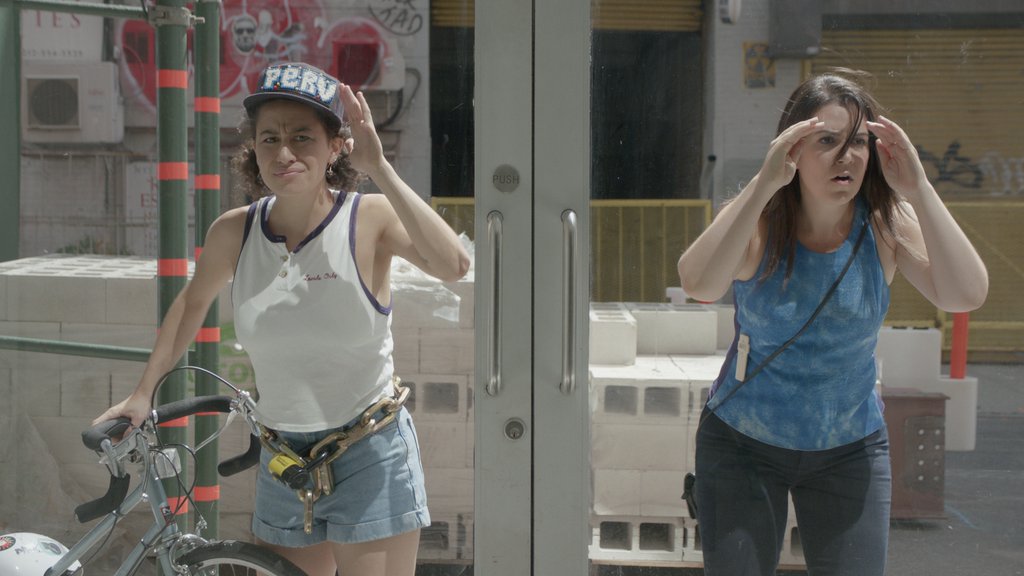 Comedy Central's hit absurdist comedy, "Broad City," has returned to Wednesday nights with its usual energy in its usual setting, a version of New York City that is both surreal and familiar. The third season premiere of the up-tempo show, created by Abbi Jacobson and CAS alum Ilana Glazer, opened with a split screen of Abbi and Ilana's bathrooms, each of them on the toilet wearing the same shirts they wore at the end of last season.
From shots of Ilana helping Abbi throw up after a night of drinking, to both of them at some point reading Hillary Clinton's memoir "Living History" on the toilet — and of course smoking weed — this sequence puts us right back into these character's scattered, frantic, contemptuously ridiculous but relatable lives. It is in this kind of seemingly mundane asininity where the smarts of "Broad City" lies. Their characters are like the wacky friends you tolerate, but they are also relatable to any millennial struggling to get by and have fun in any large American city, especially New York.  
The show breaks reality at some points, with elements of slapstick — early in last week's episode, Abbi almost got sucked into a grate while fishing out a key. A warehouse sample sale is a jungle, with characters fighting each other to the death over a purse. What keeps the show alive and compelling are these surreal moments grounded in the gritty truth of some of the most ridiculous New York scenarios.
Even if it can be described as over the top, it's not unfathomable to imagine New York City in this way. After the title sequence, Abbi and Ilana go to brunch at a trendy restaurant, complete with the mean hostess, fancy sparkling water and lots of attitude. Behind them, a hip European couple converse in what seems to be Italian. Ilana declares, "New York is Europe. I love it." She then proceeds to do a series of hilariously bad accents but stops short of doing a Chinese accent saying, "It's 2016 dude."
This is Ilana's shtick. She is always talking about some serious issue but accenting it with air quotes. Glazer perfectly portrays a caricature of her generation's internet informed pseudo-intellectuality, but not in a negative way. All the while, Abbi Jacobson plays the perfect everyman on the other side of the table.
The season premiere, like most episodes of the show, feels like an odyssey around New York, the perfect beginning to a new chapter. From Lincoln's graduation from trapeze school to Ilana being distracted enough to get stuck to the back of a truck, to Abbi's college roommate's phallic-inspired art gallery opening, "Broad City" keeps it moving, fresh and funny. The show is good escapist fare but still keeps everyone thinking about the realities of their own lives parodied on screen. Each episode is a stand-alone, so you can start watching at any point or season, but Glazer and Jacobson make it worth watching from the beginning.
"Broad City" airs Wednesday nights at 10 p.m. on Comedy Central.
Email Madison Davis at [email protected]