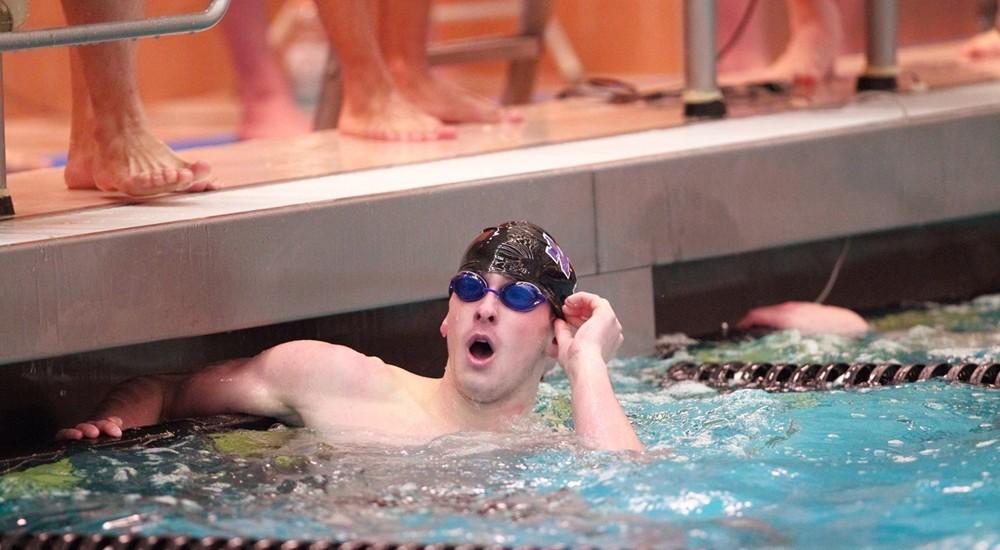 The NYU men's swimming and diving team was limited in action this weekend due to the weekend's historic blizzard. However, before Winter Storm Jonas barreled its way through the city, the team was able to continue its strong season on Friday with a dominant 169-73 victory over the United States Merchant Marine Academy.
Coming off of a rigorous training session in Florida, the Violets were dominant throughout the meet, placing first in 10 of the 13 events held. In seven of those victories, they finished with the top two swimmers or better. The Violets held the top four spots in both the 100-yard breaststroke and the 100-yard butterfly.
The team's success stemmed from strong performances up and down the roster. Sophomore Chad Moody was the team's most decorated swimmer of the competition, winning two individual races and one team event. Moody edged fellow junior teammate Daniel Tay by .63 seconds in the 50-yard freestyle, but finished comfortably ahead of his nearest competition in the 100-yard freestyle. Tay also had his moment in the spotlight, winning the 100-yard butterfly event by nearly a full second.
"I think the team had a great performance coming off of a tough few weeks of training," Moody said. "We had some good competition to race, showing our training under Coach Miele has definitely paid off."
The Violets also impressed in the longer distance events. Junior Max Phillips sped his way to a victory in the 500-yard freestyle, while sophomore Austin Palmer finished first in the 1000-yard freestyle, 22 seconds ahead of the pack.
The team of Moody, senior Ray Oo, sophomore Joseph Baron and freshman Joseph Delbuono edged the USMMA's best group in the 200-yard Freestyle Relay. The success carried over to the 200-yard medley relay, where Tay, Baron and sophomores Timothy Kou and Adam Betts came out victorious. Baron, like Moody, acknowledged the team's rigorous workouts.
"Personally I'm feeling a little beat down right now because of how hard we've been training, especially in light of our recent training trip to Florida," Baron said.
However, he was pleased with the team's perseverance and tenacity during a challenging part of the season.
"As a team we definitely swam well and everyone is giving it their best," Baron said.
In diving, sophomore Dylan Adler and freshman Max Falb were solid, mirroring each other's results in their two events. Adler finished second in the 1-meter event and third in the 3-meter event, while Falb finished third and second in the events respectively.
The women's team will rejoin the men next Saturday in Pennsylvania against West Chester University. Originally scheduled for Jan. 24, the meet was delayed due to this weekend's crippling winter storm. Barring another historic snowfall, the teams are ready to get back on track.
A version of this article appeared in the Jan. 25 print edition. Email Michael Thompson at [email protected]