NYU shows solidarity with Paris after Friday attacks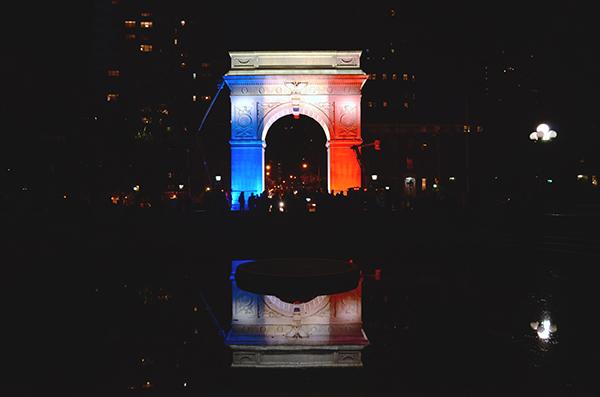 Numerous cities across the world have stood in solidarity with France after a group of terrorists killed 129 people and wounded over 300 more in Paris on Friday.
New Yorkers gathered in Union Square the night of the attacks for a vigil commemorating those who lost their lives in Paris. Hundreds of people also showed their support Saturday afternoon during a rally in Washington Square Park.
NYU President John Sexton addressed the attacks on Paris in an email sent to the NYU community on Saturday. Sexton said the university has increased its safety presence within the city and added that the NYU community will persevere in the face of extremism, show courage in the face of terrorism and find renewal in the face of tragedy. 
"Since almost the first moments after the attacks, we began the process of reaching out to every student there to make sure he or she was safe," the email reads. "I am glad to report that all the students at NYU Paris have been located and are safe and secure."
LS freshman Ethan D'spain is currently studying abroad at NYU Paris and said if a friend had not warned him to stay home, he would have spent the night at a club near one of the attack sites. D'spain explained NYU's check-in process and the challenge of making sure all students were accounted for and safe that night.
"As you can probably imagine, it can be difficult to retrieve all of the students on a Saturday night in Paris," D'spain said. "The RAs in my residence came to each room with a clipboard and checked to see who was in the building, then contacted the students who were out and asked them to return."
D'spain also described the sight of heavily-armed officers roaming the streets and the terror seizing Parisians.
"The metro has had some people on it that have been saying crazy things," D'spain said. "This one man accused black people for the attacks and then slit his throat and threw blood at the passengers. My friend was on the metro at the time."
ISIS has since claimed responsibility for the attacks in Paris, releasing a statement referring to Paris as the capital of prostitution and vice. ISIS described how six different attacks were coordinated around Paris, targeting concert-goers, soccer fans and cafe diners.
"Eight brothers, wrapped in explosive belts and armed with machine rifles, targeted sites that were accurately chosen in the heart of the capital of France, including the Stade de France during the match between the Crusader German and French teams where the fool of France, Francois Hollande, was present," the statement reads. 
The ISIS statement ends with a threat claiming that this attack was just the beginning. 
"Let France and those who walk in its path know that they will remain on the top of the list of targets of the Islamic State," the statement reads. "This attack is the first of the storm and a warning to those who wish to learn."
A version of this article appeared in the Nov. 16 print edition. Email the news team at [email protected]