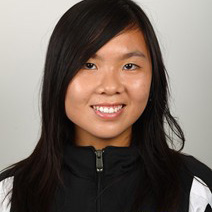 The NYU women's tennis team wrapped up play at the Intercollegiate Tennis Association Northeast Regional Championships on Sept. 29, making history in the process. The team finally grabbed an ITA Regional Championship, thanks to the work of sophomore Laila El Dessouki and junior Carmen Lai, who won the Regional Doubles title.
After winning their first four contests, only Vassar College stood in the way of history on Monday. The victory did not come easy. The pair looked sharp in the first set, winning handily 6-2. However, foes Ava Sadeghi and Samantha Schapiro of Vassar stormed back in the second set with a 6-3 win.
This left one deciding set remaining. The pairs had become familiar with one another by this time. Just one week ago, El Dessouki and Lai competed against the same Vassar opponents at the Vassar Scramble, where Sadeghi and Schapiro squeezed out a 9-7 victory. This week, though, the Violets were determined to avenge their previous defeat. After two breaks and a convincing 6-3 third set, they had done just that.
"My partner Laila and I had very great performances in all of the doubles matches," Lai said. "I'm so excited for Nationals and hope to have another great run."
El Dessouki expressed a similar sentiment, looking forward to the challenge that lies ahead.
"We are very proud of this week's results and we are looking forward to compete against the best teams at the National Championships," she said.
As the season continues, the ladies are set to enjoy the accolades that come with their triumph. Monday's victory automatically qualifies El Dessouki and Lai for the United States Tennis Association/ITA National Small College Championships. The tournament, which pits champions of the ITA's eight regions against each other, will be held Oct. 9 to 12 in Sumter, South Carolina. In addition, El Dessouki and Lai will be named ITA All-Americans as a result of their victory.
In other tournament action, juniors Madeline King and Alison Wang both made it to the singles round of 16. King has not lost a singles match so far this season.
The Lady Violets' October schedule is busy, with the New York State DIII Championships taking place in Ithaca just one day after El Dessouki and Lai compete in South Carolina. These competitions will mark the end of the fall season and the Violets will not take the court again until Feb. 28 in Swarthmore, Pennsylvania.
In the last three days, the NYU women's tennis team has been a key player in contributing to the overall success of NYU Athletics.
A version of this article appeared in the Sept 30 print edition. Email Michael Thompson at [email protected]