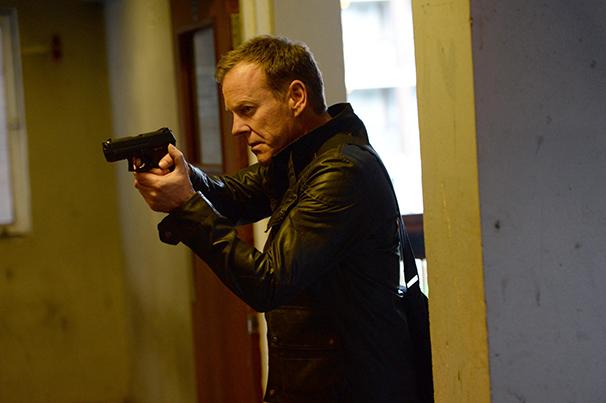 Jack Bauer is back — along with all the chilling stoicism, sharp pacing, energetic music and brilliant explosions that comprise "24's" distinct crime-thriller style. This new season, dubbed "24: Live Another Day," is set in London and begins with a CIA manhunt for an unknown target.
The audience quickly finds out that the president of the United States, James Heller (William Devene), is in London to negotiate a defense treaty with the British government but is suffering from mild mental health problems that are starting to manifest. The show seems to focus on the personal problems of its characters — revenge, illness, love or something more sinister.
The president's chief of staff Mark Boudreau (Tate Donovan) is no exception. When Boudreau is notified that the CIA has apprehended Bauer (Kiefer Sutherland), a unique personal connection is revealed between him and the fugitive, and it begins to influence his judgments in dangerous ways.
There are few technical deviations from the first eight seasons of "24." "Live Another Day" offers the same structure as its predecessors — a looming terrorist is about to attack a highly populated area and somehow Bauer manages to mix himself and the president up in the mess.
But the factor that has made "24" successful both in the past and in this installment is that audiences cannot tell the heroes apart from the villains. In the original series, revelatory events regarding double agents have been saved for season finales, keeping viewers guessing and on the edge of their seats. Most importantly, audiences are unsure in which category to place the protagonist, questioning if perhaps Bauer is not the man they thought they knew.
Director Jon Cassar is fully aware that this issue's resolution should be delayed as long as possible. Along with screenwriters Robert Cochran and David Fury, Cassar slowly builds suspense, giving Bauer no dialogue until 31 minutes into the episode. In effect, the audience is constantly wondering about his motives and what other plans he is concocting while he is being interrogated.
Bauer's silence builds tension for the audience, and also allows those who are tuning in to "24" for the first time to build their own version of Bauer from the ground up. This prevents first-time viewers from feeling left out of an already developed show.
Just before the episode concludes with "24's" signature countdown, a villainous character murmurs into his cell phone with smug satisfaction about a successful plan, assuring the person at the other end that "It's done." But audiences all know that the excitement has only just begun.
A version of this article appeared in the Thursday, May 1 print edition. Daniel Lieberson is a staff writer. Email him at [email protected]