Huffington gives wake-up call at Stern conference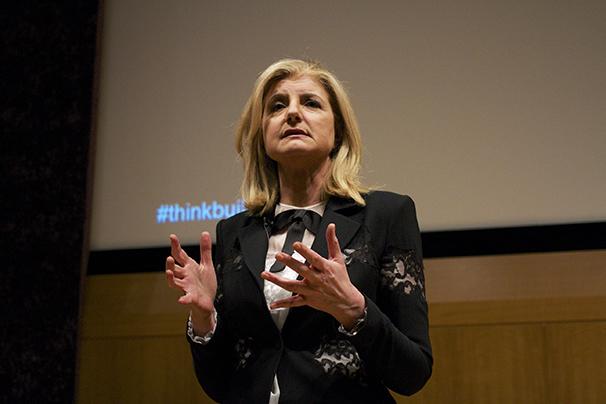 The annual Think Build Thrive speaker series returned to the Stern School of Business on April 4. Arianna Huffington, editor-in-chief and president of the Huffington Post Media Group, gave the keynote address at the conference.
At the event, hosted by Stern's Entrepreneur's Exchange Club, Huffington spoke about her new book, "Thrive," which attempts to expand the definition of success beyond money and power to include personal health and wellness. Huffington said she learned the importance of healthy living after collapsing from exhaustion early in her career.
"A good life is not about success defined so narrowly," Huffington said. "A good life is not just about our jobs or our successful start ups. If we define our lives simply in those terms, we shrink ourselves and our possibilities."
Huffington said everyone sees behaviors that are detrimental to our health as being signs of dedication and hard work. She emphasized that, while many people believe working overtime and losing sleep are an integral part of becoming successful, in reality sleep deprivation often leads to failure.
"Three out of four start ups fail," she said. "If start-up entrepreneurs slept more, there would be fewer failures. Because they would wake up and see the icebergs before they hit the Titanic, or they would see the opportunities that otherwise you miss if you're burnt out."
In terms of balancing success and personal wellness, Huffington said it is all about prioritizing your health.
She said sometimes people have to say no — for her, she said, that means staying in some nights to sleep rather than going out with friends.
"It's not about being cavalier to responsibilities," she said. "It's really about looking at ourselves as our primary asset and taking care of that."
Stern graduate student Anand Venkatramani said Huffington's advice was unrealistic for young people beginning their careers.
"I think it was an interesting talk but I think it's simplistic, that in real life it's more of a trade off between how old you are, where you are in life, what your ambitions are in general and what your priorities are," Venkatramani said.
However, Stern freshman Shaun D'Souza,  said Huffington's speech was a much-needed reminder of the importance of health.
"I think because we're college [students] and we're under so much pressure, we really need to hear people who've succeeded say those things,"  D'Souza said. "We think of ourselves as young invincibles, and people who've succeeded reminding us that we aren't always this way are very helpful."
A version of this article appeared in the Monday, April 7 print edition. Valentina Duque Bojanini is a deputy news editor. Email her at [email protected]