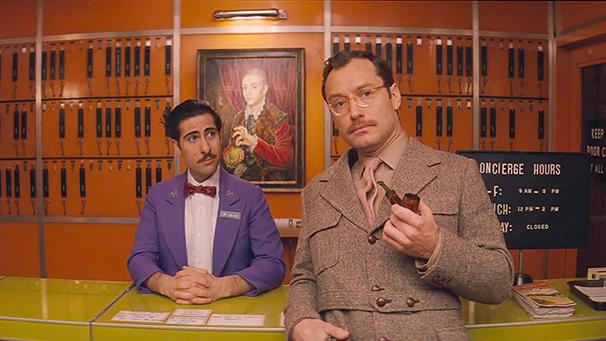 Renowned director Wes Anderson has once again crafted a meticulously indelible thrill ride, oozing with style and outlandishly heartwarming characters.
"The Grand Budapest Hotel" presents the action-packed tale of famed concierge M. Gustave H., played by Ralph Fiennes, and his trusted lobby boy Zero Mustafa played by Tony Revolori. After one of the rich, elderly ladies Gustave has a relationship with in his spare time passes away and leaves him a very important painting, the woman's entire family becomes outraged and starts a war over her possessions, thrusting Gustave and Zero into increasingly perilous situations.
This undeniably cute caper is brimming with wonderful acting — F. Murray Abraham, Mathieu Amalric, Adrien Brody, Jeff Goldblum, Jude Law, Bill Murray, Edward Norton, Saoirse Ronan, Jason Schwartzman, Tilda Swinton, Tom Wilkinson, Owen Wilson, Harvey Keitel, Lea Seydoux and Bob Balaban all turn up in extravagant costumes and makeup that will likely make viewers chuckle.
Not to mention the hilariously demented turn by Willem Dafoe as Jopling, a brutal crony reminiscent of the mad criminal killer he channeled in "Wild at Heart." Newcomer Revolori is a fresh, delightful discovery just like the two young leads of "Moonrise Kingdom," Anderson's previous film.
After years of watching Ralph Fiennes cast in weighty Shakespearean adaptations and stark dramas, it is rather surreal to witness his transformation into the sad and slightly effeminate Gustave. Though his comedic range was tapped in films such as "In Bruges," his performance under Anderson's direction is uniquely satisfying. He anchors and colors "The Grand Budapest Hotel" with an impeccable sincerity at every turn.
In his eighth feature film, Anderson again approaches weighty, adult issues in a concise pop-up book fashion. Cinematographer Robert Yeoman collaborates for the seventh time with Anderson to fulfill every extreme zoom and horizontal tracking shot imaginable. These visuals are paired with Alexandre Desplat's booming score to create a delightful treat.
There are a few parts of the film viewers can gripe about. The audience can see an adorably simple love story between Saoirse Ronan and Tony Revolori's characters that is given very little time, but this is for the sake of accommodating all of the other quirks and gags that populate Anderson's world. Often, the stylistic choices resonate louder than the story itself, which occasionally distances the audience from the action.
These moments, however, are few and far between. Though neither as emotionally engaging as "The Royal Tenenbaums" nor as brilliantly executed and realized as "Fantastic Mr. Fox," "The Grand Budapest Hotel" is signature Anderson and a truly bizarre and enjoyable movie-going experience.
A version of this article appeared in the Thursday, March 6 print edition. Benjamin Marques is a contributing writer. Email him at [email protected]