'Rush' showcases impressive performances, action sequences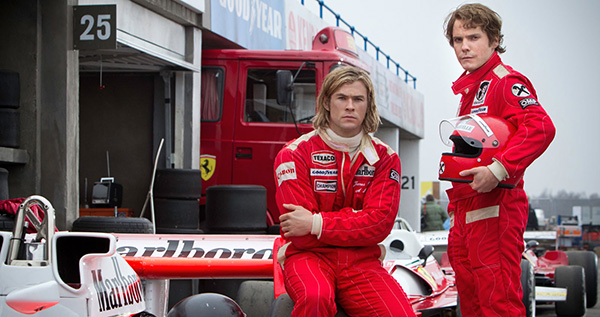 When it comes to storytelling, Ron Howard never plays it safe. Howard switches genres at will and — even when he tells a true story, he usually intensifies and fictionalizes it to successfully attract an audience. His latest film, "Rush," is a prime example of how successful Howard can be when he adheres to this formula.
With "Rush," Howard tells the true story of two Formula 1 drivers from the '70s — Niki Lauda (Daniel Brühl) and James Hunt (Chris Hemsworth). Abandoned by their families, both decide to pursue Formula 1 racing, hoping one day to win the world championship. Their devotion may be equal, but their personal lives could not be more different. When Lauda returns home at night, he goes to bed early to wake up refreshed the next morning. Meanwhile, Hunt spends his nights drinking and womanizing. Ultimately, the two clash when they go head-to-head in a defining F1 race in 1976.
While "Rush" is probably a minor entry in Howard's portfolio of historical dramas, the film is still entertaining, and much of that entertainment value stems from the convincing performances by Brühl and Hemsworth. Peter Morgan's wonderful screenplay ensures that even when the two are not racing, they are still in competition with a battle of words against one another.
One noteworthy aspect of Morgan's screenplay is how it remains neutral toward Lauda and Hunt. Lauda's attitude can be obnoxious and headstrong at times, but that very attitude also pushes his team to make his car the fastest in the business. Even though Hunt may be squandering his nights more than he ought to, his devotion to the sport remains obvious.
Moreover, the film boasts some impressive race sequen-ces that deserve to be seen on the big screen. These scenes are carefully choreographed, with strong editing choices to back up the tense action.
Even though "Rush" includes some stellar action and a few forgivable mistakes — unnecessary voiceovers and forced dialogue, for example — one major problem looms. "Rush" marginalizes its female characters. Lauda's wife, Gemma (Natalie Dormer), is used to bring out his more heartfelt side in a calculated, melodramatic way. The same goes for Hunt's wife Suzy Miller (Olivia Wilde), who serves to outline Hunt's inability to keep a steady relationship. These wo-men never become more than eye candy throughout the film.
Still, the problems in "Rush" are small when considering the big picture of Howard's work. Like any good sports drama, "Rush" beautifully captures the spirit of its captivating subjects whose high-octane energy embroils them in their craft. And even if car racing is not for everyone, "Rush" makes it hard for viewers not to get swept up in Lauda and Hunt's world.
A version of this article appeared in the Thursday, Sept. 26 print edition. Zack Grullon is a staff writer. Email him at [email protected]