NYU alumni receive MacArthur Genius Grants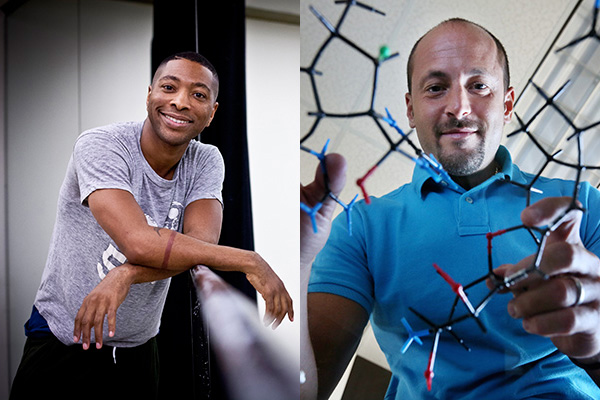 Two NYU alumni were among the 24 recipients of the 2013 MacArthur Fellowship or so-called genius grant, announced yesterday. Dancer and choreographer Kyle Abraham and organic chemist Phil Baran will each receive a $625,000 grant over a five-year timespan.
The MacArthur Fellowship, which has been awarding grants to intellectual and artistic leaders in different fields for the past 30 years, gives a "no-strings attached" grant to award recipients. According to their website, the grant money can be spent in whichever way the recipients choose and, unlike other grants, there are no reporting requirements. The fellowship increased the amount of the grant from $500,000 awarded since 2002.
"It was both shocking and humbling and it comes with it a great sense of responsibility to not rest on any laurels," Baran said.
Baran said that the freedom that comes with the money will allow him to fund projects that would not be possible from other grants, as well as fund fellowships for graduate students and purchase equipment and supplies.
"We're not going to waste it," Baran said. "We're going to use it do things that were impossible in any other way. This time, [we can] pursue very speculative science. It will allow me to help my students more."
Baran is a professor of chemistry at Scripps Research Institute in La Jolla, Calif.  He is currently working on "total synthesis," which attempts to replicate natural processes in lab settings. The lab process can mass produce desired compounds, which can contribute to pharmaceutical development. His environmentally friendly experimental method could reduce the cost of compound production by increasing the supply.
Baran, who graduated with a bachelor's degree in chemistry in 1997, said that NYU Professor Emeritus of Chemistry David Schuster had a huge impact on his career.
"It was probably [my] most important decision ever to go to NYU," Baran said. "If it wasn't for David Schuster I would probably be flipping burgers at the local fast food joint. He taught me both physical and synthetic organic chemistry."
Abraham graduated with a master's in fine art from Tisch in 2006 and founded his company, Kyle Abraham/Abraham.in.Motion, during the last year of his program. He built his company with many dancers from his undergraduate alma mater, SUNY Purchase, Juilliard and NYU. He said that working with NYU students and his fellow master's candidates while at NYU was influential to the start of his company.
"They were committed [to] what my vision was and wanting to move forward with my ideas and make work and form a company," Abraham said.
Abraham said he wants to spend the money on his company, and potentially pay off some of his debts from NYU. He said that the awarding of the fellowship, coupled with an October fundraiser, may be a great push forward for the company, including to help with the formation of a company board.
"[I want] to build up the infrastructure of my company," Abraham said. "We just implemented health insurance for the company, so thinking of stuff like that and how we can move the company to the next level."
Abraham's current work for his company is Pavement from 2012. He is a New York Live Arts Resident Commissioned Artist for 2012 to 2014, and his choreography has been performed in the United States and around the world. He said being a MacArthur Fellow was the highlight of his career, next to performing in his hometown of Pittsburgh.
One of his pieces, "Another Night," was performed by Alvin Ailey American Dance Theater in December 2012.
"Kyle's work is amazing to dance," Alvin Ailey company member who performed in "Another Night," Antonio Douthit-Boyd said. "He leaves so much freedom for you to express yourself as an artist. Kyle's style is what every dancer wants to try, with it's abandoned moments and story lines, it helps you to find your own voice."
In a press release, Cecilia Conrad, the vice president of the MacArthur Fellows Program, said the recipients can represent a diverse array of fields.
"They are artists, social innovators, scientists and humanists who are working to improve the human condition and to preserve and sustain our natural and cultural heritage," Conrad said. "Their stories should inspire each of us to consider our own potential to contribute our talents for the betterment of humankind."
A version of this article appeared in the Thursday, Sept. 26 print edition. Emily Bell is a news editor. Email her at [email protected].