You have an 8 a.m. Arts and Cultures class in Bobst Library. Having gone to bed just a few hours ago, you rush out of your dorm at 7:40 a.m. It may only be a 10-minute walk to class, but you're a breakfast person — how will you survive the next 75 minutes uncaffeinated?
You decide to call Bagel Bob's and place an order for an everything bagel with scallion cream cheese, bacon and scrambled eggs, along with an iced latte with oat milk. It's 7:48 a.m. as you race down University Place, and into breakfast heaven. Your bagel awaits as you pull out $10 and your NYU ID, but the cashier has already applied the 10% discount.
Alternatively: it's Friday night and you're looking for a place to shake some ass. It's the end of the month — your bank account is dwindling while your stress is rising exponentially. Where can you go that's cheap and close by? You rally the troops and, of course, head to Phebe's. 
What about when intermediate macroeconomics is taking everything you've got, and it seems like everyone in your business fraternity has a summer internship except you? You miss your mother's cooking and can't eat another dining hall meal this week. It's probably best you write some more cover letters, but you're starving — so you order a beef noodle soup from the Fafu Traditional Chinese Cuisine food truck, parked right outside the Stern building. It hits the spot every time.
Where do students eat, drink and go to have fun? Which places are down to earth, guaranteed to always do the trick? Which store's employees are friendly to students who frequent their establishments? Bagel Bob's, Phebe's and Fafu have fed the NYU community for years. With their reasonable prices, consistent quality and warm service, these businesses survived the struggles of COVID-19, the constant onslaught of chains and, above all, the test of time.
Bagel Bob's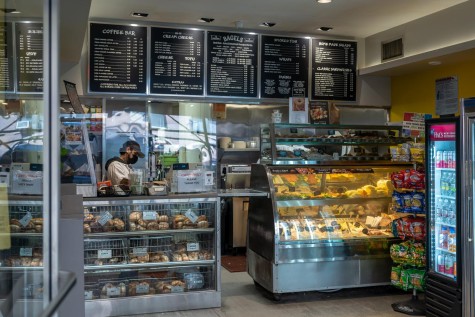 "We consider ourselves like a home for NYU students," Costas Tsimounis, the general manager of the Bagel Bob's location on University Place, said. 
Bagel Bob's has been making bagels the same way for 30 years, and the store has been a staple of NYU student life for just as long. I was fortunate enough to follow Costas into the kitchen and witness how the original bagel is made, a process he describes as an art form. The bagel is boiled in a massive pot, set onto a plank of neat rows of bagels, baked in a carousel oven, flipped and baked again.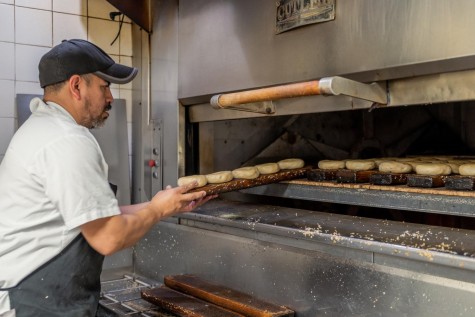 The bagel boils for 30 seconds to two minutes, and is baked for 15-20 minutes. Too much boiling kills the yeast, ruining the chewiness, but not enough boiling means no crust. A timer is never set — one simply looks and knows when it's ready. Simple as it may seem, this remarkable process can take decades to perfect. The process hasn't changed despite all the new bagel shops that have tried to innovate by making massive, bready bagels or taking shortcuts in the recipe to speed up the process. 
And the customer service at Bagel Bob's hasn't either — Costas is adamant about keeping lines as short as possible so that no one has to wait too long. Employees don't care about being trendy, instead they focus on getting to know students, remembering orders and staying reliable.
Their original bagel recipe hasn't changed, so what has allowed them to stay in business for so long, even though lots of other places have closed? Bagel Bob's has fostered a culture of receptiveness to feedback, creating an inviting and inclusive environment that caters to the discerning tastes of its customers — particularly students. Their steadfast adherence to these core values has meant Bagel Bob's appeals to countless customers, and the establishment to remain a beloved fixture in the community for years.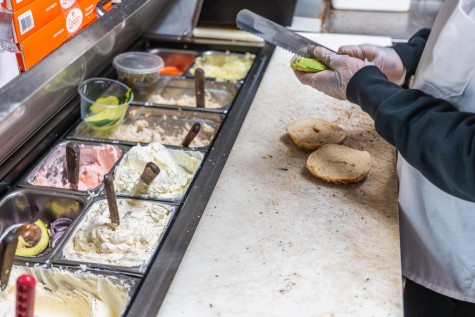 What has changed, though, is the increase of vegan options. There's a tofu version of almost every cream cheese, even tofu Nutella cream cheese. Bagel Bob's considers itself different because it continues to expand its selection of spreads, cold cuts, coffee and other drinks. Many of the options now available were recommendations made by students. 
Unlike many other local businesses, Bagel Bob's was able to remain standing as New York City became the epicenter of the pandemic. 
"These people relied on us," Costas said. "Rain or shine, we're here." 
Customers often joked that the store kept them alive during the pandemic. Costas recognized the irony of the joke, but in a time of fear and isolation, Bagel Bob's staff prioritized customer safety while continuing to provide service. To this day, the shop's employees wear masks while working, and walk orders to the door for concerned customers.
Even now, the shop's staff are on a mission to support NYU students. Sometimes students trickle in as the store is about to close. Sometimes they forget cash or don't have a credit card — but Bagel Bob's knows students can't go to class or an exam hungry or devoid of caffeine, so they make sure nobody goes hungry. Especially if you're a regular.
Costas ended my tour with a reminder to NYU students: "Any way you want us to make your bagel, we'll make your bagel."
Phebe's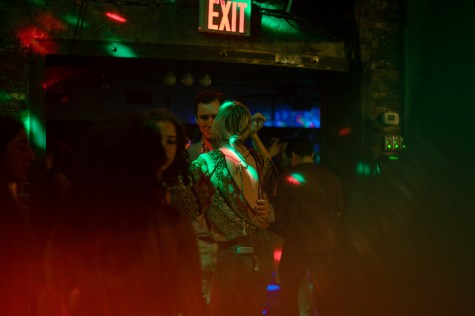 Having only ever heard it pronounced "Feebs," I was surprised to hear all the employees at this classic tavern call it "Phoebe's." Turns out, the latter is, in fact, the correct pronunciation according to the restaurant's founder, who named it after his dog.
As I spoke with general manager Alan McGuill, he reflected on the countless well-known customers that have frequented the establishment over the past 55 years. Artists like Andy Warhol and Sting were known to drink at Phebe's.
After some shifts in ownership and phases of trying out different culinary themes, the current ownership took over in 2004, and took the tavern back to its roots. Good food, good drinks and great service. 
Known today as a late-night spot for current students, NYU alumni return to Phebe's and recall that they used to pay $4 for a pitcher of beer. The current owners also run some establishments across Third Avenue, but Phebe's was hit the hardest during the pandemic.
Most Friday and Saturday nights find Phebe's populated with NYU students because of the store's proximity to several dorms. At 10 p.m., the DJ starts setting up to transform the neighborhood joint into a dance floor.
Without NYU students and faculty, this part of the Village became somewhat ghostly during the pandemic. Unlike the other residential areas across the city, an exodus occurred here during the pandemic. However, a surge was seen in 2021 around the city and in Phebe's when students returned — ecstatic to be able to go out, socialize and enjoy themselves again.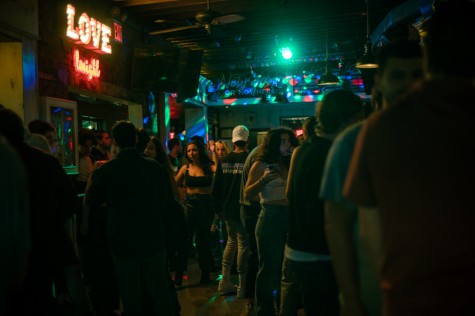 While NYU students only really know Phebe's for its late-night vibe, there's an assisted living facility nearby whose residents are known to be regulars during lunch hours. These locals see the tavern as a reliable neighborhood joint they've been going to for over 30 years. These two demographics don't overlap too much, but Alan says that the lunch crowd would be surprised to find just how lively things get for the late-night crowd. Perhaps it's time we switched things up a bit. Have NYU students try the double cheeseburger, and the old folks can get down to "Unholy" by Sam Smith and Kim Petras on a Friday night.
Fafu Traditional Chinese Cuisine Food Truck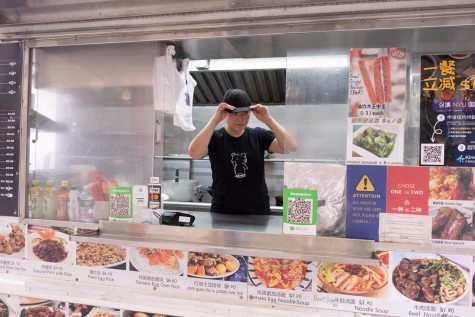 Fafu, the food truck often outside Stern, runs on fuel, family and Chinese tradition. 
Mrs. Wang and her husband are usually seen running the food truck, which her father originally started around 20 years ago. Today's menu consists of all the classics — the decades-long process of perfecting dishes converges with the ever-changing tastes of students. Most favorites are simple dishes you would typically find on a Chinese family dinner table, like tomato egg or pork spare ribs over rice and beef noodle soup. While many choices are primarily targeted toward Chinese students, Mrs. Wang says she's seen an increasingly diverse student population visit her food truck. Some of their favorites include orange chicken and popcorn chicken. 
She never has to worry about anyone dining and dashing, with students often reminding the staff they haven't paid yet. Over the years, Wang has noticed her customer base becoming gradually younger. As the Chinese student population at NYU grew, she watched the food truck become increasingly successful. 
During the pandemic, Chinatown became uncharacteristically desolate, resulting in Fafu shutting down for almost two years. With no income during this time, Wang attributes their recovery to well-known Chinese principles: saving more than you spend, honesty and hard work. She shared that her secret to success is authentic taste and reliability. Students often ask for a bit more rice or a bit more meat, and their requests are usually fulfilled.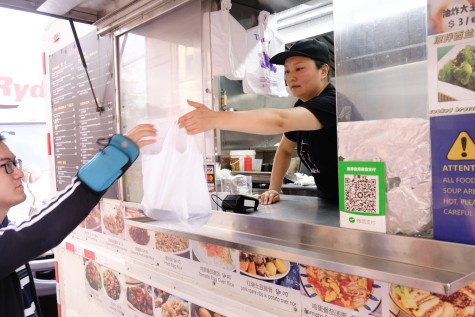 Even without the constraints of the pandemic, Wang shares that running a food truck is not easy — her work day begins and ends in the food truck. Her family lives in Flushing, Queens, so they drive the truck to and from NYU, which brings their work day to 15 hours. However, always thinking of Chinese students who are far away from home, Wang is driven by a desire to share good food with them.
Wang says you only need to try the food truck once to understand its popularity.
Even if chains have appeared to take over the city with their speed, convenience and familiarity, neighborhoods are built and sustained by the familiarity of small businesses. NYU students return to these places because they know the moms and pops care — because they will always take care of you after a day of chaos. 
The next time you're running late for your 8 a.m., the week has been too long, or you receive another rejection email, remember to support the local businesses that will always be there for you.