NYU Seniors' NGO Changes World With Soccer
CAS senior Darshan Mahabare stood at the front of a classroom in Sewri, Mumbai. It was January and hot. As he spoke, everyone listened, and everyone watched.
"This is how you wash your hands," Mahabare said.
The room was packed with five-year-olds, moms, teachers and social workers. The children's bright eyes gleamed up at this tall, dark American man in a Mickey Mouse shirt as he scrubbed his hands together.
Each child was wearing a plaid uniform that read 'CORP' — referring to the Community Outreach Program, an initiative that provides access to fundamental social services including education and healthcare. The children attend school on Reay Road, which is about a kilometer away from the Arabian Sea. It's one of the hardest slums to grow up in, and the beach is full of sewage, garbage and other waste. Some dwellings hover over water, and every year, several will fall. The slum floods in the monsoon season. The poverty in this corner of the world is beyond comparison. Everyone sweats. The children smile.
Over winter break, Mahabare and CAS senior Kanyon Iwami went to India to represent NYU with their organization, KickToChange. The organization, which exists in a few other cities, is designed to generate revenue by teaching soccer lessons in the United States, and it uses the profits to package hygiene kits for people in five South Asian countries. A kit costs about $2.50, depending on the country, but it goes a long way. In the kits are sanitation products like soap and toothpaste. When a family in Sewri receives a kit, it gets shown off because it is a luxury good.
Silvia Simonetta, who works at CORP, said that if someone has to choose between buying soap or candy for their kids, many might choose the candy, even though it's bad for their teeth. Sanitation and hygiene in this area are not only environmental concerns, but are cultural problems.
Through his research, Mahabare has found that many children die from preventable diseases and improving basic hygiene in slum regions could significantly reduce the probability of infections.
"Both of my parents were born and raised in India," Mahabare said. "After traveling to India and looking at the conditions people were living in, I thought to myself that there must be some way I can help and make a difference."
In 2015, KickToChange became a nongovernmental organization. In less than two years, not only did it win a CAS DURF grant, but it also caught the eye of the Clinton Foundation. Mahabare said that the Clinton Global Initiative awarded KickToChange mentorship and funding. The team will travel to Boston for a conference  from Oct. 13 to 15 where they will meet many officials, including Bill Clinton, to discuss global issues in the field of global health.
The statistical impact of KickToChange is not easy to pinpoint. The situation in Mumbai has too many variables to prove that Mahabare's organization has cleaned up the slums. What KickToChange has done, though, is beyond valuable for these communities, and numerical differences regarding cases of illnesses should not undermine the quality of work done by this organization.
KickToChange's goal is to use its additional funding to build water sanitation systems in slum areas. This is where the real difference will be made. The organization is already working on a well project in Dharavi, India's largest slum.
"The authority of Darshan as an American guy had a great impact on their behavior afterwards," Simonetta said. "It led people to start and join [KickToChange]. They are more happy."
CORP has played a significant role in understanding Sewri's needs. The group works closely with the slums and tracks the progress of the KickToChange participants.
One CORP member, Cecilia Vaira, was surprised to see that KickToChange has had a growing rate of participation. She was expecting to see a decrease in participation because research incentive typically drops with time. But that is not the case here as KickToChange is establishing a community culture that is working to improve its health.
"I always have the impression that different worlds share the same urban space while ignoring each other," Vaira said. "The more time I spend here, the more I feel that what these people need the most is simply not being ignored."
Beyond providing sanitation kits, KickToChange is influencing the local mentality surrounding the hygiene. What is most impressive is the fact that KickToChange is not only changing the global environmental perspective by encouraging the children involved in this program to think about other parts of the world, but is also shaping our own. The idea of generating revenue through soccer lessons has allowed KickToChange organizers like Nestor Cotton, director of operations and an engineering student from the University of Maryland, to really engage with players. Mahabare and Cotton connected through their love of soccer, then figured out how to use it for a greater purpose.
"When we first started last year's training, we told the kids that they were helping a great cause," Cotton said. "We told them about children in other countries who have it harder than them and how they were helping to change the world. When they heard this they were happy and excited to know they were helping other kids their age in other parts of the world."
Cotton has also gotten positive reactions from kids in the United States regarding the work done by KickToChange, and some individuals have already requested that the project return to their communities.
"We have already been receiving calls from last year's parents asking when our sessions will start and telling us how they've spread our message to other people they know," Cotton said.
KickToChange is a global non-profit that is growing each year, and taking on larger projects. The secret to success? The organization is rooted with a strong sense of teamwork. Everyone understands their roles and looks forward with a common goal in mind. The group has surprised itself with its own progress, but their rewards are well deserved.
"I really have to owe it to my team members — they are all super talented and are the engine that helps me execute the ideas I have for the NGO," Mahabare said.
Email Shawn Paik at [email protected]. 
About the Contributor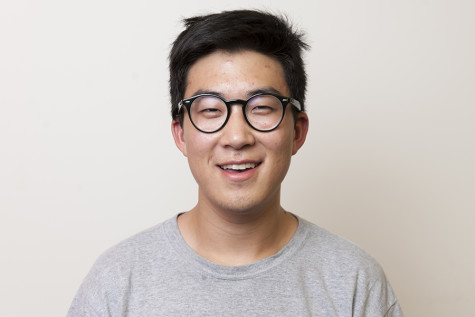 Shawn Paik, Editor-at-Large
Howdy. Y'all can just call me Uncle Lightnin'. I been shootin' since I was just a boy down in Chattanooga, Tennessee. I shot everything from kids to politicians....