Noah Geib
While most students are concerned with grades, GPAs and getting a good job after college, other students are looking at the bigger picture. But Tandon sophomore Noah Geib is not a single-issue student. As president of NYU's chapter of Design for America, he has tackled college affordability and the empowerment of women in low-income communities in just the past few months.
Design for America is an engineering network with chapters at universities across the country that tries to enable social change through design and innovation. A mechanical engineering student from Pleasanton, California, Geib has been involved with DFA since his freshman year.
"I happened upon a meeting, and I thought, 'Hey, I want to do that,' Geib said. "They built a robot out of trash in the office at the library. And I thought it was cool, and something I wanted to do."
Each month, the club proposes a new social challenge for students to tackle. In October, their focus was on making college more accessible for everyone, while in November they were helping women in Kathmandu, Nepal, become self-reliant with the Bindi Project.
"We made a toolkit that allowed them to become financially empowered," Geib said. "It's a step-by-step process to enable women to form groups and their own work teams, in a way."
This toolkit included guides on setting up a bank account and searching for a job, as well as finding housing and other amenities. Some aspects were specifically geared toward women who have recently migrated to urban areas, as they are seen as being at a higher risk of violence or falling into sex-trafficking.
The team is advised by Anne-Laure Fayard, an associate professor in the Department of Tech Management and Innovation. Fayard is struck by the wide range of areas DFA tries to develop solutions for, from the 3D printing of prosthetic hands to fighting food waste.
"Despite the variety of projects, what is at the core is the passion of students to try to make a social impact using a human-centered design approach," Fayard said.
Geib is traveling with other DFA members to Nepal in January to see how the project is advancing. They plan to interview the 31 women in the pilot program and research how the project can be adapted for use closer to home.
"We're going to see how we can apply it to New York since communities with low incomes are the focus," Geib said. "How can we apply something that works in both Nepal and New York City?"
Plans to bring the toolkit to communities in the city are still in an embryonic stage, but the Bindi Project has given the group an idea of what to look for.
If it sounds like Geib isn't your average sophomore, you're right. Fayard said she can tell he is a student who is attuned to the important needs of society.
"I tend to think that, in each generation, there are always a couple of people who are more socially aware than others," Fayard said. "Noah is one of these persons, and DFA and the Bindi Project were opportunities that he saw and embraced."
Geib has always seen the importance of playing an active role in his community, whether that's at home in California or while studying in New York.
"My community has been a prerogative since I was young, and this seems like a natural progression moving from a small town to a bigger city," Geib said.
Geib's actions are strongly based on his beliefs about education. He believes the college experience should not be based solely in academics, because there are many opportunities to branch out and do things on your own.
"They should be doing projects, doing things outside of their coursework," Geib said. "I don't believe anyone over there should have a 4.0. If students spend all their time only studying, they'll become good engineers, but they're going to become good engineers anyway. Why not spend your time doing something that can help you get a better job?"
Despite this deep commitment to improving the world around him, Geib still manages to study, spend time with friends and catch up on his main hobby: reading fantasy.
"Fantasy is my thing. Medieval fantasy, I read constantly," Geib said. "The one elective I'm taking is going to be a fantasy writing course, because it's a writing-intensive [elective]."
But in spite of Geib's seemingly indefatigable drive to mold the world around his vision, Fayard said his passion for change is tempered by a strong grounding in reality.
"His earnestness is a mix of passion for what he believes in but with always a pragmatist perspective," Fayard said.
Geib is quick to disagree with the assertion that he's too idealistic.
"They might think it, but they've never said it," said Geib. "And if they did, I'd tell them they're wrong."
About the Contributors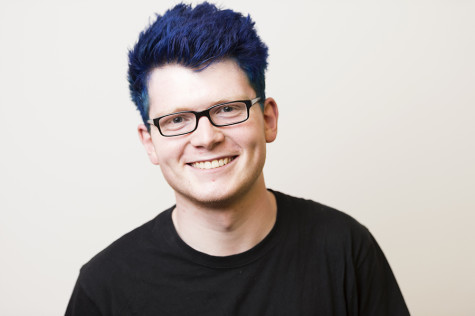 Tommy Collison, Opinion Editor



Tommy Collison is a writer interested in privacy and the future of journalism in a post-Snowden, Google-owns-your-data world whose columns focus...