Every year, student registration for university housing outpaces available rooms, and every year some students who are unable to register are placed in off-campus hotels. This year, however, NYU also moved many students into its newly purchased Sixth Street residence hall, with some only receiving housing assignments a few days before the start of the semester. While all students seeking assignments have now received on-campus housing, many said the process revealed systemic flaws in NYU's housing system.
NYU guarantees all undergraduates four years of university housing, so long as they don't move off campus or miss registration deadlines. In order to apply for housing, students complete a two-phase process: one where they select roommates and pay a $1,000 deposit, and another where they receive a room selection time. 
If students do not complete Phase 1 successfully — by missing either the deposit or registration deadline — they lose their right to guaranteed housing and cannot move on to Phase 2. Their only way to receive university housing is through a waitlist, which provides students with rooms as cancellations are processed throughout the summer.
In a statement to WSN, NYU spokesperson Joseph Tirella said that students on the housing waitlist were made aware of the possibility of temporary housing, and were encouraged to find off-campus housing. This year, 54 students were temporarily placed in the Walker Hotel in Greenwich Village. According to the university, all students at the hotel have since been assigned to on-campus housing.
"All students placed in the off-campus hotel were assigned from the housing waitlist and were informed of the possibility of receiving temporary housing," Tirella said in the statement. "This semester there were 54 such students; all 54 have now been reassigned to on-campus housing."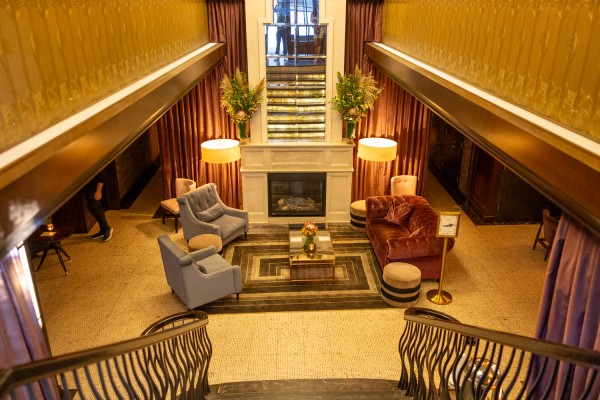 Sophomore Zane Mattingly, one of the students assigned to the hotel, told WSN that he was unable to pay the housing deposit by the deadline, leaving him on the waitlist. Mattingly said he originally requested low-cost housing, but the hotel, which was the only housing option made available to him at the time, cost more than he could afford.
Mattingly also said that while he was on the waitlist, NYU encouraged him to find off-campus housing. After struggling to secure accommodations with relatives, he feared he would not have a place to live for the semester. 
The option Mattingly said NYU gave him while he was at the hotel, a single room in Lafayette Hall, was also over his budget at $12,900 per semester. He said he wasn't able to secure a low-cost room until a spot opened up on the Bed for Bed forum, which allows students to trade room assignments. By the time he had found a low-cost room, which cost anywhere from $4,950 to $8,250 this year, he had moved three times.
"They pretty much told me, 'We don't have enough space to accommodate your request for low-cost housing, so you're going to take what we give you,' essentially," Mattingly said.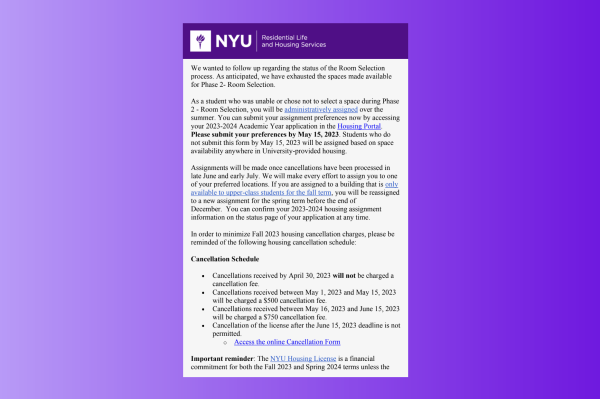 Despite completing Phase 1, some students were still unable to receive an on-campus housing assignment. A number of students who had later housing selection times found themselves without any options left, with the amount of students seeking housing exceeding NYU's capacity. These students were told to fill out a housing preference form, and that the university would assign them a room over the summer by email. Unlike students placed on the housing waitlist, these students were guaranteed on-campus housing.
According to email correspondence obtained by WSN, students who had not selected a room by April 27 were told demand for rooms exceeded capacity, and that they might not receive an assignment in Phase 2. The next day, they were told there were no remaining housing spots, and they would have to wait to be assigned to a room over the summer.
In 2018, then-senior vice president of student affairs Tom Ellett told WSN that if the number of vacant housing spots is greater than allowed by the budget, the university would have to charge more in the future to regain lost revenue. In 2018, the total number of beds that could be left vacant was 40. NYU did not respond to questions regarding how many vacant beds it had budgeted for this academic year, or about how many students had to be administratively assigned over the summer due to the overflow.
The university's history of overbooking on-campus housing goes back decades. In 1985, NYU placed 350 first-years and transfer students at the Seville Hotel on Madison Avenue — a move The New York Times reported to have cost the university around $1 million. At the time, NYU said this was an emergency measure due to a surge in housing requests from out-of-state students and upperclassmen. 
In more recent years, the university has housed overflow students through the New York City-based Affinia Hotels chain, including about 60 students in 2010, 200 students in 2014 and 145 students in 2015. 
One junior, who asked to remain anonymous due to privacy concerns, told WSN that they were grateful to have secured housing after they did not initially receive a room during selection, and said they waited months for NYU to inform them of their housing assignment.   
"I needed housing because me and my roommate, we're both low-income students and we cannot afford rent in New York City at all," the student said in an interview. "So it was very scary because we were like 'OK, let's look for how much we have to rent and how much we have to work,' and we already work and have very busy schedules. So it was just not possible."
This year, the university sent students multiple emails reminding them of the housing cancellation deadline, which it periodically extended from June 15 to Aug. 28.
"It really seemed like they wanted us to cancel our housing reservation," said Rico-ian Banting, a junior who did not receive a housing assignment until Aug. 21, and received two emails less than a week later reminding him he could still cancel his housing.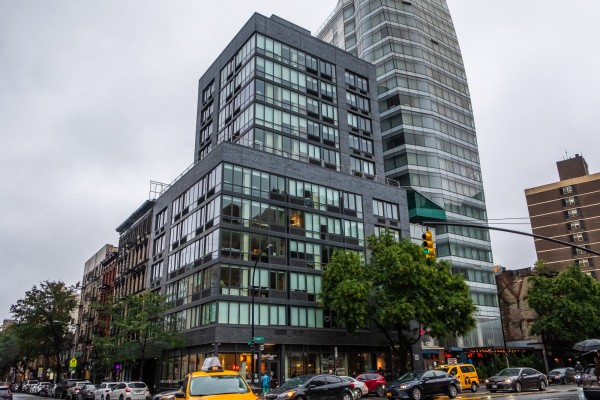 Many students like Banting, who were unable to select a room during their registration period, were assigned to live in the Sixth Street dorm, a building near Cooper Square that NYU purchased this summer. 
Multiple students told WSN that when they registered for housing, the Sixth Street dorm was not available for selection. Some students who were placed in the new residence hall said they only learned the dorm existed when they were assigned to live there.
"The Sixth Street residence hall was ultimately secured after the completion of the room selection process," Tirella, the NYU spokesperson, wrote to WSN. "That inventory was obtained to provide the university some flexibility in the room assignment process, allowing us to extend more offers of housing to students on the waitlist."
Tirella also said NYU has used off-campus hotels to accommodate waitlisted students "for almost a decade," and that most years, around 50 students are housed this way. This year's figure of 54 students was similar to years prior, despite the university's purchase of the Sixth Street residence hall to mitigate the overflow.
Students also said they were frustrated with communication from the Office of Residential Life and Housing Services over the summer. According to emails obtained by WSN, NYU repeatedly pushed back the date that students would be told their room assignments, from the end of July to the end of August. Multiple students said they did not know what their housing situation would look like until almost a week before the start of the semester.
One student, who asked to remain anonymous due to privacy concerns, told WSN that they were initially unable to secure housing after being assigned a late selection time, and that they eventually decided to withdraw from on-campus housing because they were frustrated with the process.
"For them to not communicate whether or not I was going to get housing or when I was going to get housing was super stressful on my end," the student said.
Contact Naisha Roy at [email protected].