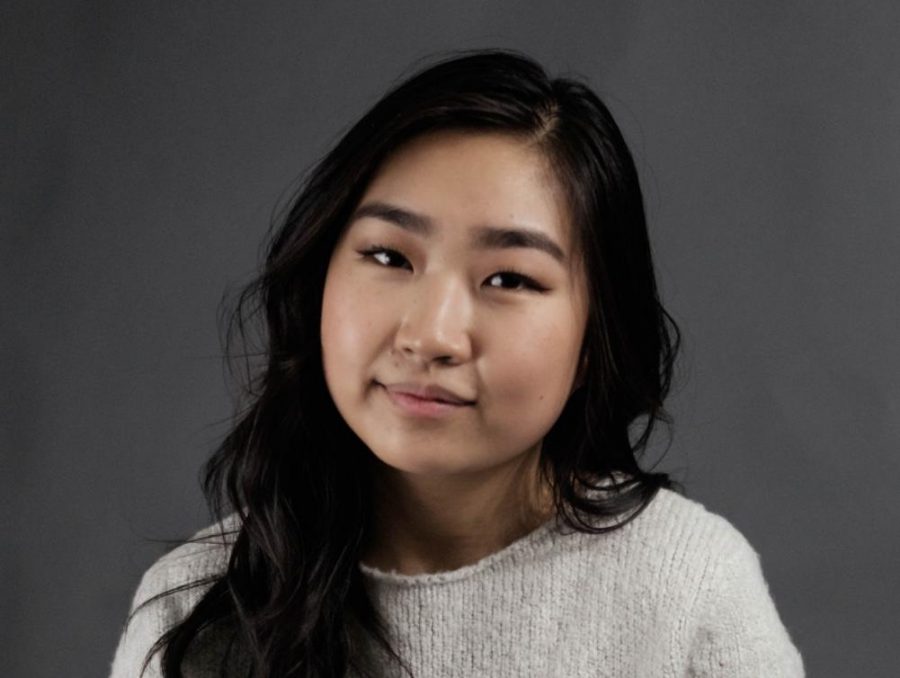 Jennifer Zhang
Atop her standard dorm room wooden dresser, Jennifer Zhang's golden YouTube play button commemorates her channel reaching one million subscribers. Although she reached this figure long before moving into her sophomore year residence hall, YouTube delivered the plaque only recently and, it is too heavy to ship home. So, there it sits, a blinking reminder against the monochrome backdrop of her dorm that Steinhardt sophomore Jennifer Zhang has a lot of people watching her.
"It's probably my biggest achievement in life," she said, referring to the success of her YouTube channel, JENerationDIY. "Otherwise, I'm pretty average."
She's a quiet person — smiley and peppy on camera, but introverted in person. You'd never know that scrolling through the videos on her channel. Music videos, DIY tutorials, vlogs and other clips about food and fashion populate the colorful homepage of her YouTube channel. But what remains at the core of her brand and what predominantly attracted the now 1.5 million subscribers are the creative, do it yourself projects she films.
Motivated by a love for film and a recognition of the lack of diversity in television, Zhang picked up a camera and spent a week straight teaching herself how to record and edit videos during the summer of 2013. Her first video, "DIY: Galaxy Shoes," filmed in her home in Vancouver, Canada, may have been made before she mastered lighting and production, but it embodies the unique quality that makes JENerationDIY standout: Zhang's fervent creativity and earnest intention to cultivate those skills in others.
"I grew up and my family didn't have a lot of money — I couldn't afford to buy expensive things so I would just make them," Zhang said. "I strive to make the DIY videos very accessible to people. Not making them go out to buy certain materials; whatever they have at home, they can use."
Seeing Zhang make one of her videos — carefully drawing out letters onto a plain, blue sweatshirt for a "Riverdale" DIY, searching frantically around her room for something simple to use as a template, skillfully adjusting the light fixtures and camera angle, opened my eyes to the true grit behind the effortless, pastel exterior of her YouTube videos. It's hard, it's time consuming and the effort behind maintaining her content bleeds into most aspects of her life.
"Because I'm in school, I usually film on the weekends, so my entire weekends are usually dedicated to YouTube," Zhang said. "I kind of have to sacrifice my social life. I film for one to two days and then editing takes a full day."
Luckily, there are perks to the business. After gaining a certain degree of internet traction, Zhang's channel was monetized, and she now makes an income off of her videos. YouTube has become a tangible career path for her. She has even had the opportunity to work with a number of brands she loves, such as bareMinerals and Hubert's Lemonade, and often attends events like New York Fashion Week and Beautycon.
With parents who aren't in creative fields, Zhang said it was initially challenging to gain their approval. They questioned why so much of her time was being consumed by making these videos, but the resistance eventually subsided when she started making money and they realized YouTube could be a career. Even without the unconditional support of her parents, Zhang wanted to break into media because from a young age, the industry told her she couldn't.
"I grew up watching a lot of TV — I watched a lot of Disney Channel, and I feel like a lot of kids wanted to be on Disney Channel but I didn't see a lot of people who looked like me," Zhang said, alluding to the lack of Asian actors in children's TV. "When I was a kid, I didn't know why I felt I could never be on TV shows; now I know it's because representation isn't very accurate on screen, but YouTube is a place where it is. Anyone can make a channel no matter what you look like or what you do."
YouTube gives her a platform to be herself and promote the positive changes she wants to see in media. Though she has had the opportunity to learn more about the technical and theoretical side of the entertainment industry through her studies in Media, Culture and Communications at NYU, Zhang said she doesn't dwell too much on the analytics of her page or allow outside sources to dictate the core of her content. She makes what she wants and seeks to be authentic both on and off the camera. That's why so many people keep clicking every week — watching her evolve and grow and gradually display more of her sarcastic, witty self.
At times it can be overwhelming, especially for someone who is more comfortable with a camera than an in a face-to-face conversation. Whenever she does get invited to large events, Zhang said she brings along her sister, Jane, for support.
"You would think that a personality as public as [her] would be more outgoing," Jane said. "[YouTube] does get her out there. As a shy and introverted person, she gets invited to these things that push her out of her comfort zone."
Seeing Jennifer interact with fans at these events is a fairly surreal experience for Jane.
"For her, she has a whole universe of people that she talks to online," Jane said. "The sheer number is kind of hard to comprehend — 1.5 million. When it's just a number, you don't get what that actually means. In person when we go to events or even on the streets when we get stopped, I'm like 'woah she's kind of a celebrity.'"
Read more from Up-and-Comers 2018.
Email Jemima McEvoy at [email protected]