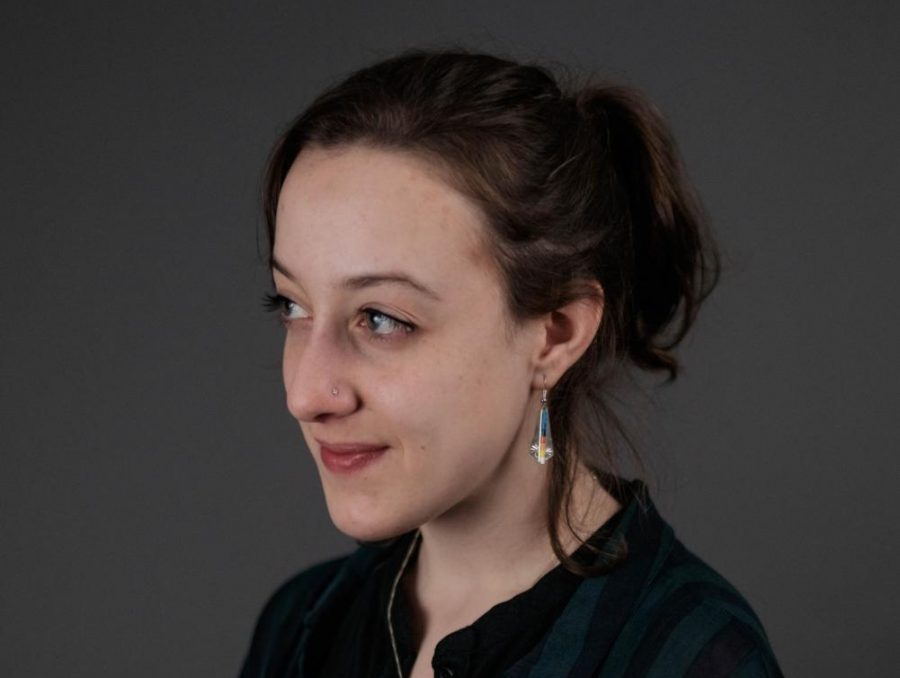 Rachel Stern
Second Avenue is home to Block Drug Store, a pharmacy that has survived for over 100 years while surrounding businesses have shuttered. Restaurants turned into chic coffeeshops and bookstores turned into electronics stores, but Block Drug Store has stuck around. This is what Gallatin junior Rachel Stern explained to me as we paused underneath its red neon sign — her attention divided between the oral history of the neighborhood playing in one earbud and the notebook in her hand sprawled with observations of our surroundings.
As a member of the Urban Democracy Lab, Stern works out ways to tell stories of resilience by recording the oral histories of East Village residents to better understand people's relationships to land.As part of this project, the Urban Democracy Lab collects stones and listens to what long-term residents have to say.
While taking notes, Stern walks around the areas the residents mention to get a better sense of the environment that shaped them. Associate Director of the Urban Democracy Lab Rebecca
Amato praised Stern's contributions to the project.
"As a member of our research team working with the Cooper Square Community Land Trust, [Stern] has been a stalwart contributor to our efforts to protect a deconsecrated Catholic church in the East Village from luxury development," Amato said. "In my experiences with her, [Stern's] most outstanding qualities are her humility, empathy, curiosity and commitment to following through on whatever small or large task she undertakes."
Stern was born and raised in New York, but her passion for human rights and the environment bloomed outside the city during visits to her uncle's house near Table Mountain in Cape Town, South Africa. Exploring the outdoors surrounding Table Mountain shaped how Stern saw nature; it was also one of the first times she was exposed to the injustices that stem from the need for land.
"As we drove through areas such as the cape flats, which are on the outskirts [of Table Mountain], I started to understand how apartheid zoning and apartheid planning forced removals in areas that have actually distanced people from these environmental spaces," Stern said. "Basically what you see in the city is a geography of displacement from the mountain."
Witnessing this firsthand introduced Stern to the connection between human rights and the environment.
As a first-year student, Stern accomplished something many only dream of: she received a grant from the Horn Fund Family Grant and traveled to Berlin to study urban ecology. At the time, she had only studied German for three weeks. The empty, bombed out areas of the country from World War II have become overgrown with plants which intrigued Stern. The post-war overgrowth made her think about how green spaces and natural growth can undo the effect of rubble in the aftermath of conflict. Human impact can be undone.
Stern firmly believes that politics and environmental issues are linked, and that the environment can be used to promote peace. For her, climate change is more than just an environmental issue, it is an existential one.
"There is a lot of [people who say] 'Save the Earth,'" Stern said. "The earth is going to be fine. The Earth will bounce back, but humans don't necessarily."
Stern believes that education is a vital tool for making humans more environmentally conscious. In her opinion, reading scientific papers about climate change is ideal, and she believes they should be accessible to all. With her interest in education, Stern hopes to potentially go into academia in the future. As Gallatin Associate Professor Peder Anker's research assistant, Stern already has one foot in the door. In this position, she is asked to visit archives, mostly on the West Coast, to find material.
"She has plowed through hundreds of boxes of correspondence and documents and she found amazing stuff — she has an eye for it," Anker said. "I have never had such a devoted assistant before."
Stern doesn't think she can save the world, but she is certainly going to try. Her goals are realistic. Stern believes that, although tempting, ignoring reality is counterproductive.
"I think a lot of people think that they are going to change the world," Stern said. "I don't think that, so I am not idealistic in that way."
She participated in the Labor Summer Program at University of California Berkeley last summer and received training on Californian labor history, labor rights and unionizing to understand the connection between laborers and the success of an organization. She also worked with two environmental justice organizations in Oakland, California and researched climate resilience projects through the lens of environmental justice to better understand the political aspects of environmentalism.
Her academic advisor Rosalind Fredericks believes that Stern's eagerness to learn and tenacious nature are what will shape her success in the future.
"Rachel is one of those rising stars that you know is going to do exciting things," Fredericks said.
When it comes to the question of what we can ex pect from Stern in the future, the answer is pretty straightforward.
"If I am able to make some part of the world, like a small part of the world greener and better, if I can work on a restoration project or help to restore a species, I think that would fulfill the purpose of being a human is for me," Stern said.
Read more from Up-and-Comers 2018.
Email Yasmin Gulec at [email protected]