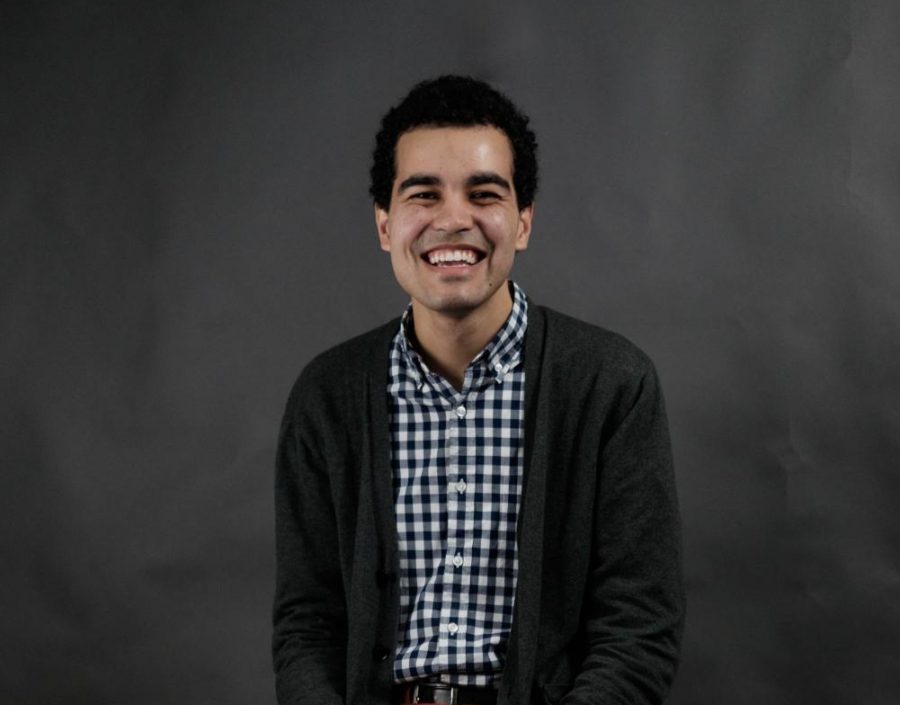 Alex Smith
The Ambidextrous Academic
Alex Smith can't tie himself down to just one passion. Instead, he plays the field, trying his hand at whatever piques his interest at the time, immersing himself in all he does. 
The CAS senior has gusto. He isn't afraid to take risks in what industry he'll break into next, and it pays off — Smith has interned at the Obama White House, PBS and, most recently, Facebook, where he'll start a full-time job this summer. He has also contributed to USA Today and currently writes for the Huffington Post.
Smith isn't studying politics, or journalism, or even anything in science, technology, engineering or math fields. He's a history major — and a self-proclaimed history nerd.
"I think I just never decided, when I was in college, what one of my interests would be," Smith said
But Smith wasn't always set on spending his four years at NYU with his nose in a history book.
"I would say when I first got to NYU, I definitely was more interested in the international relations track," Smith said. "I knew I wanted to do something that was going to help a community or to help an entire population. I was really interested in politics, and then I took an international relations class, and it was different than what I expected."
Though Smith decided to focus his studies on history, he continued to take classes outside the major to deepen and explore his interests.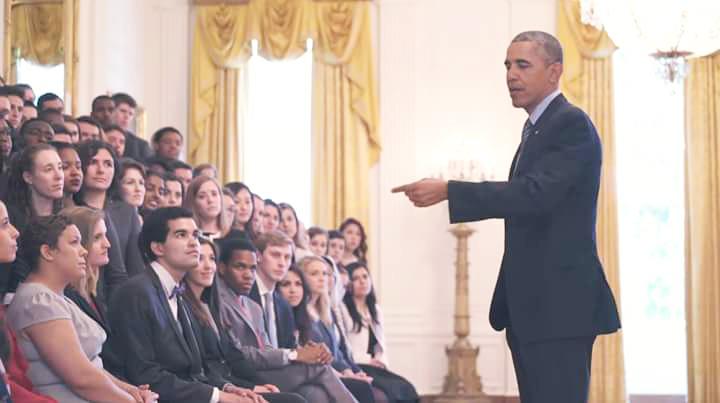 Courtesy of Alex Smith
"I did a lot of things in journalism and politics, interning at the White House, and I kind of realized that just being able to be a good writer and being able to think critically was really important, so that was where history came from," Smith said. "A lot of the opportunities — or Facebook, for example — [don't] relate exactly to history, but I think having that foundation of being able to be a strong presenter, strong writer, really helped forward those opportunities [while] still really matching my passions for being able to understand history as how we look at the past and how we're able to move forward with progress."
While exploring his interest in journalism, he interned at NBC's "Rachel Maddow Show" during the 2016 Presidential election. He also took courses in journalism and media, culture and communications. Smith said that while enrolling in classes outside his major was useful, it was more important for him to gain real-world experience in various industries.
"I really enjoyed working with producers and different teams of people," Smith said. "So just having that real world experience was really important, and I think that election coverage at NBC was probably the best example of that."
Before interning at the White House during President Barack Obama's term, Smith interned at the mayor's office in his hometown of Kansas City, where he was able to gain hands-on experience — and share his love of bow ties with the mayor.
"That was incredibly cool because I think having just first-hand experience and literally working within 10 or 15 feet of local government — from the mayor [to] the chief of staff — was really cool," Smith said. "I think that was one of the reasons I probably helped get the White House internship, just because I was able to work so closely with the staff, being able to work on writing speeches, being able to work with the [communications] team and help with press engagement, things like that."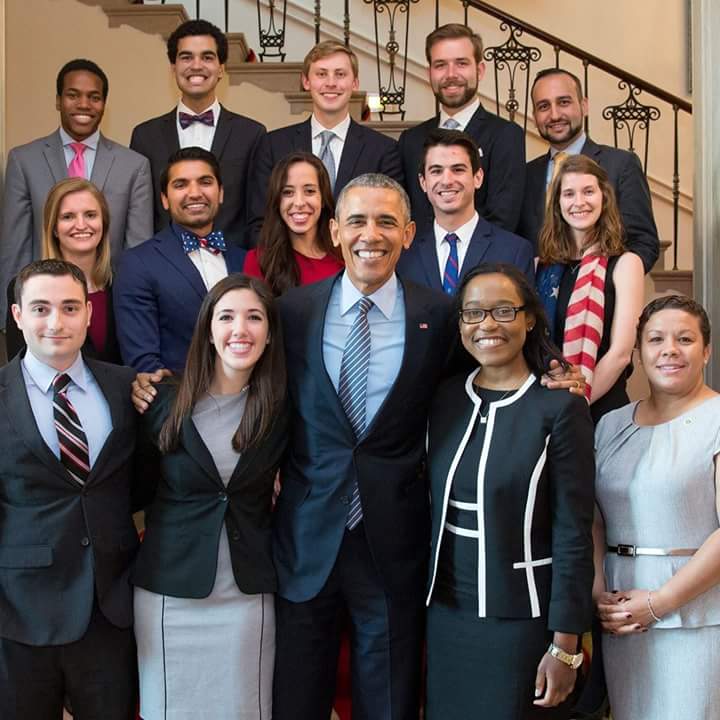 Courtesy of Alex Smith
There was never a normal day during Smith's time in Washington D.C.. He worked on service initiatives and projects within the management administration, gave White House tours, helped with chief of staff reports and did special events with former First Lady Michelle Obama, former Vice President Joe Biden and former President Obama.
"I was 19 when I was at the White House, and everyone around me was so much older, but it was just an amazing experience," Smith said. "I think I tried to soak up as much as possible and take as many pictures as possible, when I was allowed to, so it was really cool."
However, his semester in D.C. did not come without hardships as he worked a full-time job and kept up with a heavy course load. Family has been key to Smith's success as his mother, Amy Winterscheidt, and twin sister, Corrinne, have offered continuous support with every new endeavor he undertakes.
"Candidly, the White House internship was really hard," Smith said. "I was a sophomore, you know, going to work full time, and so I think [my mom] was just supporting me every single step of the way and really encouraging me and helping me find opportunities and helping me really believe in myself."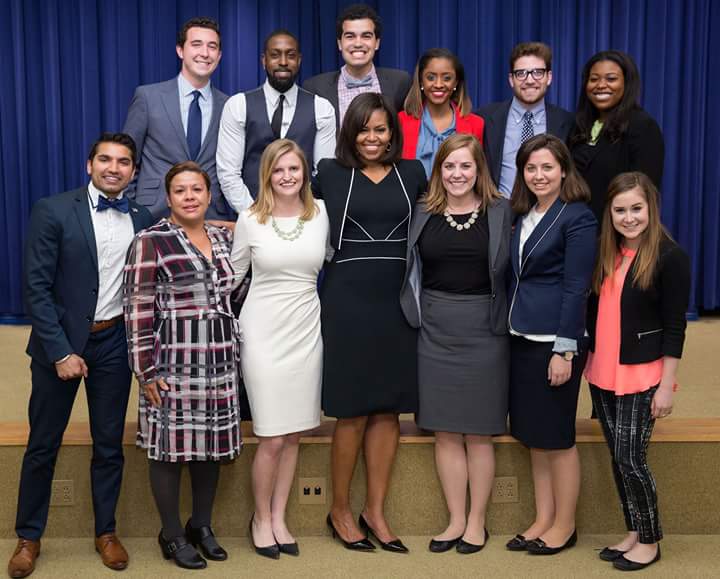 Courtesy of Alex Smith
Winterscheidt inspired Smith to pursue philanthropy, social good and corporate social responsibility, as she runs Hallmark Cards' philanthropy and volunteer programs, which Smith often involves himself with.
She said Smith cares deeply for others and is always determined to be his personal best.
"He's a tremendous caring spirit," Winterscheidt said. "I think most importantly he really has this strong drive to be the best person he can be."
Smith believes that his support system is what drove him to be as motivated as he is.
"These accomplishments really are not [simply] a reflection of me," Smith said. "They're a reflection of every single person who has helped me along the way and read an essay or edited a paper or totally been like, 'No, you should apply to that — you'll be fine,' because there are definitely times where I doubted myself or wasn't confident in myself, and I think just having that support system to give me the confidence to take a lot of risks and sometimes you'll fail and sometimes you'll get the opportunity."
Smith has also pursued opportunities within the university. He studied abroad twice — once at NYUDC and once at NYU Madrid — is part of the NYU Leadership Initiative and is the president of NYU's History Society, which he said he has enjoyed planning events for and leading since his junior year. Previously, he was CAS class president during his first year, and he served on CAS Student Government both his first and sophomore years.
Smith credits the Martin Luther King Jr. Scholars Program as what instilled a passion of service within him. His cohort through the scholars program emphasized community service, and they went to New Orleans to clean up damage that was left after Hurricane Katrina.
"Being in a group every week where we talked about social justice issues, political activism issues, that was really pivotal to me continuing that interest — getting to meet people … and just seeing all the different things that they're working on is incredibly inspiring," Smith said. "Just being able to keep in touch with that network and help them as much as possible too has been really cool."
It's his love for helping others and exploring all facets of life that has served as a catalyst for his multifaceted college experience.
"At the end of four years, I'm still not sure what's most interesting to me, and so I think [I'm] just trying to do as much as possible and really finding things I'm passionate about too," Smith said. "I think that going in [my first year], I thought if I wanted to work at Facebook or wanted to work at the White House, there was a certain path that I had to kind of follow, and I really quickly learned that just doing things I was passionate about was most important and the opportunities would come subsequently."
Read more from Up-and-Comers 2018.
Email Natasha Roy at [email protected].