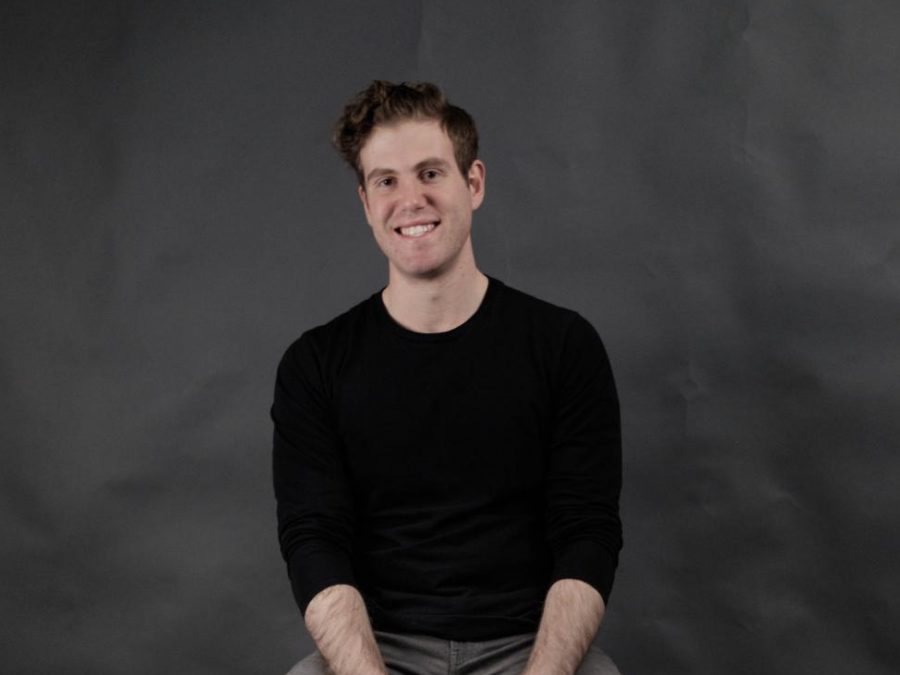 Sam Raskin
On the last day of February, a group of about 20 members of the New York City press corps huddled together around cameras and local politicians on the steps of City Hall. The New York City Council was preparing to host a hearing on best practices to address sexual harassment, the first hearing of its kind.
Standing erect amid the crowd in a grey peacoat and brown slacks is CAS senior Gotham Gazette intern and NYU Local Co-Editor-in-Chief Sam Raskin. While many of the professional reporters around him scurry, frantically snapping photos and fumbling pen and paper, Raskin remains markedly calm — occasionally typing up quick notes with one hand on his iPhone.
Jeremy Unger, a former NYU Local editor, taps Raskin's shoulder and whispers in his ear: "would you like to interview Carlina Rivera?" A moment later, Raskin has the full attention of the New York City Council member. To a random observer, Raskin may seem like a veteran reporter. In reality, the 22-year-old began reporting just two years prior.
Raskin appears aware of his perceived expertise. In the past two years, he has written and reported extensively and has developed a reputation as a respected, business-first student reporter. He's the type of goal-driven journalist who records every interview. Even this one.
Raskin and I have crossed paths with some frequency while reporting on campus news. Despite initial trepidation, Raskin agreed to meet with me for our first interview on a Saturday afternoon over lunch at a lively Union Square diner. I remember ordering a chilled Brooklyn Lager to break the ice. The bartender placed the glass in front of me while Raskin ordered. A whiff of white frost floated from the glass, diverting my attention.
To my left, Raskin motioned the waiter over, his gaze set straight ahead.
"I'll have a water," he said.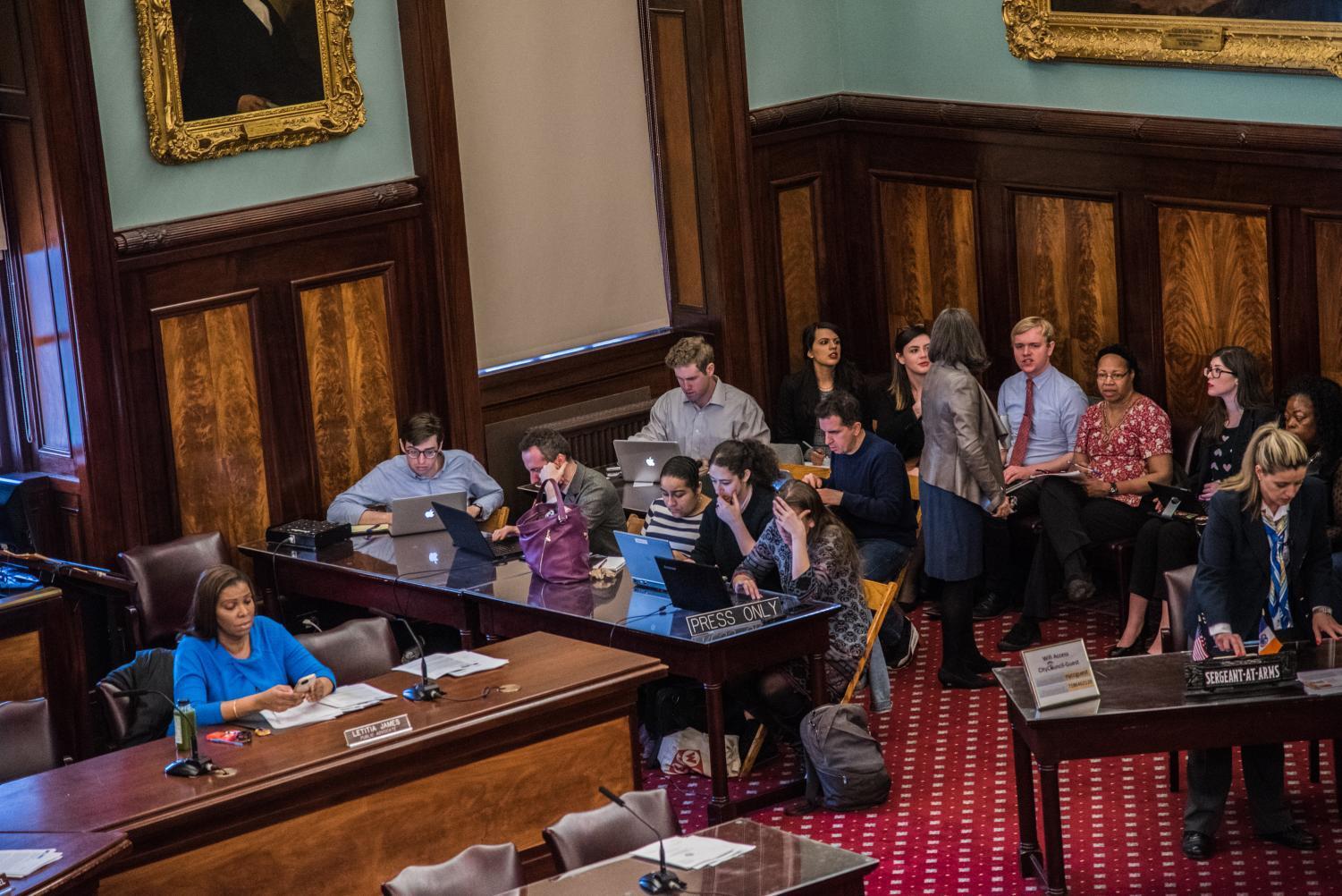 Photo by Sam Klein
***
From an early age, Raskin's parents did not shy away from dinner table politics and weighty debates over current affairs. In his household, newspapers also weren't in short supply — his family subscribed to The New York Times and the New York Post, the thick papers populating his home.
Early on, however, sports — especially baseball, were Raskin's true passion.
By the beginning of his sophomore year of high school, Raskin knew he wanted to play college baseball. But it wasn't until he attended a baseball showcase in August 2013 that NYU appeared on Raskin's radar as a potential option.
By the end of 2013, NYU was finalizing its partnership with NYU Polytechnic. With it came the resurrection of NYU baseball after a 14-year hiatus. The stage was set. Raskin was headed to NYU.
CAS senior Matt Millus was one of the first friends Raskin made on the baseball team.
"He's a pretty big kid," Millus said, recalling his first time meeting Raskin. "I got to know him more, and after talking to him on a personal basis, I realized that he was very down to earth and a straight shooter."
Around that same time, the current NYU Local editor-in-chief was first exposed to campus media — at Washington Square News.
On Sept. 17, 2014 Raskin wrote an editorial, "Pitchers being pushed towards injury," which was published in WSN. During our interview, Raskin explained how he felt that the final published version of the article deviated from his original point. That, in addition to a rejected pitch, steered Raskin away from WSN. In hindsight, Raskin told me he would have considered writing for a different desk at the newspaper if he could do it over.
"I always play through alternate universes in my head about what would [have happened]," Raskin said. "If I had to go back and do it again who knows, maybe I would have switched sections [to news] and I would be at WSN right now. I don't know."
Though he made clear that those disagreements were not personal, Raskin pointed out where he thinks WSN has fallen short as a publication.
"Some editorials are very much giving credit to the university," he said. "That is not to say that I disagree with them. It's to say I would never have a 'to be fair NYU did good' in this sort of parenthetical, because I think that the purpose of journalism is to challenge power and be adversarial."
Not long after that, the baseball season picked up in full swing, and Raskin had moved on from WSN. Two years would pass before he would re-enter the campus publication scene.
In the years before joining NYU Local, Raskin continued to build up a burly portfolio beaming with political exposure and journalistic inspiration.
The fall semester of his sophomore year, Raskin studied away in Washington D.C. He interned on Capitol Hill for former New York third congressional district representative Steve Israel.
During that same semester, Raskin met CNN reporter and former NYU Local writer Maegan Vazquez. Raskin's experience with Vazquez as his D.C. mentor would prove formative.
Throughout all these developments, a lingering burden brewed. Raskin had struggled with an injured shoulder. While he tried to play through the pain, his baseball performance dipped. By the end of his sophomore year, Raskin began seriously considering those words issued by a coach at the baseball showcase two years prior: "Go someplace where if you got injured, you wouldn't have to transfer."
Fate had thrown Raskin a curveball.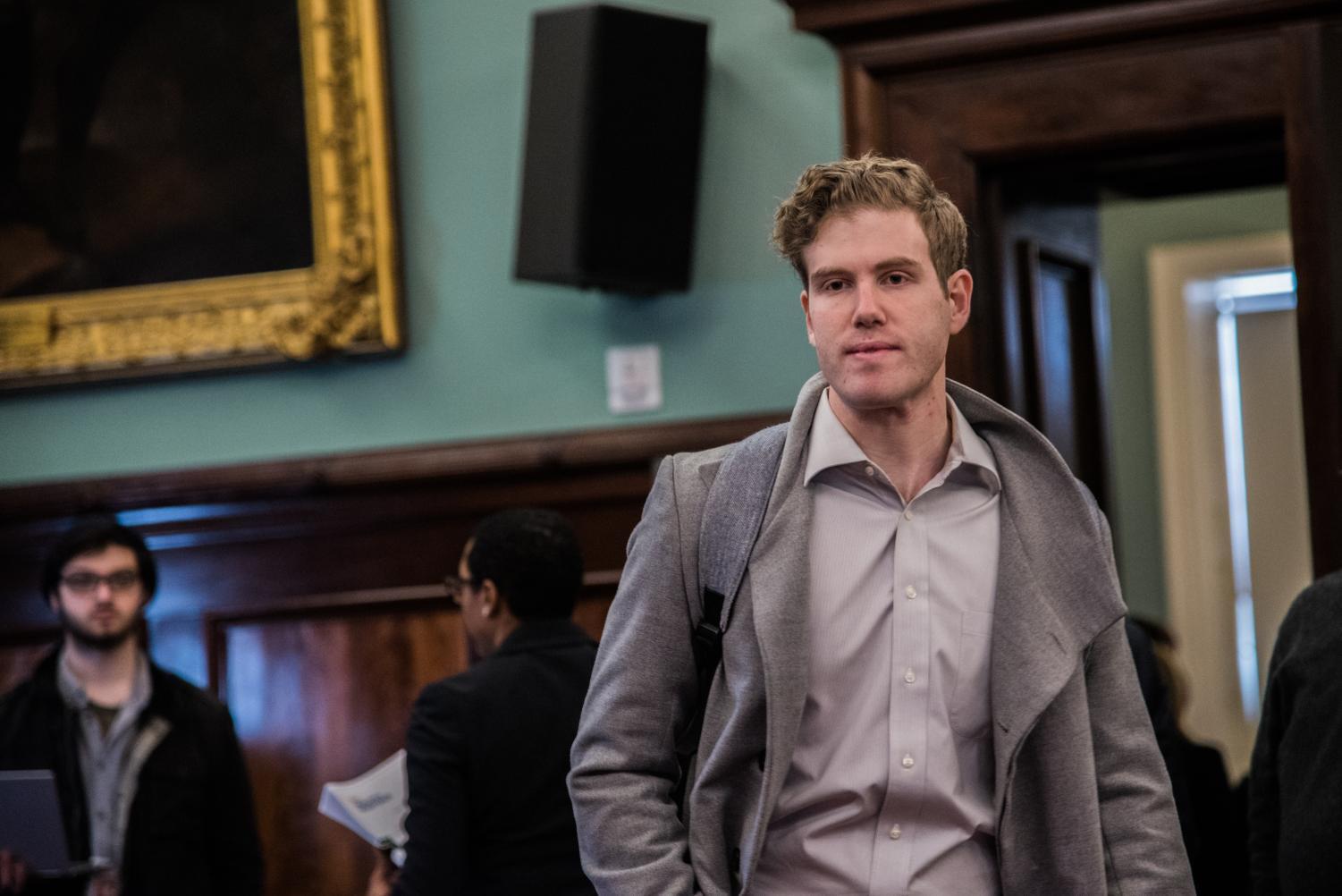 Photo by Sam Klein
***
Rather than let this hurdle consume him, Raskin allowed himself to be willingly consumed by reporting. He wrote over 30 articles during his first semester at NYU Local.
Over the course of the next year, Raskin broke a number high-profile university stories, made his name known among the campus mediascape and worked his way up to co-editor-in-chief of NYU Local alongside GLS senior Opheli Garcia Lawler. Raskin is a natural reporter — his strong character feeds into the way he approaches stories.
"If I had to put a word on Sam, it would be principled," said Harry Braha, an NYU alumnus who has known Raskin since the sixth grade when they would take a bus across town to the Abraham Joshua Heschel, a Jewish day school. "[Raskin] tends to come up with plans that are very reasonable, and he has the willpower to see them to their completion … For the better, I think that he comes up with more realistic plans and tends to follow through on those plans more than other people our age."
While writing for NYU Local, Raskin became a community expert on campus politics. This proficiency landed him a freelance story with BuzzFeed News where he examined changes in College Republicans on a national stage.
Raskin also helped lead a national conversation on alleged academic freedom violations and religious discrimination at NYU Abu Dhabi's campus. Following a Sept. 26. op-ed released by tenured NYU journalism professor Mohamad Bazzi, WSN and NYU Local produced multiple investigative articles that resulted in an official admission of fault by President Andrew Hamilton in February.
"The NYU Abu Dhabi example was a perfect way that showed some of what I do actually matters," Raskin said over an 11 p.m. coffee. "And it's not just so I can be happy with myself or so people can say 'hey Sam is doing good work.' No, it's so that things can actually change and that things are exposed that otherwise would not have been out there."
Raskin does not shy away from what he sees as an obligation of campus media to hold the administration accountable.
"Andy Hamilton should wake up afraid every morning that there is going to be some investigation into their business or into the university that is going to show that it is bad," Raskin said. "They should fear that every day."
A respected expert on the topic, Raskin also participated in a debate hosted by The Review and Debates at NYU which questioned whether or not the creation of NYUAD was a mistake.
Those close to Raskin told me his commitment to journalism as a check on power and a force for good are genuine.
"He is transparent with what he believes and what he sees as correct," Millus said.
Last fall, Raskin also made his New York Times debut — but not how he expected. Just weeks before New York City's mayoral election, NYU alumnus Mayor Bill de Blasio visited his old dorm room in Weinstein Residence Hall. As an aspiring political reporter, Raskin felt he must at least try to get in a question.
De Blasio brushed him off saying, "We're not doing that right now." By the end of that evening, New York Times reporter David Goodman had released an article with Raskin's name at the bottom.
In addition to being a full-time student and co-editor-in-chief at NYU Local, Raskin started interning at Gotham Gazette last summer and resumed the internship this semester. Raskin has covered a number of different beats for Gotham Gazette including transportation, housing, city agencies and campaign finance legislation.
Raskin admitted that navigating life as a full-time student, an intern and an editor while pursuing a career in a volatile industry has its ups and downs.
"Well certainly you wouldn't go into it if you wanted the money. And you certainly wouldn't go into it if you wanted the fame. And you certainly wouldn't go into it if you wanted to be around people that dress well," Raskin said. "So you just kinda have to love it, and you kinda have to embrace it."
Looking back on his four years, Raskin said that despite chaotic schedules and a modest Twitter affliction, he would not have it any other way. And though he no longer plays baseball competitively, he explained how the same spark that led him to strap on cleats every day has followed him into the newsroom.
Before he left our interview, Raskin told me he had met his best friends and made some of his greatest memories playing baseball. After a quick pause, he smiled and added, "None of which I can say on the record."
Correction, March 8:  A previous version of this article said that fellow Gotham Gazette intern Ben Brachfeld tapped Sam on his shoulder when it was actually for former NYU Local editor Jeremy Unger. The previous version also said that Raskin began his Gotham Gazette internship in the spring of 2018. Raskin began his internship in the summer of 2017 and then resumed his internship the next spring. WSN regrets these errors.
Read more from Up-and-Comers 2018.
Email Mack DeGeurin at [email protected].