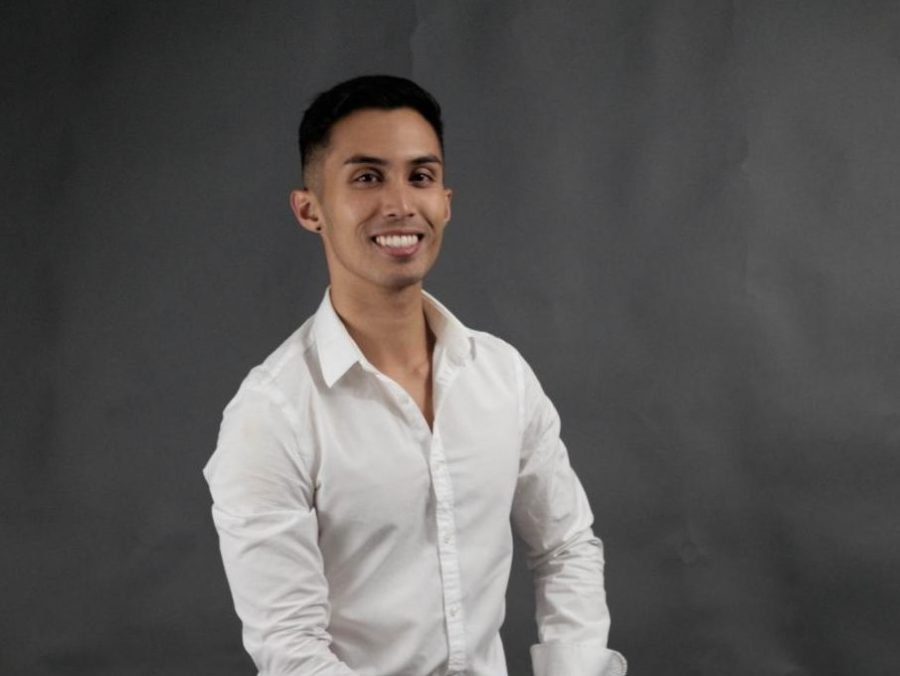 KP Mendoza
KP Mendoza starts his Thursdays at 6 a.m. with a shower and a quick breakfast.
By 6:30 a.m., the Rory Meyers senior is out of his apartment in Gramercy Green Residence Hall, where he's a resident assistant, and on his way to Maimonides Hospital in Brooklyn where he spends eight hours monitoring patients.
Around 4 p.m., he heads back to Gramercy where he gets a little downtime before working at the Resource Center from 7 p.m. to 10 p.m. After that, he makes it in the nick of time for hall snacks with the residents of the 21st floor, which last until 11 p.m.
"On those days, I don't sit down to do my homework until [11:30 p.m.] or midnight," Mendoza said. "I honestly think I get four and a half hours of sleep per night."
Each day, Mendoza balances an intense nursing curriculum — a combination of undergraduate and graduate level courses — with his duties as an RA, his admissions ambassador position, a job at NewYork-Presbyterian Hospital and management of the Nurse Anesthetists and Practitioner Student Interest Group. He is also the Presidential Intern for the NYU Upsilon Sigma Theta Tau International Honor Society of Nursing.
He has more passions than he can fit into 24 hours. But connecting everything he does and sustaining his incredible work ethic is his desire to help people.
"I knew that I loved health and I loved science," Mendoza said. "I didn't want to to be behind a desk. I was like 'What's a job that can give me satisfaction and a good salary and will benefit other people?'"
With minors in Child and Adolescent Mental Health Studies and Spanish, Mendoza seeks to bridge the gap between patients and medical professionals who he said are often perceived as cold and insensitive.
On Fridays, he works at Presbyterian Hospital with patients at risk of falling or leaving the hospital, as well as patients with suicidal tendencies — a task Mendoza doesn't take lightly.
"I had a patient who was a teenager in the pediatric emergency department," Mendoza said. "It was definitely my hardest patient. I learned that she was there because she was depressive and had threatened to kill herself. Psych patients are always hard because you can't see a physical ailment. Even as a minor in a psych field, it was hard for me to recognize that this was also a person who's sick, and that was really hard. There was a lot of screaming involved and she tried to run away."
Mendoza said the doctor tending to this patient used harsh and inappropriate words with the young girl and her parents — it brought him to tears.
"He came in and he belittled her. I remember thinking 'She's not dumb, she's not deaf,'" Mendoza said. "I remember him saying to the parents, and I will never forget this, 'Your daughter is acting below the first percentile of her age group' and all these horrible things. She heard the doctor say that and she got angry and started screaming again; she threw her Cheerios at him."
When the doctor left the room, Mendoza expressed his regret to the family and told them to file a complaint.
"I remember just being in tears afterward," he said. "I remember a clerk asking me what was wrong and I was like 'This is the reason I'm a nurse.' Because I want to prove that people care and I want to dispel the stereotype that men are heartless."
Dr. Larry Slater, Mendoza's academic adviser and the Rory Meyers undergraduate program director, recalls seeing Mendoza's passion from his first few weeks at NYU.
"For our traditional students, they don't have much relationship with the College of Nursing until their junior and senior years," Slater said. "KP, as soon as he got through the door, was very eager. He is really a take-charge kind of person; sometimes I felt like I was just along for the ride."
In the last two years, Mendoza has also worked to increase opportunities for Rory Meyers students through the Nurse Anesthetists and Practitioner Student Interest Group, a student interest group he founded. The group is dedicated to providing resources for undergraduates hoping to pursue careers in anesthesiology or as nurse practitioners, as NYU does not offer students much information on how to enter these fields.
"He basically saw a gap and he filled it," NAPSIG Vice President and Rory Meyers junior Elena Dimaano said. "There are so many different requirements that people don't realize that they need. It's such a small, specific profession to navigate."
Dimaano met Mendoza when he supported her proposal during a nursing town hall and has worked with him on the NAPSIG executive board and as an RA herself.
"I knew about KP because I saw his face on the RA application," Dimaano said. "I also heard about him through nursing. I think I was nervous at first because he's such a big face across campus. He's on ambassadors and you see posters of him everywhere. I heard so many things about him."
Before Dimaano got to know Mendoza and work beside him as NAPSIG's vice president, she said that he seemed just like the average, overachieving NYU student.
"He's just kind of a go-getter," Dimaano said. "He's always doing something and he's always biking around the city to get there. But he always makes the time for people. I wouldn't know he was so busy unless I were an RA and in nursing and on the E-Board. You just don't realize until you see him on his bike or you look at his [Google Calendar]."
Mendoza has several ideas about where his future could take him after graduating this spring. A semifinalist for the Fulbright Scholarship, he may return to Madrid, where he studied abroad during the spring of his sophomore year and the summer before his junior year, to teach English. As far as nursing, Mendoza aims to eventually work in the intensive care unit at Weill Cornell Hospital or NYU Langone Medical Center.
At the end of the day, however, he just hopes his line of work impacts the lives of others in a positive way.
"It's not like you're sitting there watching someone do something," Dimaano said, speaking about the nursing field. "You're there and maybe your patient is about to pass out or they start coding and dying. He does that. He's calm and collected, comes back and is still able to help out other students — not just his residents and the members of NAPSIG and the E-Board, but also just random people he doesn't know."
Read more from Up-and-Comers 2018.
Email Sakshi Venkatraman at [email protected].