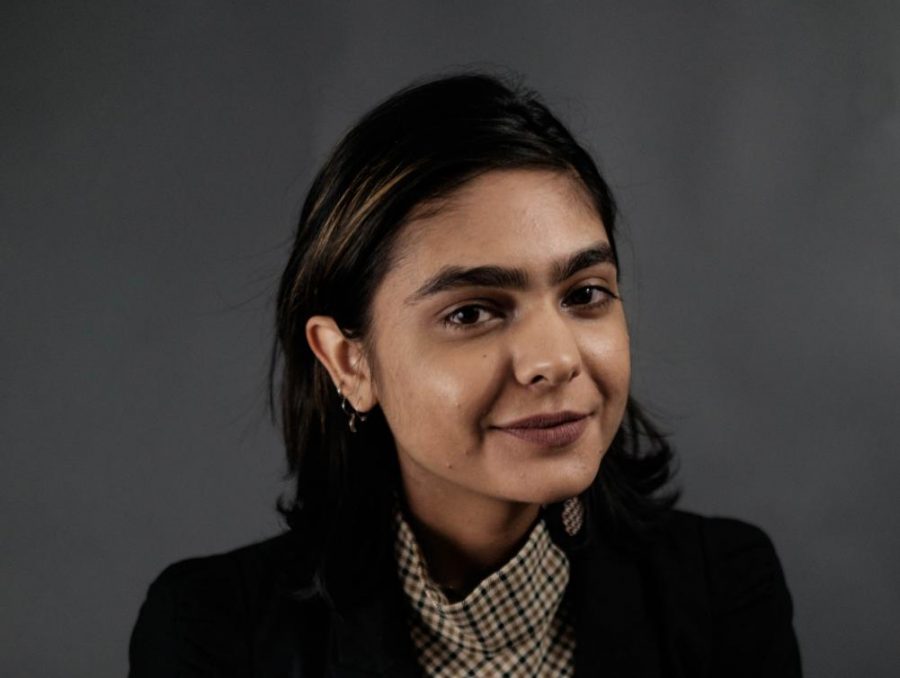 Samah Ahmed Ikram
Putting Mental Health Center Stage
"How are you feeling?" is a question that most therapists ask their patients, but Steinhardt graduate student Samah Ikram did not ask me that. Instead, she asked my sister. More specifically, she asked me while I played the role of my sister. Ikram's soothing voice and kind eyes eased my doubts about the process as she invited me to immerse myself in the role. Assuming different characters is not unusual in Ikram's occupation, which is why she used this tool to introduce me to what she does on a day-to-day basis: drama therapy.
A drama therapist uses theatrical techniques to achieve therapeutic change. Drama therapy techniques can be used during one-on-one sessions, which is what I participated in, or in groups, both on and off the stage. Like other creative arts therapies, drama therapy provides individuals of all ages with a more interactive approach to addressing specific developmental, behavioral, cognitive and emotional challenges.
However, Ikram goes beyond just practicing drama therapy. She advocates for its use on a larger scale. She has presented the practice at the United Nations and is now bringing it to help female South Asian survivors of trauma.
When she was an undergraduate psychology student at Mills College in Oakland, California, Ikram discovered the drama therapy graduate program at NYU through a simple Google search. Although she may not have realized it at the time, drama therapy had already been a part of her
life for years.
"I feel like I didn't really know I was doing drama therapy, kind of earlier on in high school," Ikram said. "I was working in this hospital in Pakistan which focuses mostly on cancer research, and at the same time, I was also working on a play. It didn't occur to me until later, once I found out about drama therapy, the connections that were being made with how I was performing in both spaces."
Ikram's prior experience allowed her to dive straight in during her first year at the NYU Drama Therapy Program in 2016. During her first semester, Ikram jumped at the opportunity to participate as a student actor in the program's therapeutic theater study, "Behind the Doors: Terror in the Home and the World." Ikram held a personal connection to the piece and used it to process her own encounters with terror and terrorism in Pakistan.
"Growing up in Lahore, I found myself frustrated and saddened by the growing threat of terrorism in the country," Ikram said. "In high school … schools began to close for safety. When school opened, gates were blocked with barrels of rice, barbed wire fences and armed security guards."
This theater study presented her with the opportunity to digest some of what she'd seen and experienced during her childhood.
"This play was a chance to sit and unpack terror in the world, in homes and how it impacts people around the world, how it impacted me and my life and breaking the stereotypes around Muslim identities and brown bodies that are often racialized," Ikram said. "I was also aware that I was bringing my story on stage as a hyphenated identity."
One of the NYU Drama Therapy Program professors, Maria Hodermarska, commented on Ikram's performance.
"That is how she really started in the program — with the willingness to go on the stage and take a risk and say 'I'm putting my body here, with all of its complexity,'" Hodermarska said. "She is this connection maker, which is also something that we don't see in every student."
Over the summer of 2017, Ikram put the knowledge she gained during her first year to practice at her internship at the Bronx-Lebanon Hospital Center.
"She was there for a short period of time, but she made a big impression," Zeneida Disla, Ikram's internship supervisor, said.
"I hold on to people's stories, and I think that to be with people when they're going through something— the fact that I can hold that space with them — to me is just a piece of it.," Ikram said when asked about working with the clients at Bronx-Lebanon. "They're doing the work. I'm just sitting with them. But I think it's rewarding."
Ikram admitted that her job can take an emotional toll.
"I do get sad really fast," she said. "I think I have always been very sensitive … I realized that this is more of my strength, and I need to make it my strength in order to care for people and be able to feel that deeply."
Now, as a second-year graduate student, Ikram is the program assistant for the NYU Drama Therapy program. In this role, Ikram meets many of the prospective students coming into drama therapy. She was recently tasked with organizing the program's audition day, which is part of the student
application process.
Nisha Sajnani, the director of the NYU Drama Therapy program, said the event went without a hitch.
"She walked straight into that event with such grace and precision, and incredibly calm throughout.," Sajnani said. "I don't know what we're going to do without her, frankly."
Sajnani also recognized Ikram's composure when they both advocated for drama therapy at the UN on World Mental Health Day, saying that she was poised under pressure. Ikram co-facilitated a presentation at the UN, using sociodrama, a technique that dramatizes social situations to encourage dialogue, to stir discourse and coax solutions from the audience.
Ikram continues to push drama therapy forward into new territory as an associate therapist at New York Creative Arts Therapists. She is using her relationship with this clinic to create a drama therapy group for women who identify as coming from a South Asian background in collaboration with Womankind — an organization that serves women and children who are survivors of domestic violence, sexual assault and human trafficking.
"I wanted to work [with] this population and really be able to create more of a space," Ikram said. "I have seen and experienced drama therapy, so I was curious of how this could be of service to them."
Ikram is hoping to provide drama therapy services to new communities in the future. She recognizes that her role as an advocate for drama therapy demands that she continues to do the work and facilitate conversation around mental health. After graduating, Ikram wants to get her license and work in a local hospital. However, further in the future, Ikram sees herself returning to Pakistan to serve communities there.
"I really do believe that if people have a platform, if they have the privilege, it's a responsibility to step up and to talk about things and to raise awareness and to create spaces — especially when they don't exist," Ikram said.
Read more from Up-and-Comers 2018.
Email Tyler Crews at [email protected].