Nina Haines
For the past few months, Nina Haines has been conducting a social experiment: when she walks down the streets of Manhattan, she won't step aside for anyone — not because she's rude or inconsiderate. She's just tired of catering her actions to men.
Haines is not one to listen to your judgments, but she's open to hearing everyone's perspectives — especially those of members of the Women of Sex Tech community. According to the company's Instagram, which Haines runs, it is "an inclusive community of sex positive women and femme-identifying individuals changing the sex tech industry." Haines, a CAS junior who studies Gender and Sexuality Studies, currently shapes the ethos of the Women of Sex Tech by developing its website and accompanying social media pages.
Haines made her transition to working for the Women of Sex Tech after an internship last summer at Unbound, a sex toy company based in New York City, since both companies were created by her boss, Polly Rodriguez. Haines didn't find this job at Wasserman or any other job board — and not just because most of these sites don't allow sex-related companies to advertise jobs.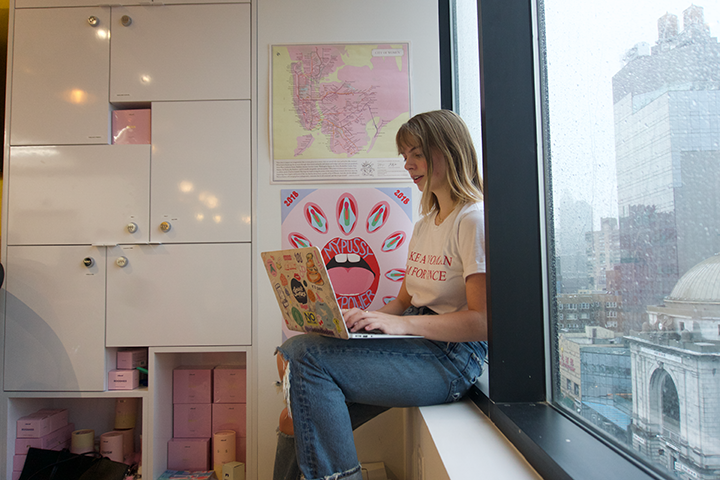 Staff Photo by Alana Beyer
"I never thought in my life that I'd be working for a sex toy company; it kind of just fell into my lap — pun intended," Haines said. "At the start of sophomore year, I won a contest through Polyvore and got sent to Fashion Week. Polyvore had a dinner, and I recognized this girl Gab from the Polyvore community. I asked her what else she does, and she said, 'I do [public relations] for a sex toy company.' I said, 'Tell me more; I want to know everything.' We clicked and hit it off, and at the end of dinner, she said, 'I'm emailing Polly right now. She needs to meet such a young, sexually empowered woman like yourself.'"
Later that same week, Haines and Rodriguez met for coffee, and the two instantly clicked.
"When our PR person told me about her, I reached out to grab coffee with Nina and was equally blown away," Rodriguez said. "I asked her to intern with Unbound on the spot."
When sophomore year came to a close, Haines immediately started her social media internship at Unbound, working full time to further curate the brand's image. Haines claimed to have her "fingers in lots of different pies" that summer, doing everything from content creation to Instagram stories with Barbies to product development — yes, that means testing out vibrators. But even when Unbound was booming, Haines didn't tell any family members about her role there.
"Toward the end of the summer, Women of Sex Tech was featured on the front page of the Metro section of The New York Times," Haines said. "My dad showed my grandma and she said, 'Well, I hope it's not for anything scandalous.' I said to her, 'Nah, it's just sex toys gram.' And she just started laughing and saying 'I love it.'"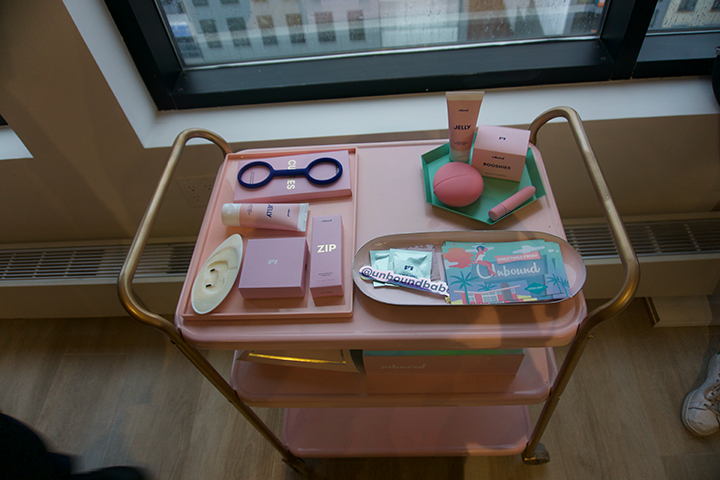 Staff Photo by Alana Beyer
As Haines opened up more about her work in the sex tech industry, she grew closer to her family members, especially her mother.
"When my mom found out that I was working for a sex toys company, she went on the website and she was scrolling through and said, 'I could have gotten your Christmas stocking stuffers from here,'" Haines said. "I immediately hung up the FaceTime, but then later, I got my mom a vibrator for Christmas. It's opened up so much communication between me, my friends, my parents [and] my boyfriend. It's been able to open a dialogue that's super healthy and rewarding."
Even before working at a sex toy company, Haines immersed herself in the world of female and femme-identifying empowerment. Her mother, Estella Haines, said that Nina has always been outspoken about what she believes in, ever since she was young.
"When she was little and signed up to do softball, Nina hated it," Estella said. "And we told her, 'You made this commitment, and now you need to stick this commitment out.' She read this article in American Girl magazine, and she brought the magazine to me with something along those same lines. She said to me, 'Mom, this is how I truly feel, and this article says it is OK to quit something if it's something that you're not happy doing. I'm not a quitter. This is just how I truly feel.'"
Fellow activist and CAS junior Rose Asaf, who is Haines' best friend and roommate, admires Haines for her devotion to female and femme rights and how she carries that into every sector of her life.
"Gregarious, uncensored and endlessly caring, Nina embodies empowerment," Asaf said. "She takes sh-t from no one, and she forges her own path without expecting any help. Through her work with the Women of Sex Tech and Unbound, Nina unequivocally devotes her entire self to uplifting women and promoting better sex."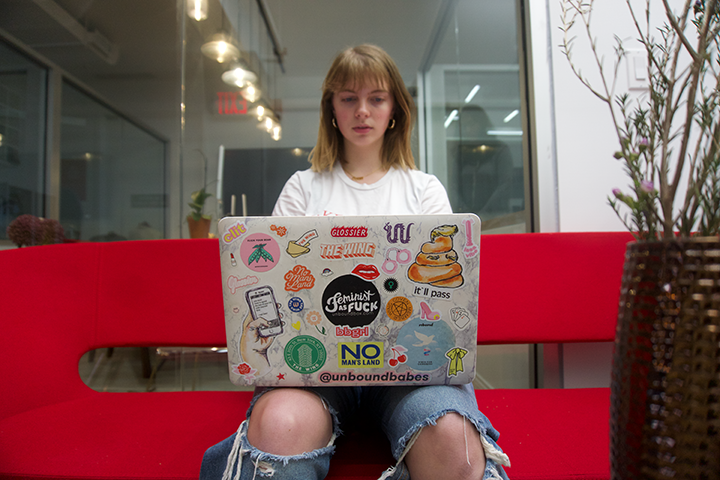 Staff Photo by Alana Beyer
As one of the youngest members of the primarily female team, her co-workers at Unbound have said that Haines is wise beyond her years considering she's only 20 years old.
"She's really taught me to embrace my sexuality and sensuality," said Arielle Egozi, a writer and producer in the feminist and sex space, who met Haines last summer. "I was so burnt out from my work when I met her, and she's really shown me through a universe that has helped refill me and refortify me to continue doing what I do, learning to set boundaries along the way."
Outside of her work in the sex tech industry, Haines spends as much time as she can with her friends and family — even if they're hundreds of miles away. Haines carves out a part of her week to FaceTime her mother during which the two watch the latest episode of "The Bachelor" and share a glass of red wine, which Asaf refers to as "Nina Time."
"One day, I got a text from Nina around 12 [p.m.] asking if we could watch 'The Bachelor,'" Estella said. "But I tell her I can't just sit down for a glass of wine right now — it's the middle of the day."
If Haines isn't working on her schoolwork, spending time with friends and family or tinkering with the Women of Sex Tech website, she's marching and speaking out for female and femme rights on a daily basis, as she proudly wears her "Make a Woman Cum for Once" T-shirt and gold-lettered "CUNT" necklace. This summer, she will continue working full time again at Unbound while continuing to hold the reins on the Women of Sex Tech website.
"She's a full embodiment of everything she believes in and is so vocal about it," said Haines' boyfriend and CAS junior Navsher Singh. "She loves everything she does for the Women of Sex Tech and seeing how excited she gets about it is amazing. You really just have to see her in action."
Read more from Up-and-Comers 2018.
Email Pamela Jew at [email protected].
Comments that are deemed spam or hate speech by the moderators will be deleted.