The Arts Issue 2018: Movements
Apr 5, 2018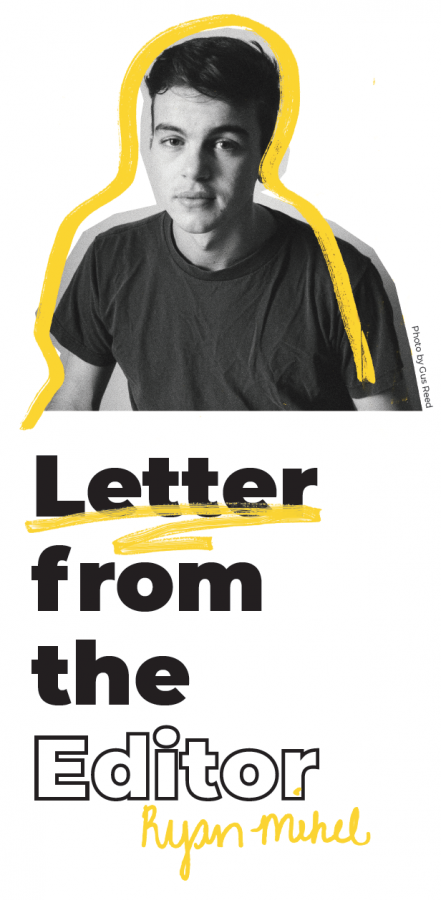 movement (ˈmo͞ovmənt/)
a group of people working together to advance their shared political, social, or artistic ideas.
In my journalism class sophomore year, my professor took us to a Q&A titled "What News Matters," where a panel of journalists from Rolling Stone, NY1 and The Daily Mail discussed what stories are important "right now." By the event's 90-minute finishing mark, none had mentioned art in the arena of news that mattered; perhaps it was our lack of fatalities or presence on Capitol Hill. But the implication that we don't matter is entirely false and served as the genesis for this issue.
The theme is movement, and for the panelists, it's a political one. Film reviews may not bleed and concert coverage can't pass laws, but the movements that define my desk's five sections –– Books, Entertainment, Film, Music and Theater –– could not be more rooted in the politics of then and now.
During times of political and social unrest, artists were the first to reflect the change needed in the world and through movements like Black Lives Matter and #MeToo, we got them. This issue is not an A to Z guide on French New Wave or Impressionism, but it does explore the movements whose ideologies hold a strong relevance to our world today.
Art has consumed my life for as long as I can remember. Whether that medium be dance, theater or film, it doesn't make a difference. But as a journalist and former dancer, my goal has been to make art and make it matter to the world. And with this issue –– Movements –– I hope we might have accomplished just that.
Mumblecore: An Unspoken Genre
By Zuleyma Sanchez
If you're unfamiliar with the term mumblecore, you are not alone. Unlike other genres of film, Mumblecore thrives on its obscurity.
Hollywood's Newest Wildfire: #MeToo
By Brooke Lamantia
The #MeToo movement has been a highlight of this past season's award shows and discussions ever since Harvey Weinstein was exposed by The New York Times last October.
Diversity: Hollywood's Two-Way Street
By Guru Ramanathan
The 90th Academy Awards was meant to be an extraordinary event for various reasons. Film in 2017 seemed to represent the gradual shift in America's culture.
Cinéma Vérité vs. Direct Cinema: What's The Beef?
By Amelia Reardon
WSN dives into the complex world of documentary making, exploring the merits of both Cinéma Vérité and Direct Cinema.
The Rise of Queer Cinema
By Alex Cullina
In the last few years, it seems like there has been an increase in the number of films both by and about queer people.
The Fall of Queer Cinema
By Matthew Holman
"Love, Simon" is not a piece of queer cinema. Well, it's not the best representation of one.
Goodbye Blaxploitation, Hello LA Rebellion
By Jessica Xing
In the 1960s, black student filmmakers at UCLA created a set of films now referred to as the LA Rebellion.
A Renaissance in Independent Filmmaking
By Natalie Whalen
Your favorite movie from the past five years almost wasn't made. Luckily, it was, thanks to the growing independent studios that put it in theaters.
The Immortal  (Musical) Legacy of the Civil Rights Movement
By Joel Lee
Gil Scott-Heron, Nina Simone, Sam Cooke and other musicians transformed people's experiences into powerful rallies for justice during the Civil Rights Movement.
Vaporwave: Songs for the Disaffected
By Hailey Nuthals
If you're too bitter for the hipsters, though — if their disillusionment still sounds like it's played in a major key — vaporwave is the music for you.
Music Industry Finally Says #MeToo
By Nicole Rosenthal
In the wake of the 2018 Grammy Awards, the music industry has finally begun to shed light on its troublesome past.
Modern Music Get Personal
By Connor Gatesman
Music has long been a way to not only express oneself, but to overcome life's struggles, whether they be political, personal, or both.
The Times Are Always Racing: Political Music Then and Now
By Taylor Stout
How does your favorite song make you feel?
Agitprop Art Activates Audiences
By Emma Hernando
Agitprop combines art and activism to stir art consumers to rise up.
Theater of Cruelty Assaults Its Audience
By Emily Fagel
Antonin Artaud's ideas about "Theater of Cruelty" have provided the foundation for modern political theater pieces.
The Atomic Age of Anime
By Alejandro Villa Vásquez
The decimation of Hiroshima and Nagaski is known throughout the world today, but what few people care to investigate is how manga and anime allowed for Japan's healing process to manifest in artistic, cathartic, everlasting forms.
Making Politics Pop: Social Commentary in Pop Art
By Anubhuti Kumar
The affair between pop art and politics that began with Warhol's foray into political commentary continues to bring heat to modern movements under a diverse array of of new crafters and ever adapting techniques.